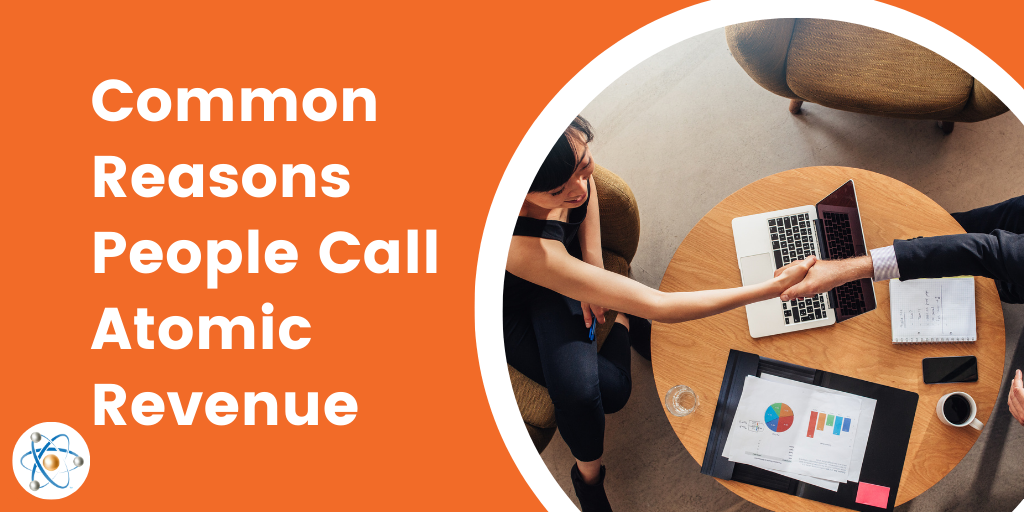 Is your business experiencing flat or declining revenue? Is your B2B company struggling with a misalignment between sales and marketing? Between the C-suite and client-facing departments? Maybe you're planning to sell the company but you're not sure how to maximize its value. If your answer is "yes" to any or all of these, then you're in the right place – these are common reasons people call Atomic Revenue.
Keep reading to learn more about why business owners and company leaders call Atomic Revenue and how we solve their issues with revenue operations programs that remove the barriers to success and help them launch consistent profitability with less struggle.
Revenue is the Driving Factor in Why B2B Companies Call Us
Atomic Revenue's is the team that B2B company leaders call when they want to grow revenue and profits. We're the team you call for revenue growth strategies and execution on those strategies.
Often these business owners or executives, who have heard about our focus and expertise around revenue operations and optimization, feel they have identified a particular roadblock in their revenue, which leads them to reach out. When we get that call or email, our team begins with a conversation and deep discovery session to diagnose the issues.
What we usually find in that beginning stage is that the company leader knows the symptoms of the problem but is only guessing at the cause and the solution.
Examples of the reasons why people call Atomic Revenue include:
Revenue is heading in the wrong direction or not moving at all - i.e. slowing sales, declining revenue, and stagnant numbers.

Competitors are gaining market share.

The website and digital marketing efforts are

not generating enough leads or the leads are not the right ones. The quality isn't there.

Leadership teams have limited understanding of how to use marketing and

sales technology tools

to improve their long-established approach of traditional and now obsolete sales development.

Salespeople are doing their own thing, C-suites are operating in their own sector, the marketing department is operating autonomously – all departments are siloed and not communicating.
The actual catalysts that trigger company leaders to contact us vary. They tend to be directly tied to multiple factors, including those above, the life-stage of their company, leadership structure of the business, their products' or services' level of commoditization or competition, and their stated company growth objectives.
The bottom line is when revenue is not where it should be year after year after year and company leaders have exhausted all the perceived solutions, such as sales strategy changes and tweaks to the business model, they realize something must change and contact Atomic Revenue.
A company's growth is not a given. Expecting continued growth without making significant changes at certain points in the company's life is likely to result in disappointment, or worse, company failure.
Review the following company dynamics to see if any of them sound like your situation. If so, Atomic Revenue can help you.
Is This You? Focused On Sales?
Most B2B companies are started by a company leader or founder who creates a solution to a problem and then sells that solution to prospects. The company continues to sell that product or service at the right price to a few clients, until the next step is taken, which is to effectively expand the number of lookalike prospects who are also sold the solution.
At a certain point, the lead salesperson (often the company founder) runs out of time as he or she works to scale out the delivery of the demand for this solution. Keeping up with demand, hiring people to do the delivery, and building out the infrastructure (finances, equipment, technology, space, etc.) consumes the founder. If marketing is a part of the company's internal headcount at this point, it is rare.
As the company sells more solutions to a bigger target audience, the company needs to increase business development output, so the decision is made to hire additional salespeople and client services people. It is typical over time for the sales group to grow larger without any dedicated marketing function. If there is a dedicated marketing function, it may be part-time or very tactical in the programs managed (tradeshow activity, collateral pieces, etc.). This is a sales-driven company through and through.
Expecting the sales team to create new opportunities without the support of top-of-funnel awareness and quality lead-generation activities is not going to go well, as the majority of companies who contact Atomic Revenue have discovered. Fast forward to a new company paradigm – changing from a stagnant, sales-driven focus to a data-driven, revenue-operations focus.
There comes a time when a revenue operations program that empowers your people through process and data™ and facilitates end-to-end revenue production™ is a requirement for growth. Period.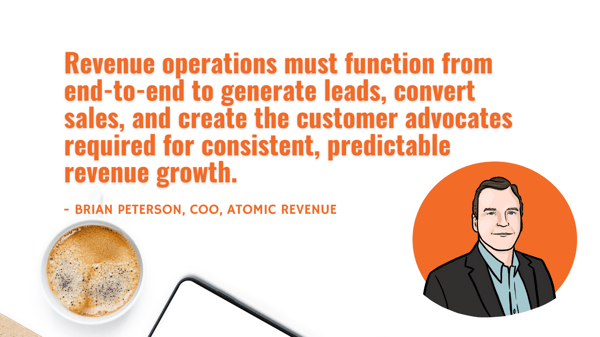 Is This You? Lots of Team Members and No Teamwork
All companies have business operations departments or a few people in charge of finance, hiring, production, legal, etc. They all have sales at the core of their businesses and someone to whom the salespeople report. Depending on the size of the company there may be different levels of in-house or external marketing support.
When all of these departments and company leaders operate independently, without regard to the revenue-generating activities of the company, this creates ineffective operational leadership and a siloing of departments. Let's look at marketing for a better understanding.
Your marketing department might be a part-time person, a team of in-house people, or an external marketing agency. Often, the marketing person or team only partially overlaps with the sales team and customer service team in its efforts. Does your company have distinct sales and marketing departments that report to different leaders in a completely different area of the company?
For example, does your sales team report to operations and your marketing team report to finance? A sales department that does its thing on one hand and a marketing team that does its thing completely separately, never collaborating, leads to ineffective revenue growth. Their planning and communication are siloed, as are the outcomes. This scenario is common and one of the major reasons revenue suffers.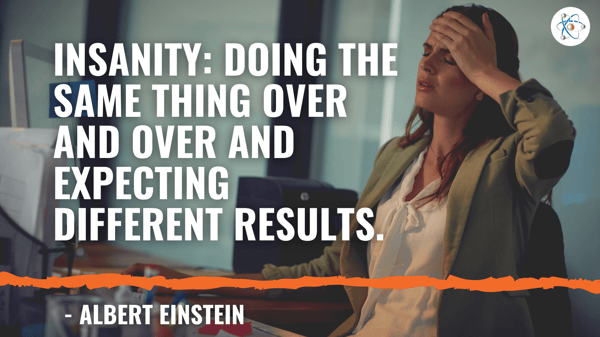 Atomic Revenue develops programs and systems that are integrated between these two vital parts of the revenue creation formula, as well as empowering ALL your people through process and data to facilitate quality lead generation, sales conversion, and customer advocacy. Ways in which we do this include:
Establishing processes that are defined based on overall company goals.

Define and capture

measurable metrics and KPIs

that are reported on to ensure transparency and accountability for every department.

Operationalize

marketing automation

and sales enablement technologies to create efficient momentum around the overall revenue production process.
A completely objective, external revenue operations team is most effective at bringing the company together with data-driven solutions that eliminate silos and generate revenue like never before.
Is This You? Y
our Sales Team Doesn't Have Time to Sell
At a certain juncture, every business becomes more mature and encounters much more competition, making it harder to close sales. When this happens, company leaders often share that they feel their sales team is not as productive as it used to be. A common refrain is that their best salespeople have become highly paid customer service reps. They feel the company's new business pipeline is weak. The relationship management process that salespeople use to develop, nurture, and monetize is more difficult. Buyers are more fact-based and relationships only get the seller so far.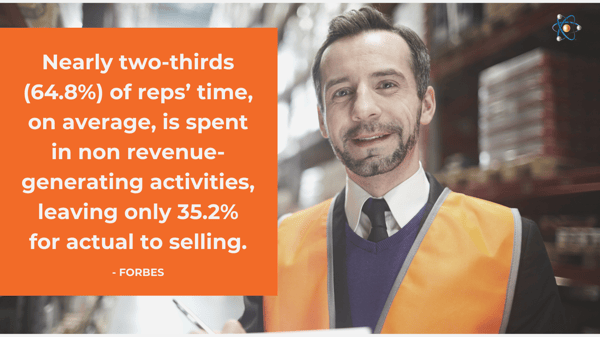 In this case, Atomic Revenue helps our clients develop efficient client/customer onboarding programs that methodically transfer engagement-ownership from the salesperson to the client services department. This involves CRM system implementations and training of client services teams on how to satisfy and expand the client relationship.
In the past, when salespeople owned the client and prospect nurturing process, they could overcome the competition through relationships and storytelling that amplified the unique difference against the competition, even if the differences were only perceived and not real. This is much harder to do now, leaving the sales and marketing teams feeling lost. Hence, the competitive pressure diminishes your company's perceived value-add.
Atomic Revenue can help you effectively communicate your unique selling proposition (USP) to key target buyer groups, even when each audience has different reasons to buy. We can also help differentiate your business from the competition in a customer-focused way. This is where our content marketing and messaging skills really shine.
Is This You? Under New Management
Typically, when there is a generational change in company leadership or a new owner takes over, company growth objectives change. This new leader or owner may look at the business without the bias of the way things were done in the past and be open-minded to new solutions that can impact overall revenue production.
There can also be a change in the number of resources invested in the business to unleash new growth. When this occurs, revenue goals, leadership roles, sales expectations, and a host of other company dynamics may be turned upside down. Changing company growth objectives, especially with a change of leadership, is always a challenge to navigate and can leave everyone at the company feeling fractured and unsure about what to do next, thereby affecting revenue.
Atomic Revenue assists new and existing leaders with the creation of an overall plan that involves looking at every single contributor to the revenue production process. We deliver a data-driven plan that shows what is working, what is not, what to keep doing, and what to start doing.
We also take it one step further and map out who in the company should do what, if the company needs to hire new talent to execute parts of the plan, and what initiatives are best outsourced to an agency or to Atomic Revenue's human capital solutions.
If a business owner is working his or her exit plan with the intent to sell, Atomic Revenue's revenue operations programs help maximize the company's value for the upcoming sale.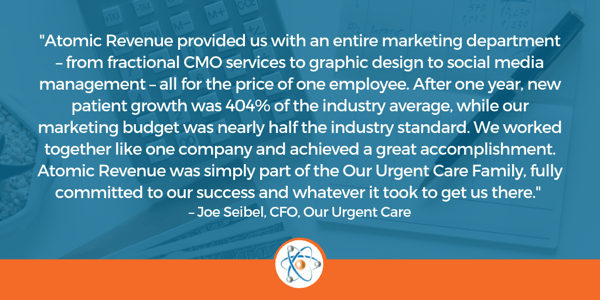 Become RevOps Focused & Watch Profits Soar
Since our start seven years ago, Atomic Revenue has seen demand for revenue operations continue to grow as the news spreads of how we help our clients, and we are thrilled that companies we support see real, measurable growth that lasts.
We are grateful for the referrals we receive from our network of current and past clients, business colleagues, and from those companies in our partner programs. If you want to discuss how we can help your company generate more profit, reach out to us for a no-obligation conversation – I feel confident that you would benefit from a complimentary consultation session.
---
About George Bardenheier
George Bardenheier is Chief Revenue Advisor and an Executive Partner at Atomic Revenue. He is also principal of Bardenheier Growth Strategies. For the entirety of his career, he has methodically helped grow B2C and B2B companies with his expertise in technological data-driven strategy, sales, marketing, and lead-generation systems in both offline and online channels. His range of innovative marketing message deployment and company expansion skills, mixed with outside-the-box thinking and automation expertise, support Atomic Revenue's mission and our clients in obtaining customer success and revenue growth.