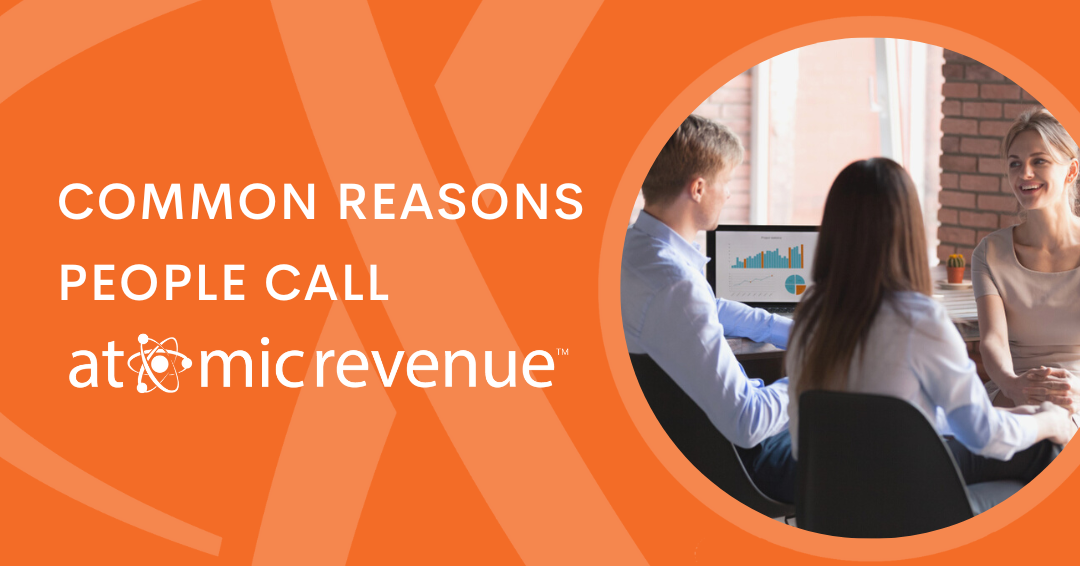 Have you, as a B2B business leader, tried multiple tactics over the years to achieve consistent profitability but just can't seem to reach your goals? Does it feel like you're swimming upstream and that your teams aren't aligned to a common objective? Is staying up to speed with technology making reporting and decision-making that much more difficult? You are not alone! All these reasons and more are why B2B business owners and leaders reach out to Atomic Revenue.
We help clients overcome obstacles and achieve their business objectives with the tools and processes that allow them to move forward in profitability for years to come.
Keep reading to learn more about why business owners and company leaders contact Atomic Revenue and how we solve their issues with revenue operations programs that remove the barriers to success and help them launch consistent profitability and sustainable growth.
Let's Start with a Little Info About Atomic Revenue
Atomic Revenue is a revenue operations (RevOps) consulting firm that specializes in helping B2B companies increase their revenue and profitability. We do this through a comprehensive and integrated RevOps approach that aligns people, process, technology, and data. Our nationwide team of subject matter experts (SMEs) analyze 130 elements that can make or break a business and fix those that are interfering with reaching customer advocacy, which is a must for consistent profitability.
The following 7 revenue roadblocks are the most common reasons people contact Atomic Revenue. While these are
specifically requested, the actual issues that result from our diagnostics phase often come as a surprise to business leaders.
We need help identifying revenue growth challenges. We've tried it all and nothing is working.
We don't have a well-organized KPI framework; we don't know which data to use to get the results we're needing.
We don't have an established process to reach overall company goals; there is no or very little interdepartmental collaboration.
Our sales and marketing goals are not being met; our tools are a mess, and our tech stack is all over the place.
We think we have a strong brand and that we're better than our competitors, but we're not sure.
We're getting leads but not closing sales.
We really need a CMO, CRO, or marketing team to help boost conversions, but we can't afford it.
1. Revenue Growth Challenges: Revenue Diagnostics
Businesses struggling to achieve revenue growth targets turn to Atomic Revenue to identify the root cause and develop a plan to overcome the challenges. Countless clients have come to us thinking their profitability issues stem from sales conversions, when it ends up being something totally different, like a hitch in the customer buying process, new ownership, or a staffing issue.
A generational change in company leadership or a new owner also complicates company growth objectives. There can also be a change in the number of resources invested into the business to unleash new growth. When any of these things occur, revenue goals, leadership roles, sales expectations, and a host of other company dynamics may be turned upside down.
Atomic Revenue can assist new and existing leaders with the creation of an overall plan that involves looking at every single contributor (130 elements!) to the revenue production process. We deliver a data-driven plan that shows what is working, what is not, what to keep doing, and what to start doing.
We also take it one step further and map out who in the company should do what, decide whether the company needs to hire new talent to execute parts of the plan, and determine what initiatives are best outsourced to an agency or to Atomic Revenue's fractional executive team.
But first, to learn where the problem truly lies, we lead with comprehensive Revenue Diagnostics. Our SMEs conduct a thorough analysis of your people, process, technology, and data, including your revenue streams, customer behavior, and overall market trends, to identify areas of opportunity and improvement. We then use data-driven insights to develop a customized revenue growth plan.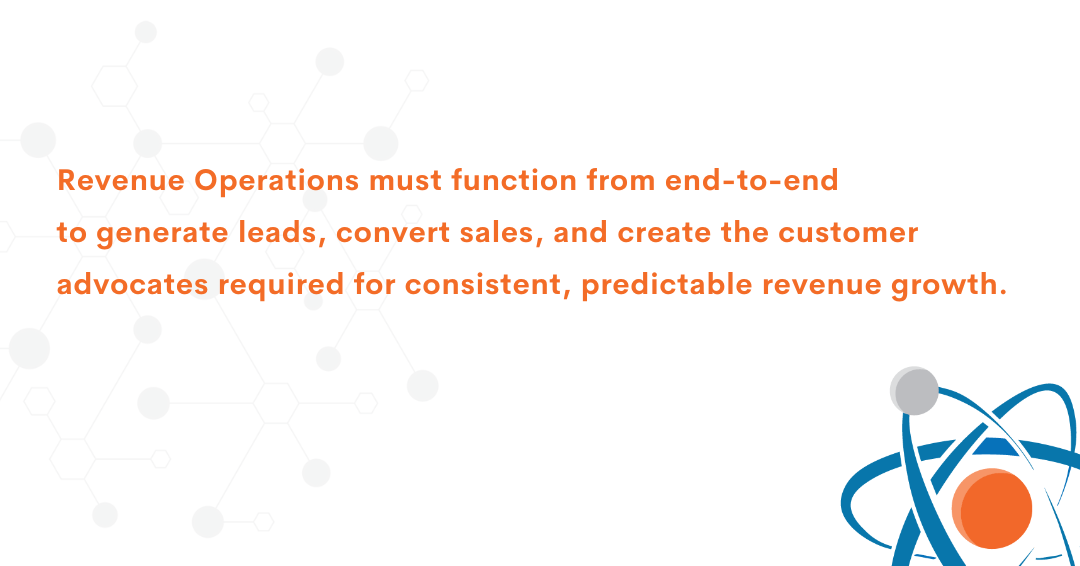 2. Lack of Meaningful Data, KPIs & Real-time Analytics: Develop Measurement & Reporting Framework & Collaboration
Company executives and their teams often lack a clear understanding of their data and how to use the tools to analyze the information effectively, which hinders making informed decisions. Does this sound familiar? Are you using the RIGHT KPIs to make decisions or is your data disjointed and siloed by department? Do you have real-time data to make changes when needed?
Oftentimes, businesses are either a). focusing on metrics that don't tell the full story or don't affect their bottom line as much as they think, or b). unknowingly ignoring key data sources that contain valuable yet temporarily hidden insights. Determining which KPIs are important can be difficult because different departments provide siloed reports using separate data sources with metrics limited to their oversight.
Using the wrong data or not enough data can be a huge hurdle to profitability.
Our team develops measurement and reporting frameworks using analytics tools to track meaningful key performance indicators (KPIs) that provide actionable insights into aligning your people, process, data, and technology.
We do this by identifying, prioritizing, measuring, and managing your company's KPIs to facilitate end-to-end revenue production. For example, using ROMaaS, we can resolve data disarray by integrating inputs from multiple departments to make the right KPIs available to the right people so everyone can make decisions that optimize profitable growth. (That's an eyeful! You might want to read that again.)
This leads us to the next point …
Siloed Departments & Missing Collaboration
Too many companies have segregated or siloed departments and people working on their own goals without a thought for any other department and how it all ties together to create profitability. This is a common roadblock to success, and it goes hand in hand with data-driven insight.
When an organization's departments and leaders operate independently, attempting to maintain a holistic view of all revenue-generating activities is like trying to boil the ocean. For example, some businesses may have a sales team that reports to operations and a marketing team that reports to the finance department. A sales department that does its thing on one hand and a marketing team that does its thing completely separately, seldom collaborating, will never lead to stable revenue growth. This scenario is very common, and one of the major reasons revenue suffers.
That's why we develop programs and systems that integrate each vital part of your revenue creation formula, empowering all your people in every department through process, technology, and data to facilitate quality lead generation, sales conversion, and customer advocacy.
Define and capture measurable metrics and KPIs to ensure transparency and accountability for every department and when necessary, each person within that department.
Operationalize marketing automation and sales enablement technologies to create efficient momentum around the overall revenue production process.
A completely objective external revenue operations team, like Atomic Revenue, is most effective at bringing the company together with data-driven solutions that eliminate silos and generate revenue like never before. Without individual accountability, your company simply will not be able to grow.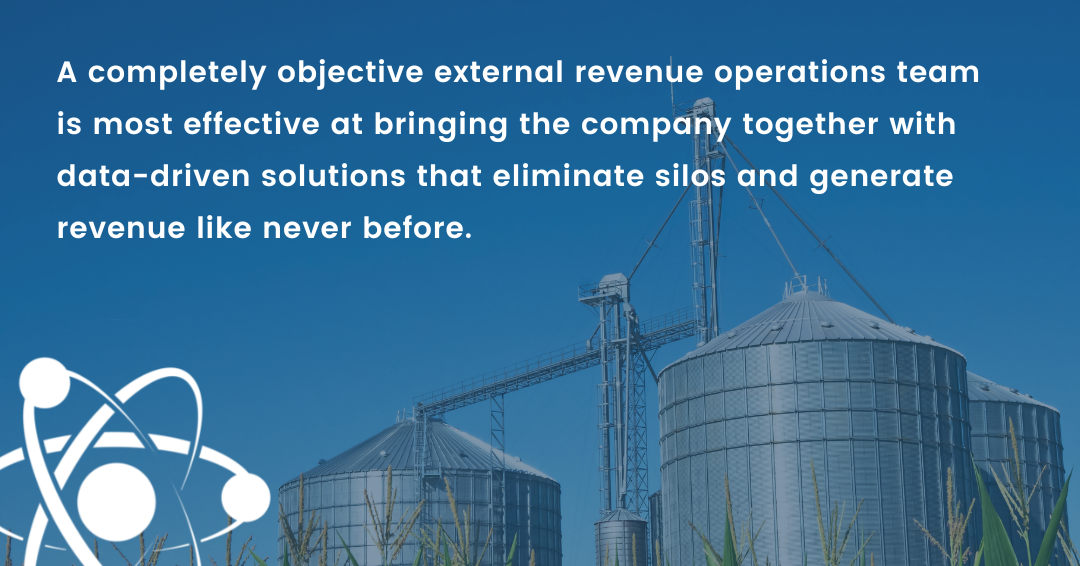 4. Technology Implementation Issues: Integrate Sales & Marketing Tools & Tech Stack
To the point above, using meaningful data and real-time analytics, you can align your people to quality lead generation, sales conversion, and customer advocacy efforts — all roads that lead to profitability.
But what if you don't know how to use your technology to the best of its abilities? Organizations typically invest in multiple sales and marketing tools, sometimes repeatedly, trying to find the magic solution to sales issues, but then struggle to integrate them effectively, resulting in data silos and limited visibility into revenue performance. The return on investment is usually poor and the tools get set aside because they're "not really working."
It is usually not the technology and software that's causing the problem. Most often it is the incorrect integration of sales and marketing tools and your tech stack, and the absence of regular data input, data management, data hygiene, and data accessibility.
Atomic Revenue helps you integrate sales and marketing technology tools effectively, ensuring that correct data is being entered with consistency and that data flows seamlessly across platforms and between departments. Even more importantly, we show you why it's essential for everyone to have access to the data and KPIs they need to do their jobs most efficiently, creating customer advocacy with ease.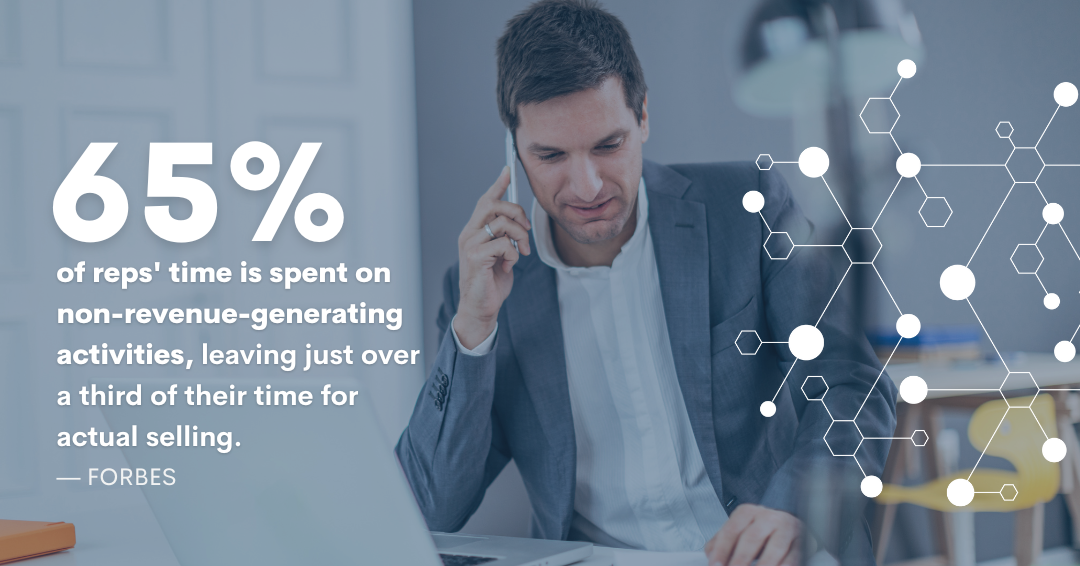 5. The Mistake of Assuming You Have a Unified Identity & Message Across All Channels: Create a Unified Brand & Reposition
To be taken seriously as a premium organization in the minds of your ideal customers, nailing your company's messaging with a cohesive brand identity across all platforms is essential. However, many organizations have a website, social media profiles, digital marketing assets, sales collateral, etc. that each looks like they belong to totally different companies.
If you feel like certain elements of your company's public persona are a bit scattered or confusing, the Atomic Revenue team of brand and positioning experts can get everything back on course. By strengthening your company's understanding of its true value in ways you may not have considered, we help you unite your marketing and sales teams to be more impactful in how they communicate your strengths, resulting in improved lead generation, sales conversion, and average deal size.
Atomic Revenue helps with:
Visual Branding – Ensure all logos, typography, color palettes, and other visual components are united across all channels.
Competitive Differentiation – Research your direct competitors as well as a group of your market space competitors so you can more forcefully position and distinguish your company's unique value proposition.
Pain Point Identification – Document specific, meaningful rationale for solving customer "pain" in a manner that resonates and compels buying decisions with conviction.
Value Buyography – Determine primary value from 30+ specific reasons for "Why Customers Buy" from your company and create detailed, interest-generating declarations that create a desire to learn more.
Impact Declarations – Target content to educate your prospects on how you will specifically solve their problems with metric support for the impact of your solution.
6. Inefficient Sales & Marketing Operations: Lead Generation and Sales Enablement
It is quite common for companies to have a disjointed sales and marketing process that leads to inefficiencies, lost opportunities, and decreased revenue. We can all relate — the lack of new sales and new customers is because of "poor lead generation tactics from the marketing department," according to sales, and marketing says, "the lack of sales revenue is the fault of poor sales follow-up and conversion skills."
Even the best salesforce can't drive revenue if there isn't a carefully developed, well-documented sales process, and effectively managing a sales team is nearly impossible without the right data.
Just the same, free online resources (lead gen playbooks, best practices lists, "flip-the-switch" funnel systems) may help generate leads for a short period of time, but all too often they create large amounts of unqualified prospects who ultimately don't convert.
Effective lead generation must focus on the quality of leads rather than the quantity. That's because unfocused, spray-and-pray lead generation tactics complicate cash flow management and create unnecessary stress on your business.
To create a reliable stream of marketing qualified leads (MQLs) that results in repeat sales, Atomic Revenue works to develop a targeted strategy for engaging the right prospects, capturing leads, exceeding expectations, and inspiring customer advocacy. That's the power of effective lead generation and sales enablement— driving stability into the sales process for a predictable revenue pipeline.
To improve sales performance, we help you codify the entire process, establish realistic productivity expectations, provide necessary systems and tools, and even build out a workable sales compensation plan. Take a look at this client success story to see how we helped one St. Louis company shift its sales team's output into high gear.
Atomic Revenue helps your business streamline its sales and marketing processes to increase efficiency, reduce costs, and eliminate bottlenecks. We focus on aligning sales and marketing teams and optimizing the customer journey to create customer advocacy.

7. We Don't Have the Budget To Bring on a Full-Time CMO, CRO, or Marketing Team
Quite frequently, companies in growth mode are stretched thin on resources and budget, which means they can't bring on top-tier talent to help lead strategy and develop a plan for execution. How can a business acquire all the expertise and skill sets they need to succeed without the high price tag?
With fractional expertise and subject matter experts. Atomic Revenue provides qualified talent to fill gaps in the revenue production process so you can accomplish all the critical tasks required for growth. Our team selects highly experienced professionals who lead, strategize, and implement the necessary actions for a fraction of the price of a full-time employee, and with the same high standards for quality and speed.
Whether you need a subscription marketing department, assistance with vendor management, or a fractional leader to free up executive bandwidth, our team is here for you. Check out this client success story to learn how we helped equip a group of urgent care medical clinics with the revenue-building resources they needed to grow.
Let's Chat About People Operations …
Aside from not having the budget to hire c-suite executives or entire teams, it is still imperative to have the right people in the right seats. As a result of the pandemic, companies are calling us because their sales are down, however, it is not a sales problem. It is a people problem. Not having the correct staff to help your customers through the buyer journey with an abundance of care impacts revenue.
Effective people management is critical to revenue growth. That's why we provide guidance to help improve your people operations practices — from before you place a job ad through the onboarding and first 90 days of each person's experience with your company. We also help design compensation and incentive plans that align with your revenue goals. You cannot fulfill your revenue goals without adopting a solid PeopleOps plan. After all, you're not only in business to make money, you're in business for the good of your people too.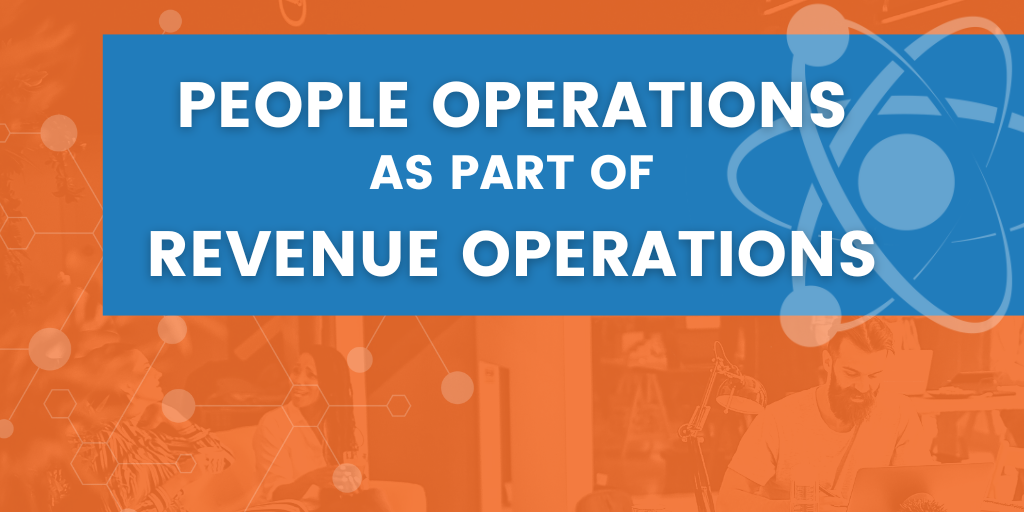 Why Would You Contact Atomic Revenue?
Do you need to address revenue growth challenges? Increase sales volume or sales dollars? Optimize sales and marketing processes? Align sales and marketing teams? Maybe you need a unified brand that sends the right message to your target audience? Could it be that you need to integrate technology tools, gain measurement insight, and create meaningful reporting dashboards? Would you love to bring your people together for the good of the company? If you said yes to any of these, we can help!
We work with businesses like yours to align your people, process, data, and technology around a shared revenue goal. We help you develop a comprehensive lead generation and marketing strategy that addresses each of the seven stages of the buyer's journey, including sales conversion, and keeping the external and internal customer at the forefront of everything until customer advocacy becomes the norm.
We work with businesses of all sizes and across various industries, providing customized solutions that address each client's unique needs and challenges. We also run on EOS® and have expertise in helping EOS clients track and manage their EOS scorecards and meet their EOS Rocks™.
Remove Your RevOps Roadblocks and Watch Profits Soar
Remove your RevOps roadblocks and watch profits soar! Since our start many years ago, Atomic Revenue has seen demand for revenue operations continue to grow as word spreads about how we help our clients achieve sustainable growth by solving problems that have been hindering them for years. If you want to discuss how we can help your company generate more profit, reach out to us for a no-obligation conversation – I am confident you would benefit from a complimentary consultation.
---

About the Author
Lauren Fast is the Brand & Exposure Manager for Atomic Revenue and co-owner of Fast Bryant Consulting. Her specialty is managing and implementing content development while creating clients' brand strategies. Lauren has a proven history of developing successful public-facing content and brand-building that fosters lead generation, sales conversion, and customer advocacy. She also has comprehensive social media, website, public speaking, coaching, and content marketing experience and a proven record as a top-performing Senior Sales Director and trainer.