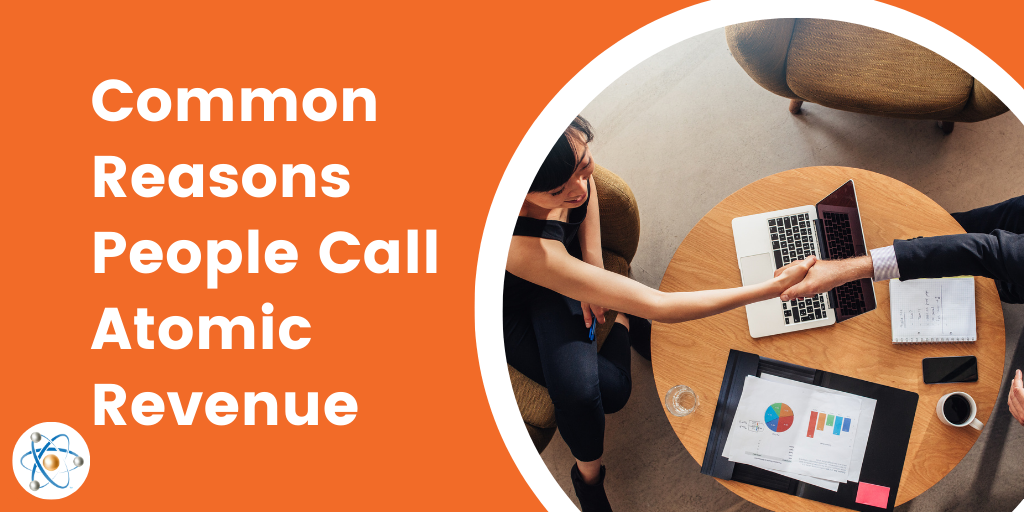 Have you ever wondered what motivates B2B companies to reach out to Atomic Revenue for support? A truly comprehensive list of these reasons would be a mile long, so for the sake of this piece we're going to break down seven of the most common scenarios that we hear repeated time and time again when having initial conversations with our clients.
Keep reading to learn more about why business owners and company leaders call Atomic Revenue and how we solve their issues with revenue operations programs that remove the barriers to success and help them launch consistent profitability and sustainable growth.
"Our Marketing Efforts Aren't Generating Enough Leads"
This is a frequent grievance that B2B companies across a wide variety of industries have prior to working with Atomic Revenue. Free online resources (lead gen playbooks, best practices lists, "flip the switch" funnel systems) may help generate leads for a short period of time, but all too often they lead to large amounts of unqualified prospects who ultimately don't convert.
Effective lead generation focuses on the quality of leads rather than the quantity. That's because unfocused, spray-and-pray lead generation tactics complicate cash flow management and create unnecessary stress on your business.
To create a reliable stream of marketing qualified leads (MQLs) that results in repeat sales, Atomic Revenue will work with your team to develop a targeted strategy for engaging the right prospects, capturing leads, exceeding expectations, and inspiring customer advocacy. That's the power of effective lead generation—driving stability into the sales process for a predictable revenue pipeline.
"The Sales Team Hasn't Been Consistently Meeting Their Goals"
Research shows that 42.5% of sales reps take 10 months or longer to become productive enough to contribute to company goals and only 60% of sales reps will ever meet quota. Has your executive team been chastising the sales department for not working hard enough or hiring the right people? Such criticisms may be misguided: Even the best salesforce can't drive revenue if there isn't a carefully developed, well-documented sales process, and effectively managing a sales team is nearly impossible without the right data.
Atomic Revenue can help you improve sales performance by codifying the entire process, assisting with collateral creation, establishing realistic productivity expectations, providing necessary systems and tools, and even building out a workable sales compensation plan. Take a look at this client success story to see how we helped one St. Louis company shift their sales team's output into high gear.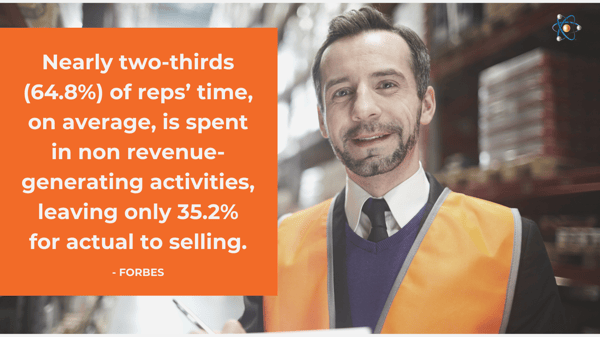 "Cross-departmental Collaboration Is Nonexistent or Noneffective"
When an organization's departments and leaders operate independently, attempting to maintain a holistic view of all revenue-generating activities is like trying to boil the ocean. For example, some businesses may have a sales team that reports to operations and a marketing team that reports to finance. A sales department that does its thing on one hand and a marketing team that does its thing completely separately, seldom collaborating, will never lead to stable revenue growth. This scenario is very common, and one of the major reasons revenue suffers.
Atomic Revenue develops programs and systems that are integrated between each vital part of the revenue creation formula, as well as empowering all your people through process and data to facilitate quality lead generation, sales conversion, and customer advocacy. Ways in which we do this include:
Establishing processes that are defined based on overall company goals.
Define and capture measurable metrics and KPIs that are reported on to ensure transparency and accountability for every department.
Operationalize marketing automation and sales enablement technologies to create efficient momentum around the overall revenue production process.
A completely objective external revenue operations team is most effective at bringing the company together with data-driven solutions that eliminate silos and generate revenue like never before.
"We Don't Have the Budget To Bring on a Full-Time CMO, CRO, or Marketing Team"
Quite frequently, companies in growth mode are stretched thin on resources and budget in certain areas, which means they aren't able to bring on top-tier talent to help lead strategy and develop a plan for execution. How can a business acquire all of the expertise and skill sets that they need to succeed without the high price tag?
Good news: Atomic Revenue can provide the qualified talent to fill gaps in your revenue production process so that you can accomplish all of the critical tasks that are required for growth. Our team selects highly experienced professionals who will lead, strategize, and implement the necessary actions for a fraction of the price of a full-time employee, and with the same high standards for quality and speed.
Whether you need a subscription marketing department, assistance with vendor management, or a fractional leader to free up executive bandwidth, our team is here for you. Check out this client success story to learn how we helped equip a group of urgent care medical clinics with the revenue-building resources they needed to grow.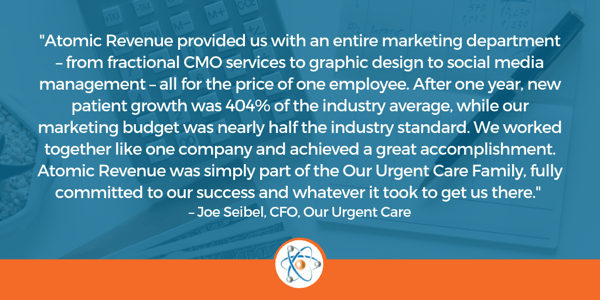 "Our Brand Doesn't Have a Unified Identity + Message Across All Channels"
To be taken seriously as a premium organization in the minds of your ideal customers, nailing down your messaging and having a cohesive brand identity across all platforms is essential. However, many firms have a website, social media profiles, digital marketing assets, sales collateral, etc. that each look like they belong to totally different companies.
If you feel like certain elements of your company's public persona are a bit scattered or confusing, the Atomic Revenue team of brand and positioning experts can get everything back on course. By strengthening your company's understanding of its true value in ways you may not have considered, we will unite your marketing and sales teams to be more impactful in how they communicate your strengths, resulting in improved lead generation, sales conversion, and average deal size. Atomic Revenue can help with:
Visual Branding – Ensuring all logos, typography, color palettes, and other visual components are united across all channels.
Competitive Differentiation – Researching your direct competitors as well as a group of your market space competitors so you can more forcefully position and distinguish your company's unique value proposition.
Pain Point Identification – Documenting specific, meaningful rationale for solving customer "pain" in a manner that resonates and compels buying decisions with conviction.
Value Buyography – Determining primary value from 30+ specific reasons for "Why Customers Buy" from your company and creating detailed, interest generating declarations that create a desire to learn more.
Impact Declarations – Targeting content to educate your prospects on how you will specifically solve their problems with metric support for the impact of your solution.


"New Management Needs Help Solidifying a Plan for Growth"
Typically, when there is a generational change in company leadership or a new owner takes over, company growth objectives change. This new leader or owner may look at the business without the bias of the way things were done in the past and be open-minded to new solutions that can impact overall revenue production.
There can also be a change in the number of resources invested in the business to unleash new growth. When this occurs, revenue goals, leadership roles, sales expectations, and a host of other company dynamics may be turned upside down. Changing company growth objectives, especially with a change of leadership, is always a challenge to navigate and can leave everyone at the company feeling fractured and unsure about what to do next, thereby affecting revenue.
Atomic Revenue can assist new and existing leaders with the creation of an overall plan that involves looking at every single contributor to the revenue production process. We deliver a data-driven plan that shows what is working, what is not, what to keep doing, and what to start doing.
We also take it one step further and map out who in the company should do what, decide whether or not the company needs to hire new talent to execute parts of the plan, and determine what initiatives are best outsourced to an agency or to Atomic Revenue's human capital solutions.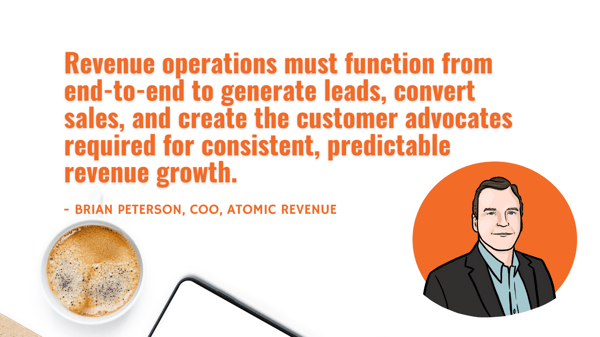 "We Aren't Sure if We're Tracking the Right Key Performance Indicators"
Oftentimes businesses are either a) focusing on metrics that don't tell the full story or don't affect their bottom line as much as they think, or 2) unknowingly ignoring key data sources that contain valuable yet temporarily hidden insights. Determining which KPIs are important can be difficult because different departments provide siloed reports using separate data sources with metrics limited to their oversight.
That's why we offer a number of solutions to identify, prioritize, measure, and manage your company's KPIs to facilitate end-to-end revenue production. For example, we offer a Revenue Diagnostics Program and Revenue Operations Management as a Service (ROMaaS) that help resolve data disarray by integrating inputs from multiple departments to make the right KPIs available to the right people so that everyone can make decisions that optimize profitable growth.
Remove Your RevOps Roadblocks and Watch Profits Soar
Since our start seven years ago, Atomic Revenue has seen demand for Revenue Operations continue to grow as word spreads about how we help our clients achieve sustainable growth by solving problems that have been hindering them for years. If you want to discuss how we can help your company generate more profit, reach out to us for a no-obligation conversation – I'm confident that you would benefit from a complimentary consultation session.
---
About the Author
Steph Nissen is the Chief Revenue Officer (CRO) and one of the owners of Atomic Revenue. She develops and implements revenue operations strategies for companies all over the United States along with managing a coast-to-coast team of contractors and employees. As Atomic's EOS® Integrator, she is skilled in the art of getting all departments to work toward the same goals to sustain predictable and profitable revenue streams for Atomic Revenue and our clients. Steph is also a nationally known, dynamic speaker.