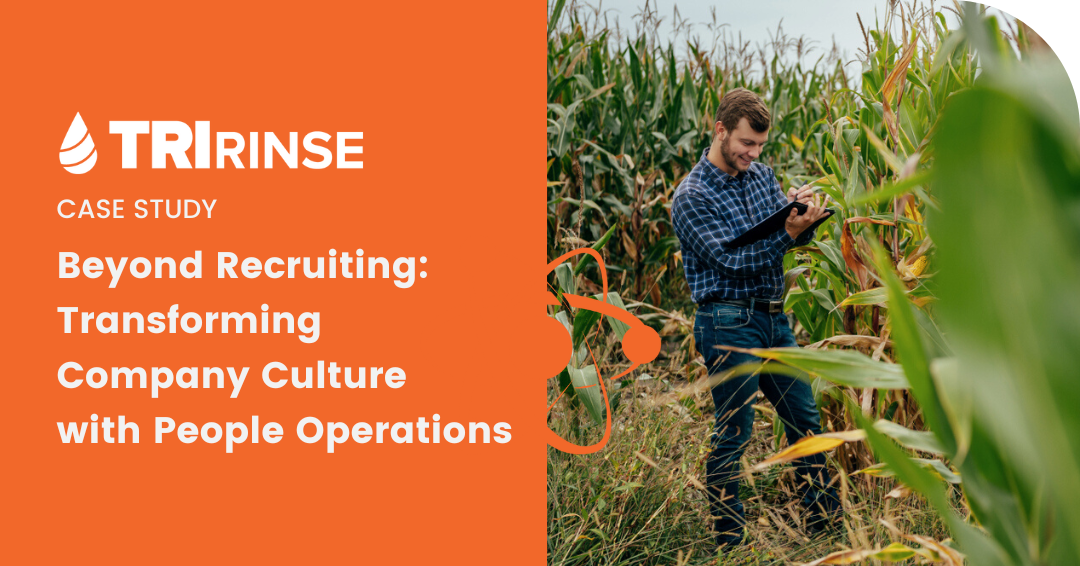 When searching to scale, B2B companies often assume they need more sales or more clients. However, during the Atomic Revenue diagnostics phase, we often prove, using meaningful data, that roadblocks may not be where you think they are and that growth can come from very unexpected places, areas that may not be on your company's radar. This is exactly what happened in this case, with TriRinse.
The Request: Sales Growth & A Bigger Client Base The Solution: People Operations
TriRinse provides flexible, turnkey solutions for the largest brands in agriculture. With multiple locations in Missouri, Kansas, Illinois, and Iowa, TriRinse helps maximize asset utilization and sustainably manage chemical and container life cycles across supply chains. Their services include:
Seed box management
Container management
Formulation and packaging
Industrial cleaning
Clint Shocklee, a second-generation owner, and the CEO of TriRinse, contacted Atomic Revenue for help with revenue operations after seeing Atomic Revenue's social media work for another client. TriRinse was seeking to grow its client base and sales volume. Shocklee also needed help selecting Customer Relationship Management (CRM) software and seeking better solutions to scale the business.
In the first engagement with Atomic Revenue, TriRinse went through revenue diagnostics to evaluate internal processes that might hinder growth. The results revealed labor was the most significant hindrance. Even if the sales team could sell more products, TriRinse did not have the stable employee base needed to fulfill increased sales. TriRinse, like many companies in the summer of 2021, needed more employees to fulfill the business's demand for services.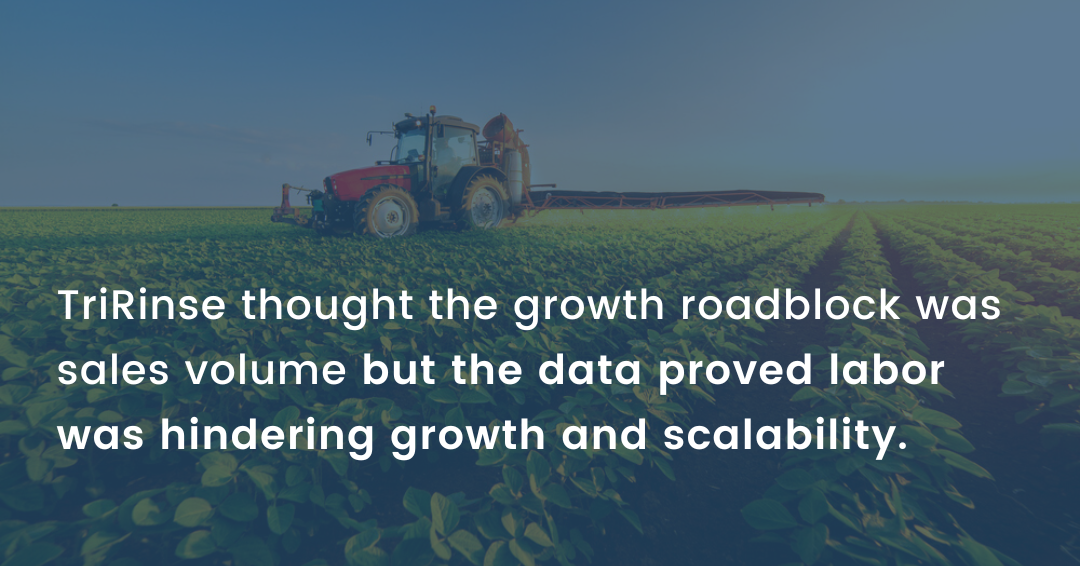 A Recruitment Blitz with an Aggressive Timeline
Armed with the knowledge that staffing was the greatest need, Atomic Revenue put our people operations solutions to work and determined ways to quickly hire new staff who would best fit the TriRinse culture. We designed a recruitment blitz with an aggressive timeline.
The recruitment blitz included the following key components:
Messaging and strategy
Organic social media posts
Landing pages for new positions on the TriRinse website
Paid ads on multiple platforms, including Facebook, Instagram, TikTok, Google Ads, and even Tinder
Employee videos on landing pages
A focus on company culture
The process of designing the recruitment blitz included a series of meetings to refine messaging about the corporate culture and benefits of working at TriRinse. Key indicators that rose to the top in these conversations included:
Family atmosphere
Excellent healthcare benefits
Stable hours for hourly employees
Flexibility
Trust and teamwork
Training opportunities
Career growth
A small team of Atomic Revenue subject matter experts (SMEs) interviewed existing employees and created videos to share on social media and the TriRinse website. In these videos, employees speak honestly about why they love working at TriRinse.
Atomic Revenue also created user-friendly forms on the TriRinse website that could be easily accessed and completed on a mobile device. These submissions were followed by a series of automations in location-specific pipelines, with phone calls, emails, and text messages to nurture new candidates through the interview and hiring process.
Working with a partner, Atomic Revenue was able to include Spanish language materials in the process as well and provide an on-call translator to participate in interviews and onboarding as needed by candidates.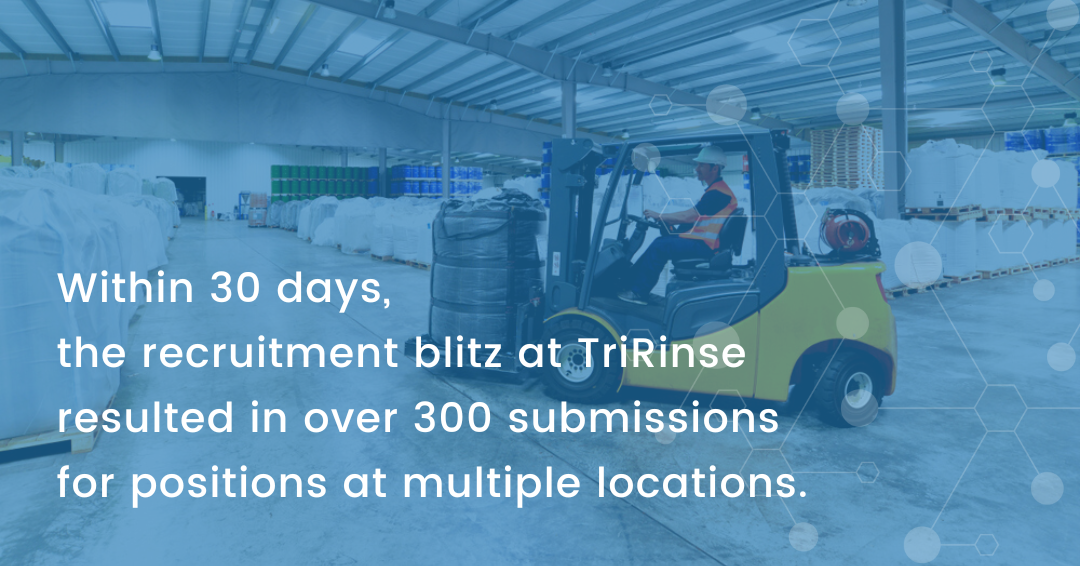 More than Rapid Hiring Results: Defining & Living Company Culture
Within 30 days, the recruitment blitz at TriRinse resulted in over 300 submissions for positions at multiple locations. TriRinse was able to fill the majority of openings and increase staff significantly. But the outcomes of this process extended beyond simply hiring new employees.
The creation of new job descriptions and recruiting videos led the company to continue to refine its message and focus on core values to further live its company culture.
Existing employees articulated what they love about working at TriRinse.
TriRinse was able to hire new employees across all levels with similar values and hopes for their careers and lifestyle.
TriRinse also moved in a direction of better internal alignment, among teams and managers, as the company worked through the recruiting and hiring process.
The whole process led to new approaches for onboarding and retention.
Shocklee described the success, "All of the front-line positions we filled together were the original objective, but the ROI in working with Atomic Revenue came from challenging the way we thought about people management while changing our public image as an employer."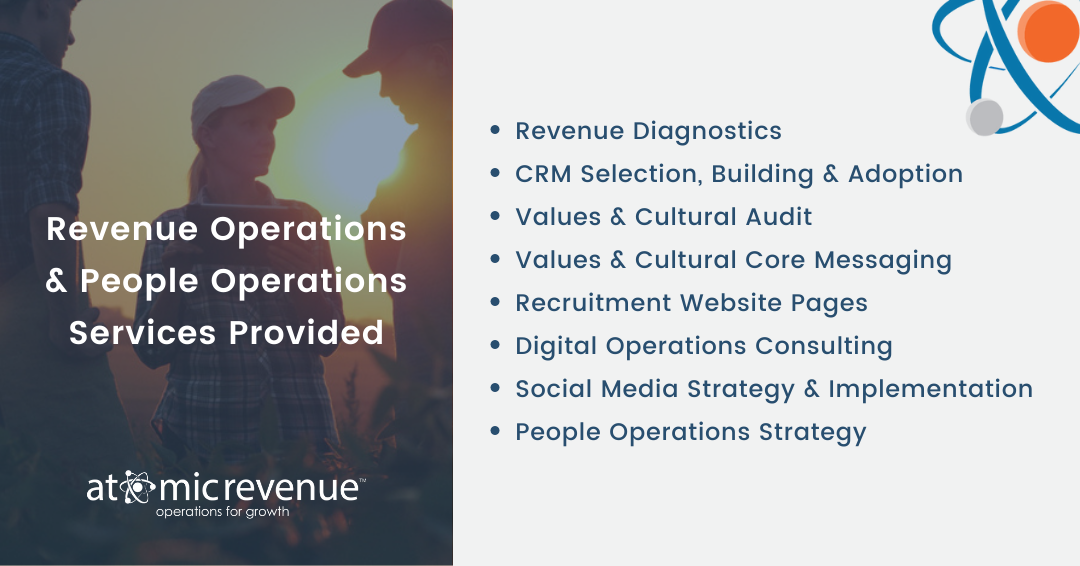 Success in Onboarding & Retention
Once the initial timeline for the recruitment blitz was complete, Atomic Revenue continued to engage with TriRinse to refine the onboarding and retention processes and help with other internal training procedures — generating more than 2,000 submissions over the following year.
The lasting effects of the initial revenue diagnostics have led to the hiring of a new member of the executive team, a Chief People Officer (CPO), who will help enrich company culture and retention for years to come.
Shocklee continues to be delighted with the broader results. "As a result of our work with Atomic Revenue, some of the supervisors and leadership personnel decided to transition out, while Atomic Revenue's work led to excellent hires of new plant supervisors in two locations and a Chief People Officer to continue building the workplace culture envisioned by company leadership."
Shocklee is convinced that the long-term return on investment from engaging with Atomic Revenue will be felt for years to come.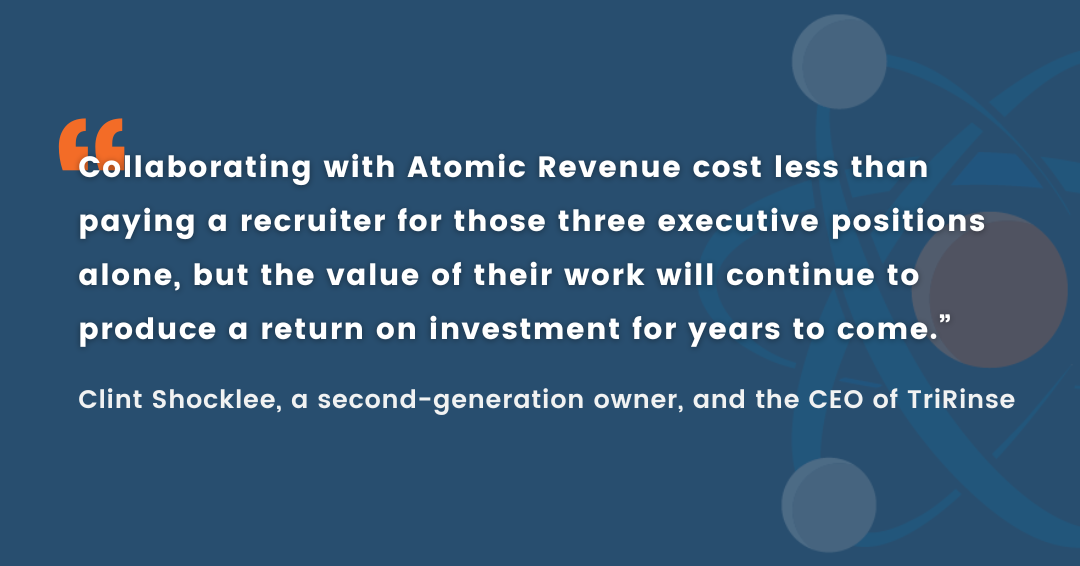 The Result: People Operations Provides a Deep & Wide Impact on Culture & Profitability
As with TriRinse, the issues that B2B company leaders typically hire us for often end up resulting in a totally different focus. Shocklee and his team contacted Atomic Revenue to help grow TriRinse's client base and sales volume and scale the business, but after a revenue diagnosis, the data proved the issue to be staffing and people operations. Even if they could sell more, there weren't enough employees to do the work and create customer advocacy.
With the right tools in place, such as the new CRM, TriRinse was able to create an automated tracking system for people operations, as well as customer information, and drive recruiting, onboarding, and retention initiatives that far exceeded their competition, creating a company culture that sincerely wins your internal customers' hearts.
Once you win your internal customers' loyalty and love, you can achieve customer advocacy, which is the only way to consistently improve profitability.
Atomic Revenue Can Help Your B2B Company Determine What's Hindering Growth & Provide Data-Driven Solutions that Drive Results
If you and your team want to drive more revenue, just like with TriRinse, Atomic Revenue will start by diagnosing what's hindering growth using irrefutable data, then empower your people, process, technology, and data to work in harmony to achieve your objectives and help drive profitability for years to come. Our team is here for you! Contact us today for a no-obligation conversation.
---
About the Author
Erin Moulton is a Revenue Operations Director (ROD) at Atomic Revenue and a Senior Copywriter. She has over 25 years of work in business and academia and uses her varied skillset to help clients succeed. As a ROD, Erin brings experience in writing, editing, teaching, recruiting, international business, compliance, and project management to help companies develop strong messaging and increase revenue. She works with a variety of clients on all aspects of revenue operations. Erin brings her background in non-profit recruiting to build successful recruiting campaigns in people operations strategies for our B2B clients.