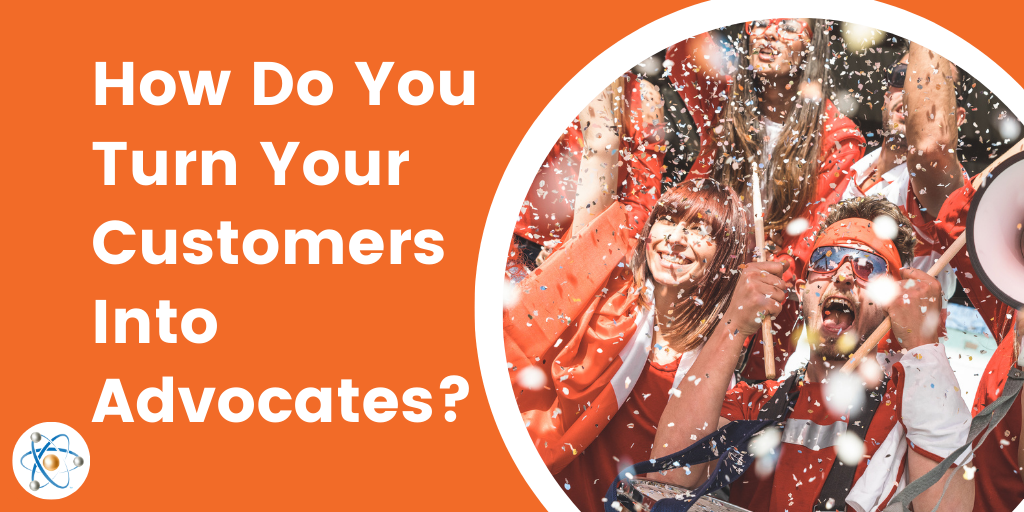 On a scale of 1-10, how much does your company value customer advocacy? To tell you the truth, viewing customer advocacy as anything less than a 10 (major business priority) means that your company is likely missing out on opportunities to reduce customer acquisition cost, boost brand awareness, and increase revenue. That's why customer advocacy makes up ⅓ of Revenue Operations, along with lead generation and sales conversion. It's a vital part of business growth!

Just to make sure we're all on the same page, when I say customer advocacy I'm talking about the practice of putting the needs, desires, expectations, and concerns of the customer at the center of every business activity so that they turn into raving fans who essentially market and sell on your behalf. Atomic Revenue has created an easy-to- remember formula that boils B2B customer advocacy down to it's most crucial elements:

By setting clear expectations for your customers, focusing enthusiastically on providing a stellar experience, and then delivering with the intent to exceed their expectations, you're virtually guaranteed to cultivate customer advocates. Let's dive a little deeper into why your business should prioritize customer advocacy, what customer advocacy data you should watch, and how to consistently generate customer advocates.
Why You Need Customer Advocates in B2B?
If you feel like your company has been placing customer advocacy initiatives on the back burner for a while now, fear not! It's never too late to start developing this facet of your business. In fact, being an established company or post-revenue startup with years of experience under your belt gives you a leg up on the competition because you already have a number of customer relationships to nurture. But without repeat sales and referrals, generating leads is like trying to fill a tub without a plug in the drain – that's where customer advocacy comes in.
According to Esteban Kolsky, former Research Director at Gartner and current Head of Product for Customer Service & Sales at SAP, 72% of buyers will share a positive experience with six or more people. Research from Forrester also found that 79% of companies that have successfully turned customers into advocates see increases in upselling, cross-selling, and enrichment. When customers are delighted by a top-notch customer experience, they're not only more likely to increase their spend with your company, they will also pre-sell your products or services to other qualified leads via referrals. For more evidence on the efficacy of customer advocacy, check out this blog from our Executive Partner Roger.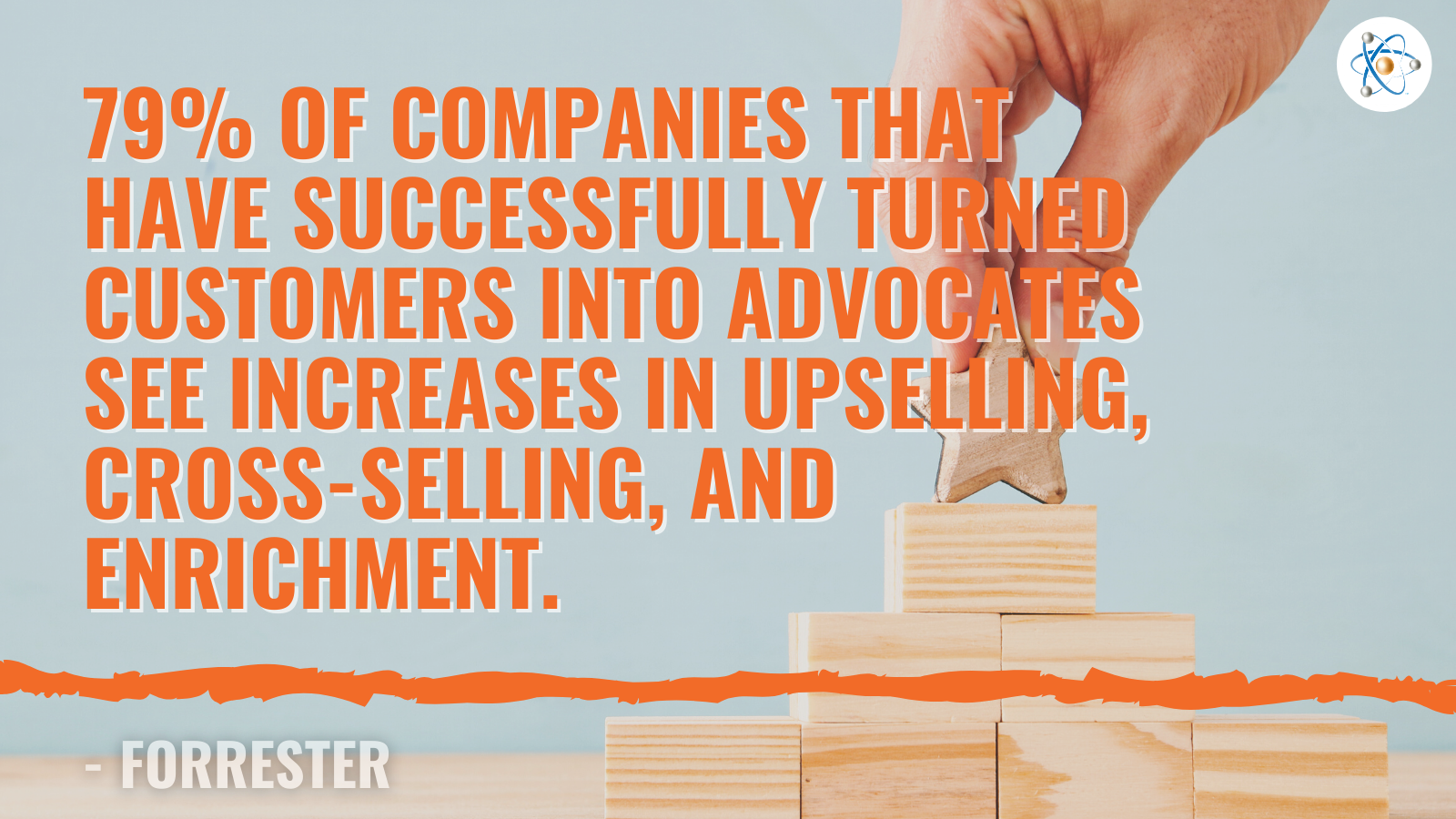 Do I Already Have Customer Advocates?
After learning about the value of customer advocacy, you're probably eager to find out how to create a steady pipeline of new advocates ASAP. But first, it's important to take stock of who your current customer advocates are so you can find out what delights them most about your relationship. If you're not sure who your existing advocates or almost-advocates may be, here are a few questions to ask yourself:
Which customers have shared positive feedback directly with our customer service and sales teams?
Who has left positive online reviews & testimonials (especially multiple)?
When reviewing

social media metrics

, which customers are sharing and engaging with our content on a regular basis?
Checking our

Customer Relationship Management system

and sales reports, who are our longest, most active customers? Who has increased their spend with us over time?
Which customers have made referrals or shared knowledge about our products/services with fellow business leaders?
In some cases, such as testimonials and direct feedback, it will be apparent what they enjoy most about working with your company. When it isn't as clear, you might consider sending those clients a brief survey or email asking them to discuss what they do and don't like about your business relationship. In most cases, they'll be more than happy to let you know! Then you can take your learnings from the above and devise a strategy for your business to shine a light on its strengths while working to improve any weaknesses.
How to Create a Customer Advocacy Program?
Now that you've identified your existing customer advocates, it's time to think about how to transform new customers, almost-advocates, and indifferent clients into raving fans. To do that, let's break down the formula for customer advocacy: Experience + Delivery = Advocacy
Providing a Stellar Customer Experience (CX)
Do you know the difference between customer service and customer experience? At Atomic Revenue we distinguish the two like this: customer service focuses on human interaction and supporting customers with direct assistance and advice, while customer experience is the sum of every single touchpoint someone has with your company while buying your products or services. In other words, having good customer service is just one part of providing an unforgettable CX.
Another essential element for quality CX is having a consistent, seamless digital presence that allows customers to access the information and services they need, exactly when they need it. B2C companies get a lot of attention for having sleek, interactive websites and applications, and high caliber digital experiences are very important for B2B organizations, too! Industry laggards and companies that don't take CX seriously are missing out on valuable opportunities to expand, retain, and grow their business: in a survey of B2B buyers, Gartner found that an astounding 77% rated their purchase experience as "extremely complex or difficult." Oof!
The saying "you teach people how to treat you" applies to the business world as well. That's why having a comprehensive digital operations strategy is necessary for providing a stellar CX and giving prospects and customers an accurate idea of what they can expect when doing business with you.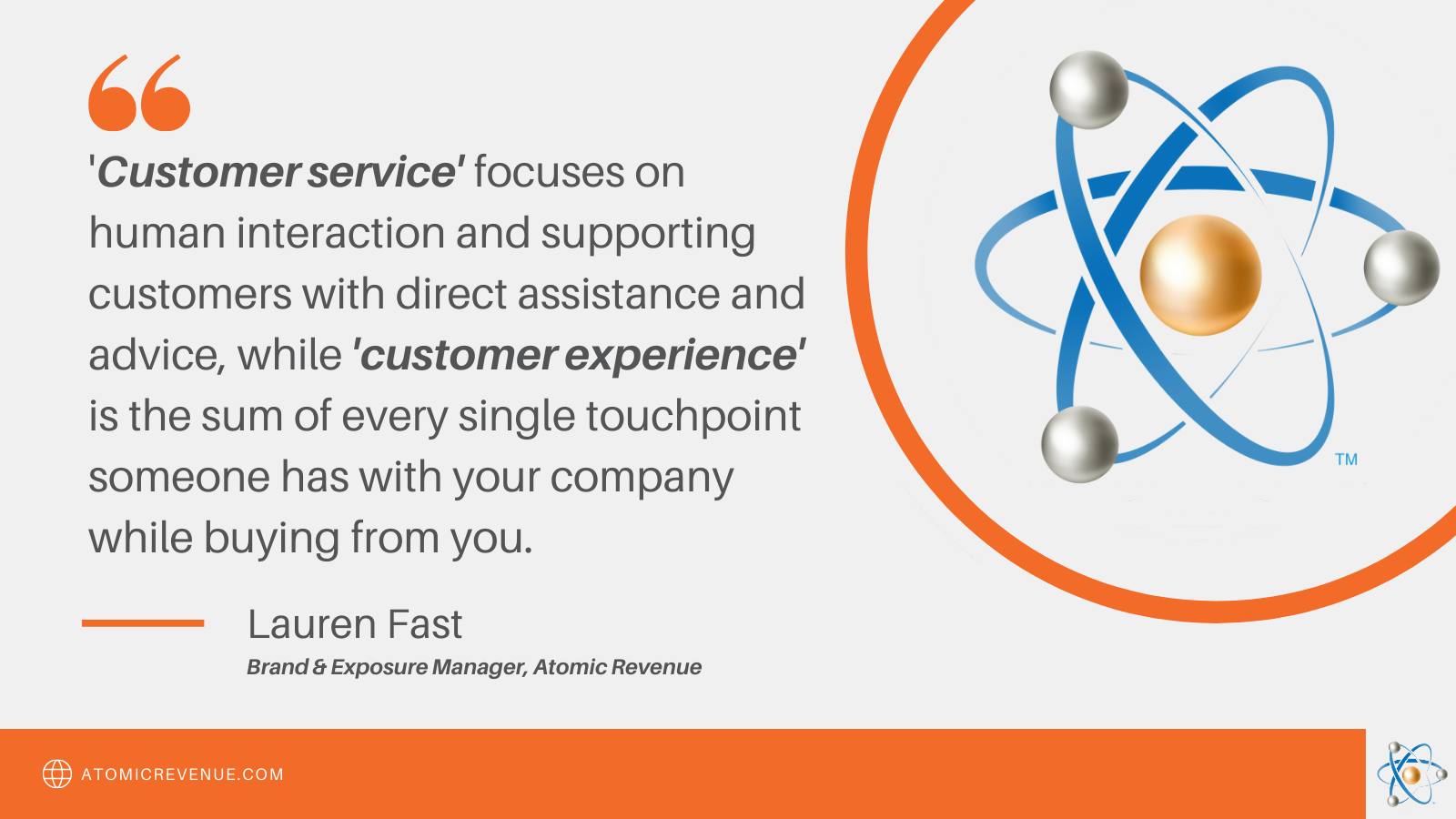 Overdeliver to Create Raving Fans
In addition to customer experience, delivery is the second vital part of the customer advocacy equation. The goal in delivering the products or services purchased is not just customer satisfaction – if you truly want to develop customer advocates, you must go above and beyond to exceed their expectations. That's how you achieve the essential post-conversion steps in the business growth funnel, upsell them to expand the scope of what they buy from you, remain loyal customers for years, and ultimately get other organizations to buy from you by advocating on your behalf.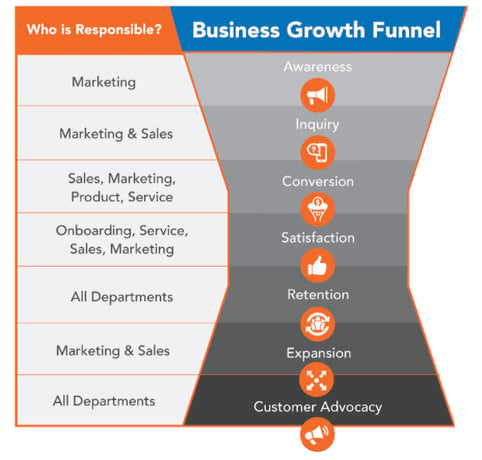 There is no special, one-size-fits-all solution for getting customers through that final stage of the funnel, because not all customer advocates want the same things. By recognizing that fact, you can start to segment your advocates and potential advocates into different groups based on what they need to succeed as advocates of your brand. Much has been written about the different customer advocate types, but we like the four that are used by leading B2B institutions such as Forrester and HubSpot:
Educators – Have a good grasp on how your products/services work, and are eager to teach others how they can use them to improve their lives. Ideas for unlocking their advocacy: Invite educators to share helpful tips, engage on social media, and create content with members of your organization.
Validators – Enjoy feeling like an "insider" and giving feedback/suggestions. Ideas for unlocking their advocacy: Showcase validators' achievements by featuring them in testimonials, case studies, white papers, etc. in exchange for special access to new offerings or test programs.
Status Seekers – Interested in building their personal brand in addition to their company's, often have strong professional networks. Ideas for unlocking their advocacy: Give status seekers public speaking opportunities or invite them to write a guest blog post where they can display their thought leadership.
Collaborators – Like to be tapped to test new ideas or features, work with your business to achieve mutually beneficial outcomes and shared success. Ideas for unlocking their advocacy: Ask trusted collaborators to serve on customer advisory boards or team up for joint ventures and projects.
You should absolutely feel free to expand or modify the above groups, but the idea is that once you acknowledge the different types of advocates, you can better empower them with the things they need to champion your brand and help fill the top of your business growth funnel.
Drive Growth with Customer Advocacy
Looking for assistance in developing raving fans who will significantly increase your revenue? At Atomic Revenue, we are experts in creating customer advocacy strategies that support your capabilities and provide measurable results. We will work side-by-side with your team to diagnose and resolve customer-related problems that slow progress and reduce profit so that your sales go up, unqualified leads and wasted efforts decrease, and company valuation skyrockets. Ready for liftoff? Contact us today for a no-obligation conversation about how we can design a powerful customer advocacy strategy together.
---
About the Author
Lauren Fast is the Brand & Exposure Manager for Atomic Revenue and co-owner of Fast Bryant Consulting. Her specialty is managing and implementing content development while creating clients' brand strategies. Lauren has a proven history of developing successful public-facing content and brand-building that fosters lead generation, sales conversion, and customer advocacy. She also has comprehensive social media, website, public speaking, coaching, and content marketing experience and a proven record as a top-performing Senior Sales Director and trainer.