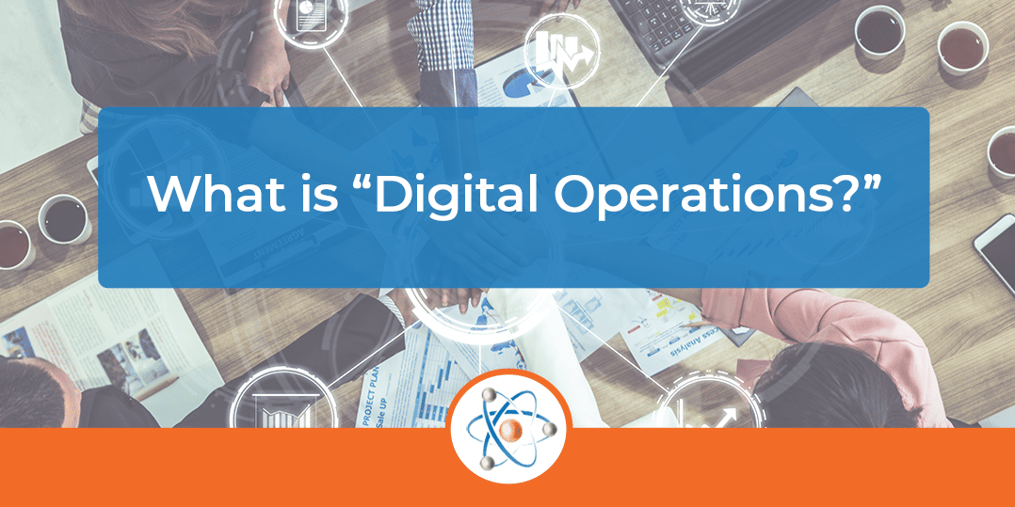 Digital Operations encompasses your entire digital footprint and the results from your digital marketing, sales, and customer advocacy efforts. Each element of your digital presence must not only have its own strategy but work in correlation with every other element. Your website is your primary piece of online real estate, but how does social media marketing feed into that?
What is your content strategy to drive qualified leads? How does marketing automation play into developing those leads to be sales-ready? Does your online presence encourage your community to advocate on your behalf? If you're not sure, it may be time to rethink your digital operations approach.

Digital Isn't ONLY Marketing
Digital Operations is digital marketing, digital sales, and digital advocacy and the link between all of it. It is the connection between you and your customers and potentials. Unfortunately, if you're like most busy executives or entrepreneurs, when it comes to digital, the best intentions to keep up with it or allocate funds for it are often derailed by daily tasks.
That's why it's best to hire a lead digital professional to handle your online presence and stay in touch with your community though all digital operations avenues.
Have you thought about it but you're not clear what exactly this person would do? Here are some examples of what strategies and tactics support your digital operations plan:
Digital Marketing:
Social Media Management, Content Marketing, Community Management, Email Marketing, Webinars
Digital Sales:
CRM Management, Email, Social Selling, Automation, Appointment Booking, Webinars
Digital Advocacy:
Online Communities, Partner & Referral Programs, Social Media Management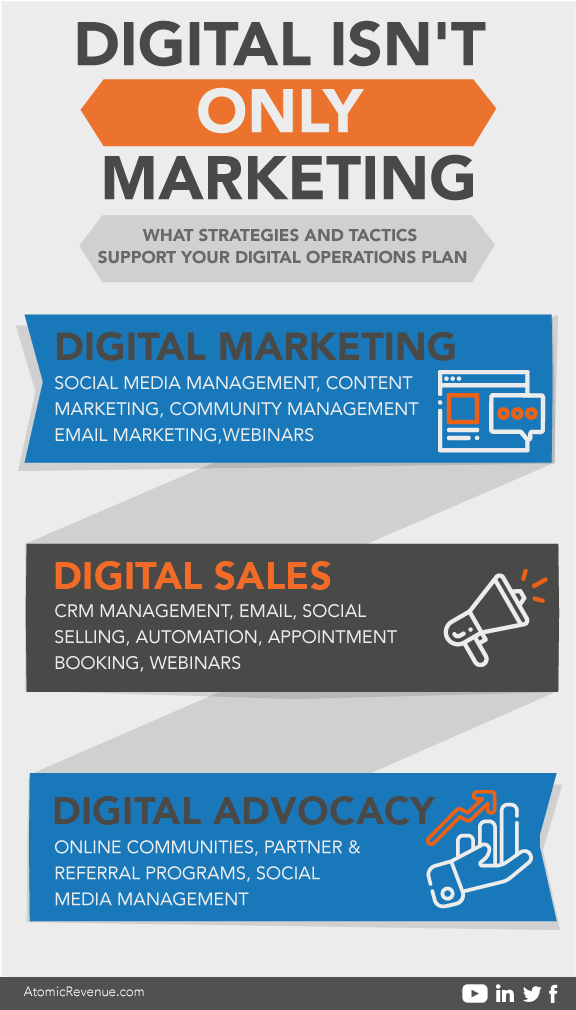 Reasons to Hire a Digital Professional
Let's get an idea of what your digital professional could do for you even more so. Many of us think of them as "digital marketers" and we expect a lot from them.
Your digital marketing pro would generate quality leads by creating awareness, driving the right message at the right time to the right audience resulting in inquiries, and find high-quality connections. Your pro would also provide sales validation materials and thought leadership that educates potentials through the buying process. If you are e-commerce, most likely they would facilitate purchases through SEO, UX/UI, and review management, as well as handling the automation of how your systems talk to each other through your lead-to-buyer's process, and ultimately, as a customer. Your "traditional" digital marketer would also be expected to communicate with your current clients and customer pool too – asking for reviews, sending out thank-you's, sharing content, and creating advocates out of your community.
Sound like a lot?
It is.
It is too difficult to do this on your own, especially when running a business. Keeping up with the latest tools, trends, algorithms, and processes, and constantly monitoring your efforts and tweaking strategy is a full-time job best left to a digital marketing and operations specialist. And it is too much to expect one "unicorn" to do all of the above with depth in any area. That's why subscription human capital teams exist.
Isn't All of the Above Just Marketing?
Nope, it's marketing, it's sales, and it's customer advocacy. It is the entire revenue operations process thrown into the marketing budget. Digital touches every aspect of your customers' journeys (from initial contact through the close of a sale and beyond) and sends them back around again and again. It is not simply digital marketing. It is digital operations.
That's not to say you don't need digital marketers. FAR FROM IT. You need digital marketers. You also need digital sales teams. And digital customer service reps. They all need to work together and communicate to create a cohesive online experience through every click, as well as tear down the traditional silos of information between coworkers and departments. Most likely, if you have a team of digital marketers, they are already doing this, but they can be better and serve customers better with open doors to the full scope of digital operations.
Digital Links Company Departments & Customers
In fact, the best-performing companies are the ones that pull revenue operations to the front and break down traditional inter-company barriers with open communication. Digital is one of the best ways to improve communication between departments and create a more cohesive company where everyone is collaborating and working together toward shared goals. Just as digital connects companies to their customers, it also connects company departments together. And, yes, customers feel the internal disconnect when it exists.
Revenue Operations aligns marketing, sales, and customer efforts with succinct strategy and tactics for lead generation, sales conversion, and customer advocacy. Empowering your people though data and process facilitates end-to-end production™ and moves your company into the realm of full profit potential.
How to Be Better Digital Marketers with Digital Operations
If you have an internal marketing team, an in-house marketing person, or you partner with an external digital-focused subscription team, they should have mastery of digital strategies, integration of technology, and know how digital affects revenue operations. He or she should be able to wear many hats, have knowledge of tactical digital strategies (SEO, social media, content marketing, etc.), possess an understanding of how to analyze and use key performance indicators (KPIs) versus focusing on vanity metrics, and have the ability to translate digital operations and its effects on revenue to non-digital experts (CFO's, CEO's, COO's, etc.)
When you adhere to a comprehensive digital operations strategy with the right team or professional in place, it will unify your company, customers, and target audience and create customer advocacy.
The key is to bring it all together for optimum revenue profitability. To do this, your team or digital marketing professional should:
Partake in client-facing meetings.
Facilitate and lead discussions for information gathering.
Develop digital operations audit reports and monitor KPI data.
Coordinate digital operations audit process and delivery, both internal and external.
Audit and analyze digital operations assets for clients, including but not limited to: websites, social media channels, email marketing platforms through the areas of technical foundation, lead generation, sales conversion, and customer advocacy.
Manage client accounts undergoing a digital operations audit – be POC for client and internal team as needed.
Be proficient in an array of digital tools – SEMrush, Moz, Google Analytics, Google Search Console, Google Ads, Google Tag Manager, BuzzSumo etc. (there is no shortage of tools!)
Digital Operations – Critical to Growth
A well-executed digital marketing and operations strategy that encompasses all the elements of your online presence and how those relate to quality lead generation, sales conversion, and customer advocacy, is imperative for growth. Without a solid digital operations foundation that also bolsters a cohesive internal team, guiding potentials through to the buying stage, exceeding customer expectations, gaining repeat sales, and cultivating raving fans who provide solid referrals (which is the ultimate goal) will be less attainable, if not impossible. Want to learn more? Contact Atomic Revenue for a free revenue assessment and see where your digital presence can take you!
---
About Steph Nissen
Steph is the Chief Revenue Officer (CRO) and one of the owners of Atomic Revenue. She develops and implements revenue operations strategies for companies all over the United States along with managing a coast-to-coast team of contractors and employees. As Atomic's EOS® Integrator, she is skilled in the art of getting all departments to work toward the same goals to sustain predictable and profitable revenue streams for Atomic Revenue and our clients. Steph is also a nationally known, dynamic speaker.