Does your head spin trying to keep up with the latest ways to acquire customers and keep them? Are you under constant pressure to act smarter and faster than your competition to increase revenue? You're not alone. Our marketplace culture is one that requires anybody in business to stay one step ahead of the others, with a long road to recovery if you fall behind. Want the good news?
You can stay competitive and grow with confidence by using data to get customers and keep them. No more throwing money at marketing on a whim to see what works. No more relying on personnel to give you the lowdown on how customers feel about your company. With insight-based, hard data you can unlock the power to control customer satisfaction and turn it into advocacy, which helps acquire new customers with ease and change your team culture. However, to succeed, you must take the guesswork out of decision making with a data-based strategy.
Create a Data-Based Plan
As a business leader, you desire more profit and want to see your team thrive. You've tried everything – allocated more money to your online presence and digital marketing, beefed up your trade show presence, added inbound customer care reps, sent your sales team for training, you've even cut costs based on the perception of what's working and what's not – to no avail. But, have you tried listening to your customers and implementing changes based on their feedback?
Listening to your customers and creating a customer advocacy plan based on measurable data can increase revenue operations with consistency. Analyze things like customer acquisition costs, customer retention, and customer referrals. Include year-over-year trends to be held accountable for ongoing improvement and productivity metrics (not just sheer volume) to understand the effectiveness of your process. Even things like what your customers like about you and why they leave can be turned into metrics, or KPIs. If you're still not convinced, the research is in – customer experience outweighs everything else when it comes to buying.
The Need to Go Beyond Customer Satisfaction
It is not enough to have "satisfied" customers anymore. You need customers who advocate on your behalf. They become warriors spreading your good name at virtually no cost to you. When you focus on the right efforts to convert prospects into happy customers and add a little extra care to keep them happy and tell others about you, the results will be reflected in your revenue.
Sound too simple? Statistics overwhelmingly point to how critical customer experience is to growth. It is is a key brand differential and takes precedence over price or product. Customers have more choices than ever and have little to no tolerance for a bad experience.
If you earn $1 billion annually, your company can average an additional $700 million within 3 years of investing in customer experience. −The Temkin Group
86% of buyers will pay more for a great customer experience. The more expensive the item, the more they are willing to pay. –PWC
Companies with great customer experiences have a 16% price premium on products and services. −PWC
U.S. companies lose $136.8 billion per year to avoidable consumer switching. −CallMiner
B2B decision makers say lack of speed in supplier interaction is the number one pain point, twice as often as price. −The Temkin Group
73% of all people point to experience as an important factor in their purchasing decisions. −PWC
72% of customers share a positive experience with 6 or more people; 13% of unhappy customers share their experiences with 15 or more. Only 1 in 26 unhappy customers complain…they simply leave. − Kolsky
Out of 15,000 consumers surveyed, 1 in 3 will leave a brand they love after just one bad experience. −PWC
63% of U.S. consumers would share more personal information with a company that offers a great experience. −PWC
Top-performing companies are 50% more likely than their peers to have well-designed user journeys. −Econsultancy Digital Trends 2018 report
80% of consumers say speed, convenience, knowledgeable help, and friendly service are the most important elements of a positive customer experience. −PWC

Highest ROI − Lowest Marketing Expenditures
Customer advocacy provides the highest return on investment (ROI) with the lowest marketing expenditure. When you deliver exceptional customer experiences, the hardest part of increasing revenue is done for you by your advocates – validation from them to peers and friends is key.
When embarking on this customer care journey, you must be thoughtful of the process and strategize with real numbers to back up your attempts and related outcomes. Often it is as simple as asking your customers who they know that might be interested in your products or services. You may need to evaluate spending money to improve your website when it's your order process that's sending people away. If you hire more inbound customer service reps when you really just need more inventory and faster shipping, you're wasting time and money. So, where do you start your customer advocacy strategy?
Steps to Build a Data-Driven Customer Advocacy Plan
Look at the right customer-focused metrics.
Make sure you have complete customer profiles that help you understand and measure your customers' behavior at every touch point, across multiple channels. Then, look at the metrics and use automation. Start by measuring customer retention. How many customers are returning customers? What is the trend year over year? How many customers are you losing? How often are your existing customers referring your new customers? What is your close rate on those referred customers? Once you discover your numbers, like the number of referred customers and percentage retained, your growth in the metrics is a good indicator of customer success. Keep in mind, raw numbers can be misleading as percentage retained – the number of retained customers over total customers – is the real measure of your effectiveness.
Evaluate and study the why of each metric performance.
Why are you losing people? Try to talk to those who left. Conduct a quick survey – was it price? Time commitment? If a customer regularly orders, why did he or she stop? Use a proactive tool and scoring system and create a red flag system. Study your transaction and customer data to understand the differences between high-value and low-value customers.
Create a customer advocacy strategy to fix the problem.
Look at marketing, sales, and operational areas – these all affect the customer experience. The problem could be one or all three. Implement the strategy and put metrics in place that flag potential problems immediately. And be sure to add the important step of asking customers who they know that may be interested in your products or services.
Keep up with the strategy.
Have a process in place to review the metrics on customer advocacy to understand how it is working and where are the bottlenecks. Do quarterly reviews, survey customers – ask are you satisfied? Would you tell others about us? Pay attention to their comments, suggestions, and opinions. Invest in the changes that need to be made to meet/exceed their expectations. Customers who like you will usually spend a few minutes to do this. Just the same, unhappy customers love to complain, so you'll get great info either way.
Reward your customers.
When you know your customers well, you can personalize every transaction. They come to trust you then share the love. Reward them with a customer referral program and use it as a marketing tool. Be sure to make the referral program helpful to your customers. Everybody loves money off or free stuff. Whatever makes sense and tells them you understand and appreciate them. It pays for itself quickly.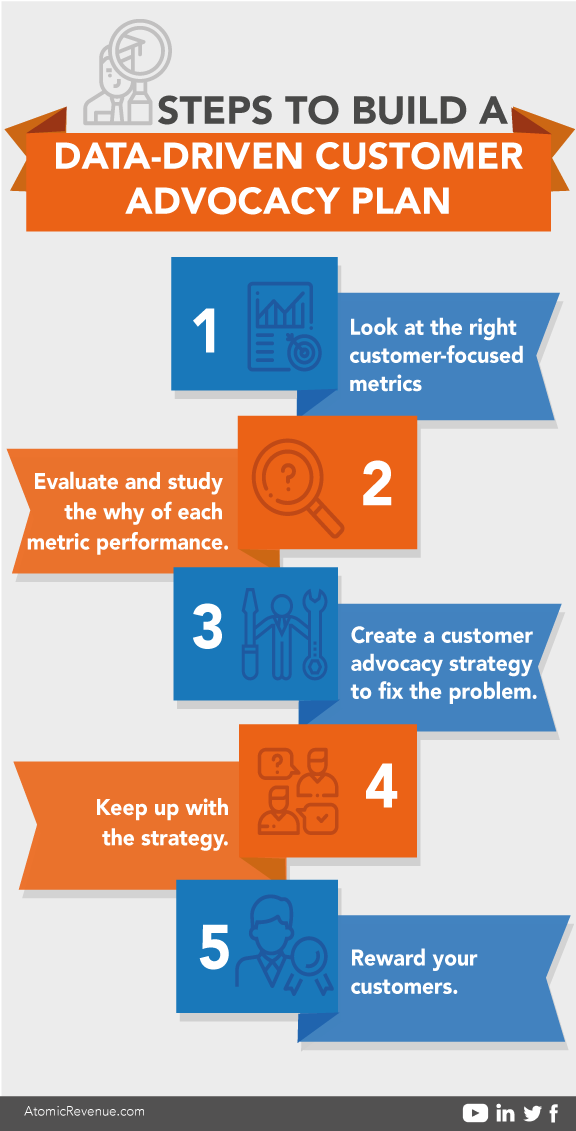 Once you calculate how to satisfy increasingly savvy customer demands and turn those same customers into advocates and align your processes and technologies with your efforts to provide a consistent experience with every interaction, your marketing and sales investment ROI increases.
Give Your Customers What They Want
Not sure how to do this on your own? To effectively give customers what they want, it's wise to use an objective outside source that specializes in customer data collection and analytics. The cost to gather insightful, real-time data by experts who can show you where your company can do better, where to cut costs, and how to best focus on customer experience, is minimal in comparison to how much revenue you can generate by knowing this information and making a plan.
Are you ready to give your customers what they want, improve performance, and unlock revenue opportunities? Atomic Revenue can work with your team to diagnose and resolve problems that slow progress and reduce profit. From lead generation to sales conversion and customer advocacy, we align all the parts of your business to make it easier for you to achieve the results you want. Contact us today for your free revenue assessment.
---
About Roger Bielicke
Roger is an Executive Partner at Atomic Revenue and owns Unleash Insight. He passed the CPA exam and has 24 years of previous experience at Enterprise Rent-A-Car, leading analytics initiatives for the Car Sales Division. His role included location planning strategies, consumer activity analysis, and identifying key business drivers to optimize performance. Roger excels at organizing and establishing processes to connect departments together so that everyone contributes to winning outcomes.