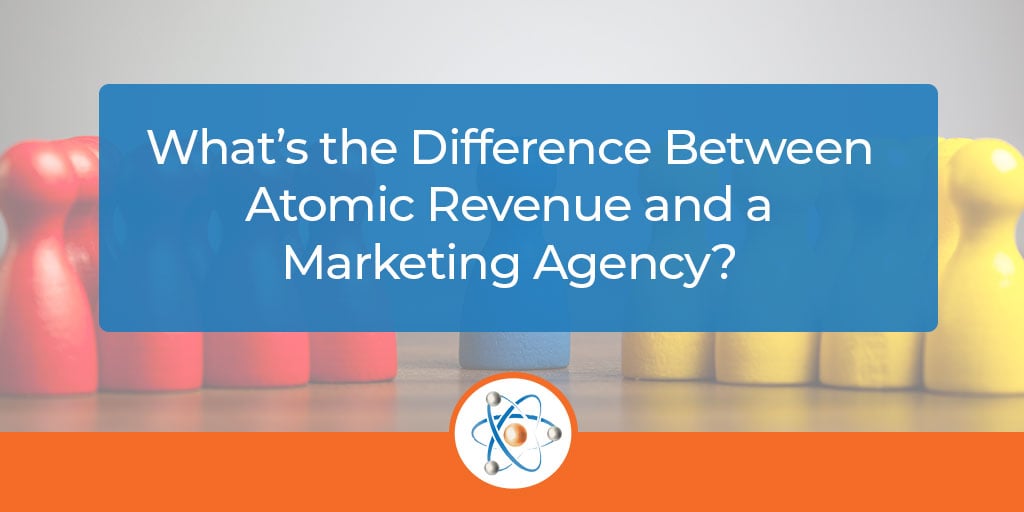 Traditionally, marketing agencies have been the go-to solution for many companies when they experience slumping sales and inconsistent revenue. A business typically hires a marketing firm to highlight its products and/or services in a new way (website update, printed collateral, social media ads, trade show design, etc.) or to refresh its brand, all in an attempt to get the target audience's attention, create leads, and ultimately increase sales.

Sounds good, right? Maybe your company has worked with a marketing agency or two over the years for the same reasons, but realized underwhelming results and you're not sure why. Because lagging sales and lack of growth are rarely due to marketing alone. Real growth is achieved through revenue operations.

So, when we get asked (and we get asked often), "How is Atomic Revenue different from a marketing agency?" the answer is simple. We help companies remove roadblocks to success and drive growth by empowering their people through process and data™ to optimize revenue operations. We support and expand all areas of a business, not just marketing, which is essential for consistent growth.

The difference between what Atomic Revenue does and what a marketing firm does is vast but not exclusive of marketing. Let's look a bit deeper into how Atomic Revenue's revenue operations discipline focuses on customer advocacy to get results and how our company is different from a marketing agency.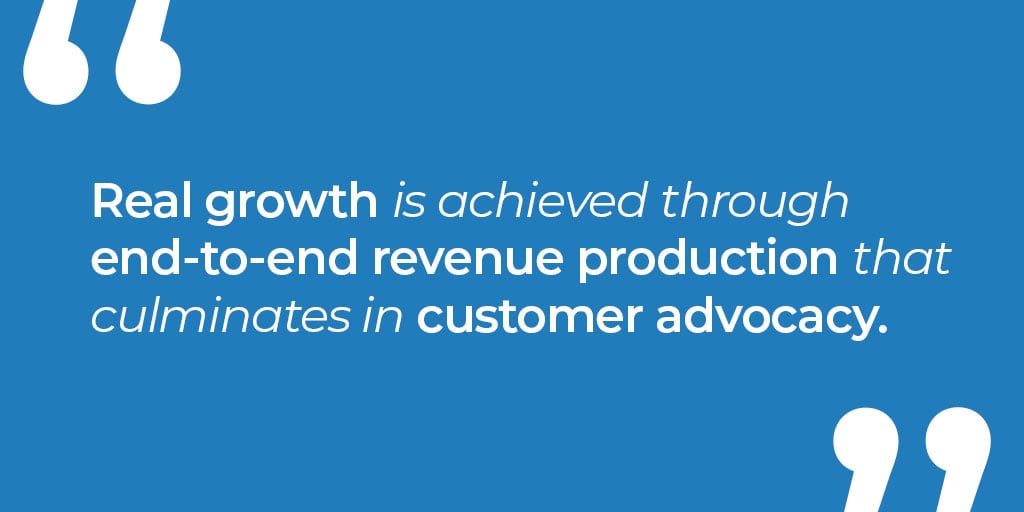 Marketing Agency Goals & Actions
Marketing agencies tend to focus on the who, what, when, and where. Who is the target market? What do they need? When do they need it? And where should we market to them? Therefore, the following actions are what a typical marketing agency will do to help a client get more leads, in the hope that it generates more leads.
Build/improve brand image by looking at current marketing/advertising program; change what isn't working.
Decide the who, what, when, and where of the campaign by inspecting the competition and mimicking their platforms.
Look at numbers from website click-throughs, bounces, and other interactions, as well as leads from all means of advertising; propose changes based on these "vanity metrics."
Enhance/create digital marketing/other advertising based on perceived customer needs and vanity metrics.
Split-test new marketing tactics for 3–6 months to determine what is working and what is not; adjust campaigns accordingly.
If leads are not generated to expectations, keep tweaking the message, brand image, website, and other forms of marketing/advertising, add to the budget for more of the same, until the desired results are obtained.
When/if desired lead generation and sales conversions do not improve for a healthy ROI, start over.
Atomic Revenue Goals & Tactics
To increase revenue, Atomic Revenue focuses on not just the who, what, when, and where to help clients achieve an ROI, but more importantly, the why and the how. The why and how are where you discover profitability. Just repeating the who, what, when, and where is a broken cycle.
Diagnose what isn't working to grow the business by assessing meaningful, integrated, company-wide KPI metrics; propose changes (not just in marketing) based on actual, measurable numbers.
Perform a competitor differentiation rather than competitor analysis. Focus on key differentiators for future marketing and sales directives.
Enhance/create digital marketing/printed advertising pieces focused on qualified lead generation tactics (not just any-lead-will-do ideation).
Involve business operations and revenue operations departments in all facets of revenue generation; remove departmental silos for improved efficiency.
Use value-driven data to assess and adjust tactics as needed to ensure qualified leads are converting to sales and customer advocacy with a significant marketing ROI.
Optimize program for continued year-over-year growth using end-to-end revenue operations production™, measurable, meaningful data, and holistic tactics.
As you can see, Atomic Revenue uses meaningful data to determine if you're marketing to the right segment. You may think you know who your customer is but is there data to back that up? How have you chosen your potential customers – did you pick a target and start talking to them? What's the market share of that segment? Is there room for growth within that environment? It is critical to evaluate the why and the how and go way past creative to end-to-end revenue production and customer advocacy.
No matter what you sell or who you sell it to, there are over 130 elements of revenue operations that work together to produce lead generation, sales conversion, and customer advocacy outcomes.
– Tara Kinney, CEO, Atomic Revenue
How is Marketing Different from Revenue Operations?
Stand-alone marketing companies are creative for the sake of generating leads ... but are they qualified leads? Marketing firms create a message, but is it the right message delivered to the right audience at the right time? What are they basing their lead generation tactics and messaging decisions on? Revenue operations defines and measures these factors with reliable, hard data, which also lowers customer acquisition costs (CAC). Revenue operations sends the right message to the right audience at the right time.
Agencies have clever graphic artists, witty copy writers, in-the-know social media managers, and other creatives, but marketing agencies do not connect all the tactical lead-generation actions to integrated KPIs that drive results. Rev ops connects all creative into integrated KPIs.
Marketing agencies fill the top of the funnel, which is awareness, but do not use in-depth, strategic data collected from every department of a company to complete the entire business funnel and create measurable end-to-end revenue production. Revenue operations completes the business funnel.
When data points show that there is a need to shift money away from marketing to another area of the company to achieve customer advocacy, such as a new salesperson or increased inventory, a marketing agency will not shift spend away from marketing to another area of a company. Revenue operations encourages shifting budgets where needed.
Typically, marketing gets a certain portion of the budget, but it's not broken down or segregated into specifics. Marketing money shifts should happen based on revenue operations. Typical agencies lump it all together, which means little control or no accountability over departmental KPIs. Rev ops provides segregated data of how each portion of the pipeline is doing, i.e., website, social media, sales, etc., then adjusts the budget accordingly. Rev ops keeps accountability over departmental KPIs.
Marketing agencies have Account Managers who deal directly with the client and their needs from a marketing perspective only. Atomic Revenue's Revenue Operations Directors have a keen and nerdy pulse on the profitability and growth of our clients with a creative and modern understanding that marketing in all forms, finance, lead generation, budget, customer experience, and future growth are all parts of a business that touch every single department and every customer interaction, every single day. Our Revenue Operations Directors work in partnership with our clients and make sure marketing activities and all departmental functions are integrated into actionable, measurable data tied into KPIs for educated decision making that leads to a healthy ROI.
Atomic Revenue takes clients from target-market awareness through the seven steps to customer advocacy with insightful, complex, and meaningful integrated company-wide KPIs rather than vanity metrics.
From Awareness to Customer Advocacy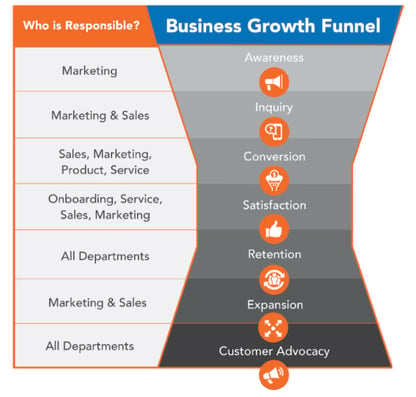 To take a prospect from awareness to inquiry, to conversion, satisfaction, retention, expansion, and finally to customer advocacy is a business growth funnel rather than a marketing funnel. You get from one level to the next by doing many non-marketing activities like controlling costs, optimizing performance by segregating costs, by changing labor initiatives, and actually doing whatever needs to be done in any department (remove the silos), then integrating all the KPI data from all of these areas. You soon see that each department plays a role in awareness, conversion, satisfaction, retention, and so on. Simply updating or changing your marketing strategy plays a single role in awareness.
You can only grow revenue with customer advocacy, and you can't get to customer advocacy without nurturing, which fosters customer retention. Retaining the customer and creating advocates has the highest lifetime value from profit margin standpoint.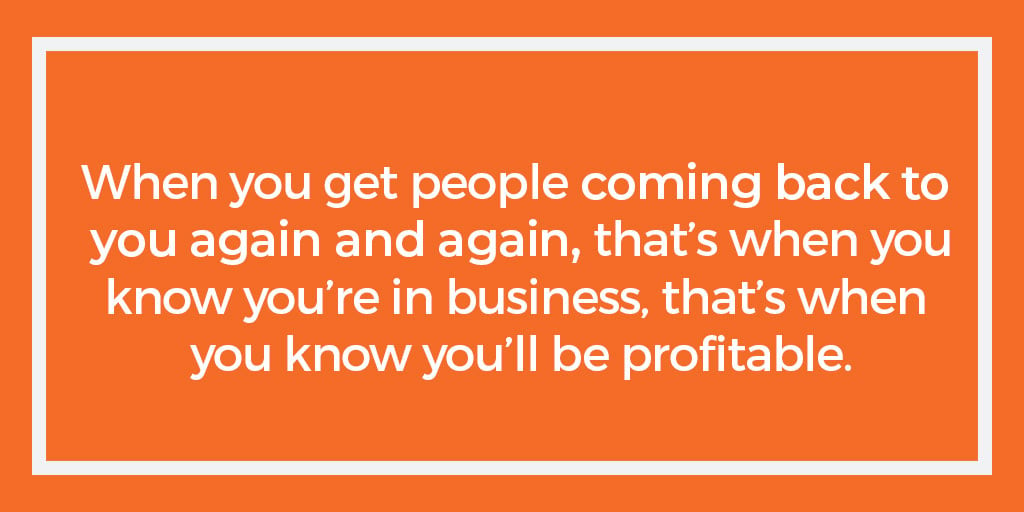 Scalable Marketing & Revenue Operations Solutions
Now ask yourself, what's the difference between Atomic Revenue and a marketing agency? I hope to have clarified our processes. Atomic Revenue is revenue operations company. Yes, we have marketing capabilities, but that is only a fraction of what we do.
Are we creative? Absolutely. Is marketing a part of our revenue operations services? You bet. We have this amazing, nationwide selection of robust subject-matter experts that sit on both sides of the left- and right-brain continuum. We are abundantly rich in super creative thinkers who have amazing ideas. We have strong visionaries and we partner them with strong data analysis, left-brain, financial thinkers who can help put a whole picture together.
What if are interested in revenue operations but your company has a marketing agency that you jibe with, one that has produced great marketing pieces for your business and 'gets you?' As long as the marketing team is coachable and willing to work within the financial goals and objectives, and they work well within a revenue operations structure, that's a valuable partnership. We are here to support and expand those capabilities.
We have successful working partnerships with many marketing firms across the nation who blend with our diverse and experienced team, offering combined strategy, implementation, and scalable solutions for marketing and revenue operations solutions.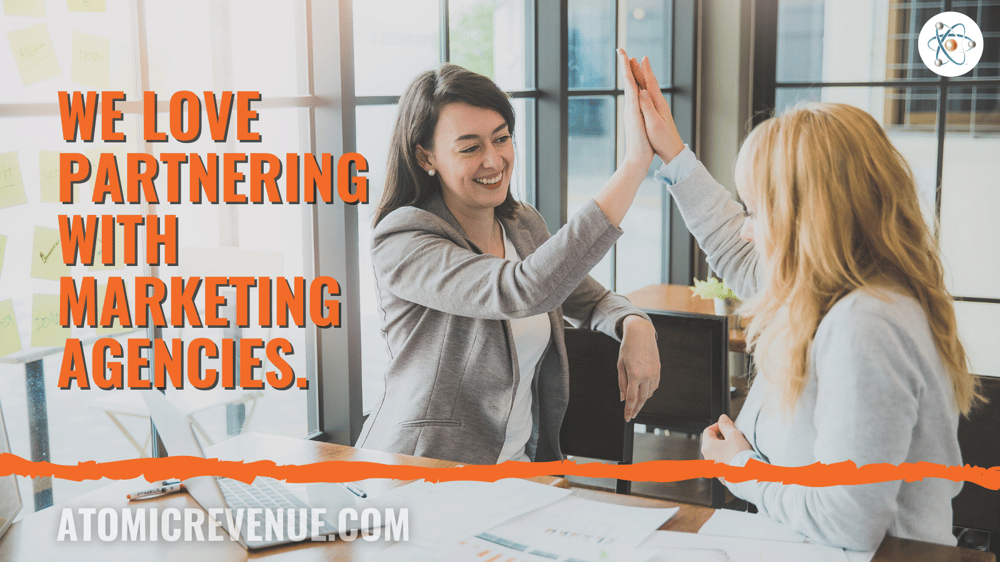 Revenue Operations … Close More Deals & Keep Customers
Are you ready to close more deals and keep customers? Then it's time to partner with Atomic Revenue to become unabashedly pro-profit™! Once we diagnose what your company needs to be profitable, we resolve the issues with the programs that make sense for your company, and then optimize the results for continuous revenue growth. To learn how revenue operations can help your company close more deals and keep customers, contact us today for a no-obligation, free revenue operations assessment.
---
About the Author
Lauren Fast is the Brand & Exposure Manager for Atomic Revenue and co-owner of Fast Bryant Consulting. Her specialty is managing and implementing content development while creating clients' brand strategies. Lauren has a proven history of developing successful public-facing content and brand-building that fosters lead generation, sales conversion, and customer advocacy. She also has comprehensive social media, website, public speaking, coaching, and content marketing experience and a proven record as a top-performing Senior Sales Director and trainer.