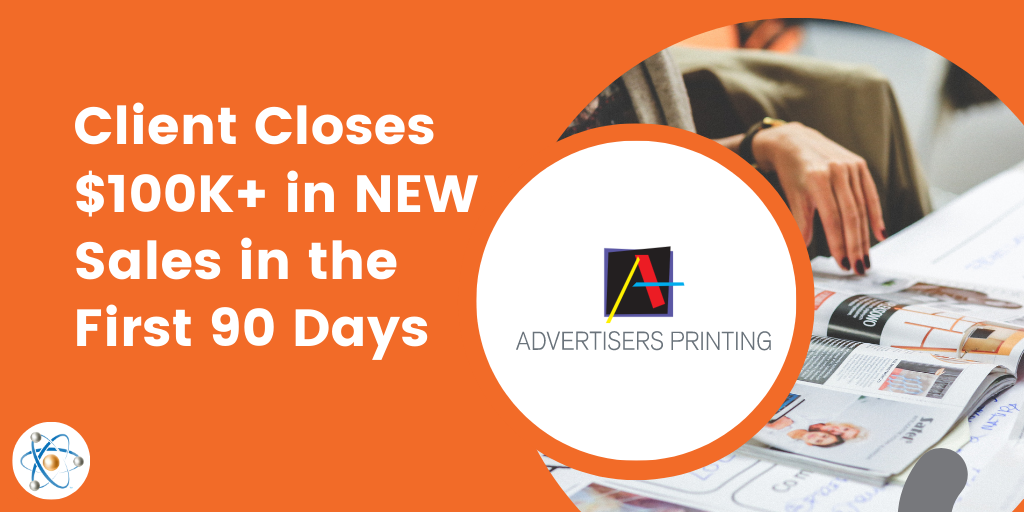 A family-owned, St. Louis-based commercial printing company, The Advertisers Printing Company, proves you're never too old for growth and change. For nearly a century, this business has stayed at the forefront of modern printing and cutting-edge technology. So why did the third- and fourth-generation owners decide to work with Atomic Revenue?
Like so many other companies in 2020, this client needed to consistently bring in more qualified leads and increase sales conversions, and simply tweaking their awareness-building
marketing
was not enough. The result: in the first 90 days working with Atomic Revenue, Advertisers Printing's sales team
quoted 142 brand new deals with an estimated value of $344,720 and closed $103,945 in new business.
Additionally, at the end of the initial four-month engagement, Advertisers Printing had gained a robust, high-functioning CRM, a steady lead-generation pipeline feeding into that CRM, a team trained (and continuously being refined) on how to use the system, and a focus on customer retention through customer advocacy. How? With a proven revenue operations process and data-driven tactics.
As you'll see in this success story, our revenue operations strategies don't provide "instant" results – they are deliberate and intentional. But give us time to align people, processes, and data™, and amazing things begin to happen – in as little as 90 days!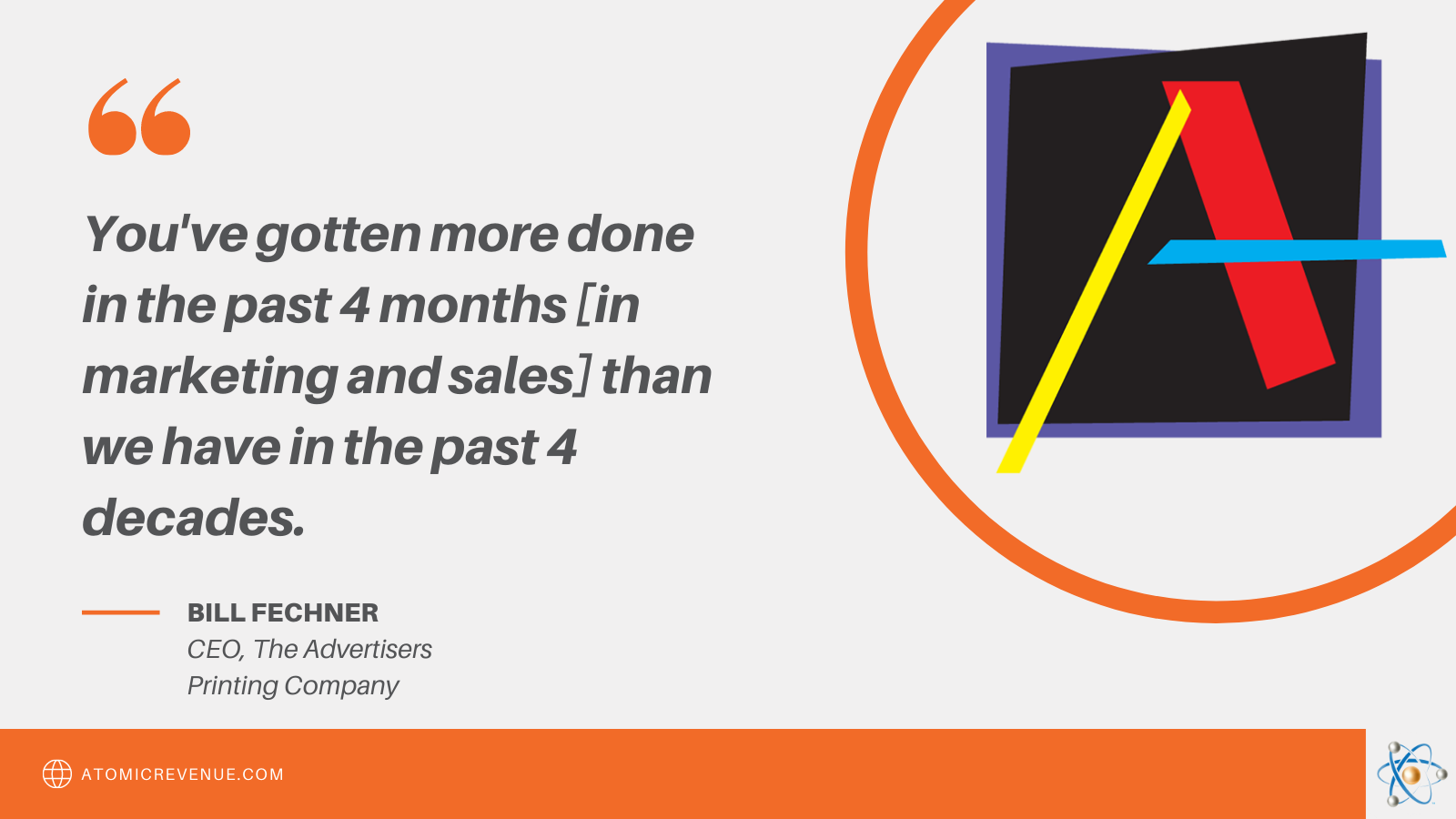 Diagnose – Remove Lead Generation & Sales Conversion Roadblocks
The Advertisers Printing Company was referred to Atomic Revenue by our EOS® partner, Jeannette Wade, who recognized that the company could benefit from not only a business solutions program, but also end-to-end revenue production™.
Once on board, the Atomic Revenue team worked to diagnose the company's revenue roadblocks, which turned out to primarily be in the areas of lead generation and sales conversion. They would need alignment of lead-gen tactics and sales actions that could be measured, tracked, and acted upon to build their sales pipeline and create customer advocacy.
This diagnosis had two clear resolutions – remove revenue roadblocks with a data-driven, sales-focused Customer Relations Management (CRM) tool and create a new content strategy to reach the right people at the right time on the right platforms. We started with the CRM.
Resolve – Implement Sales-focused CRM & a New Content Strategy
Since the sales team had no unification or documentation of how they approached sales and customer relations – every sales representative was doing things their own way – a CRM was necessary.
The CRM Process
Adoption of the CRM began a month after Atomic Revenue began working with Advertisers Printing, with 45 days planned for data entry and sales rep training by our CRM specialists. It was imperative that the CRM was simple to use so the sales team would want to use it and feel empowered to interact with leads and customers confidently. To this end, the CRM was set up with four lead-generation pipelines that were easy to track.
New Prospect
Lapsed Client (no sales 6+ months)
Inbound leads
Retention (customer completed their first job/transition into preferred status)
The 45 days of training also allowed Atomic Revenue to get to know the sales team and be there for them when they had questions and feedback. This open-door, team approach took the pressure off while they learned the system and simultaneously provided ample time for new leads to filter into the system.
Not only is Advertisers Printing's CRM a place for sales reps to record and track information, it provides a collection of revenue-generating data (KPIs) that shows the daily lead-to-customer journey, lowers their customer acquisition cost (CAC), helps the sales team accomplish more, and allows for accurate projecting and budgeting.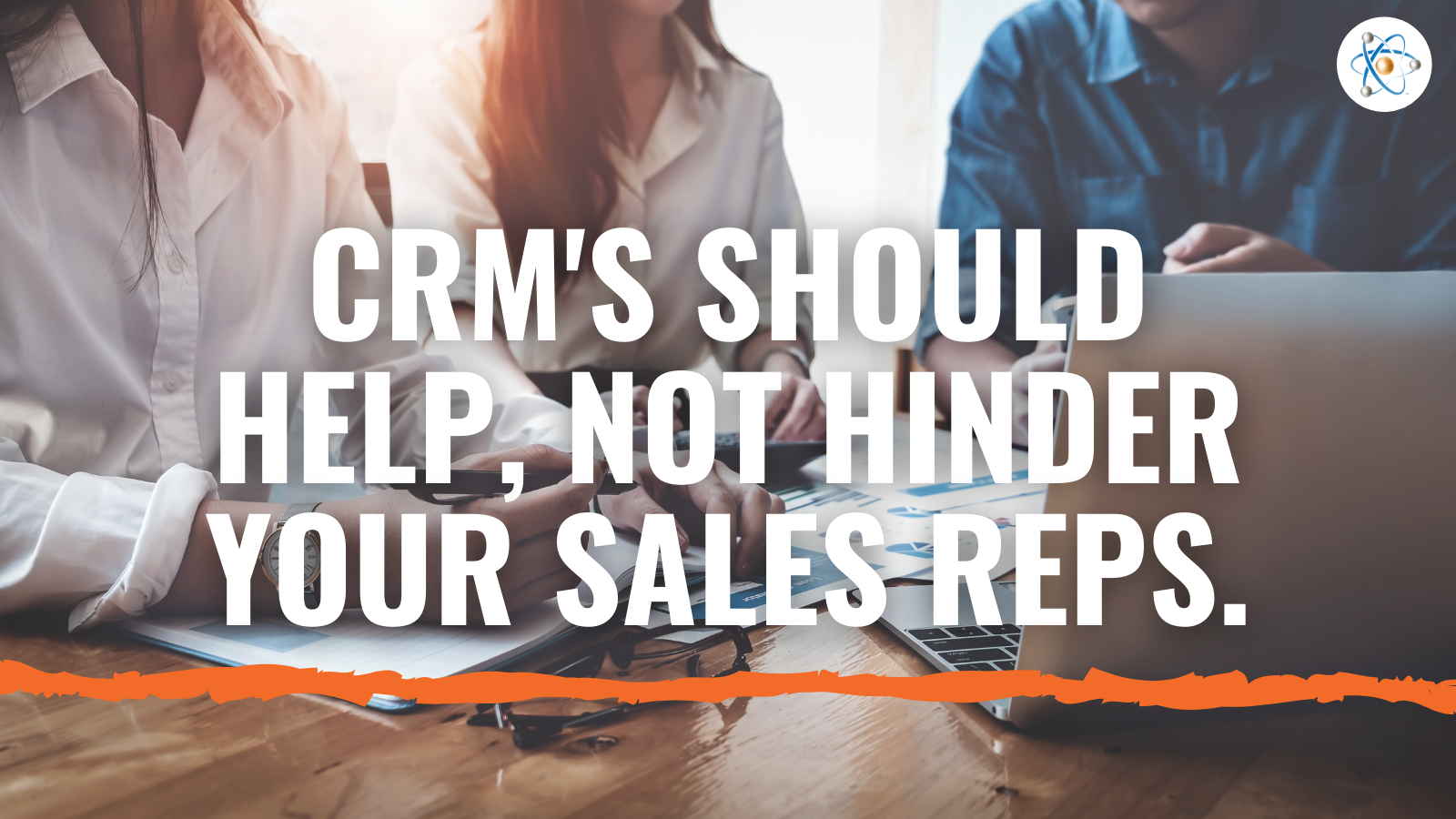 New Content Strategy = Leads into Sales Pipeline
When it came to reaching qualified leads and getting them into the CRM so they could be nurtured, it was important to create the right message and deliver it in the right way to the right target audience. Therefore, while the sales representatives were learning how to use the CRM, Atomic Revenue …
identified their ideal target audience(s)
held a LinkedIn sales training class
conducted a digital operations and content audit to find opportunities for improvement
mapped out workflow
created customer-focused content
helped them reach their audience through e-newsletters, blogs, direct mail, and social media
implemented lead scoring to enable sales reps to connect with clients and prospects when in a buying state of mind
built an educational webinar that had 300 attendees, resulting in 90 leads distributed to the sales team
updated the EOS® L10 scorecard so they could track key sales metrics (KPIs)
Advertisers Printing's fresh, customer-focused content strategy began to tell their story in relation to how they've been helping customers since 1923, and get their audience excited about their new 10-color, eco-friendly printing press (a $3.2 million expenditure), which will help their printed materials turn out brilliantly with less environmental impact and a faster turn-around.
"Increasing revenue requires evaluation, measurement, and iteration of your brand to be the preferred choice that people trust, relate to, buy from, and advocate for." – Karen Leeker, Executive Partner, Atomic Revenue
In summary, once the sales team adopted and began using the CRM, coupled with the new customer-centric, lead-generation campaign, in just 45 days they closed $103,945 of new business with another $178,555 in the pipeline. They are now able to track sales progression with their EOS scorecard data, as well as deals lost, ($14,500) for further insight.
Services Provided
Digital operations audit
Marketing operations audit
Brand development
CRM selection, implementation, training, review
Digital operations/content strategy
Revenue operations strategy
Sales conversion achievement/monitoring with KPIs
Sales pipeline facilitation
EOS scorecard data stream from CRM, refinement, optimization
"The only reason I closed that new [5-figure] deal is because of the new systems and processes we've been putting in place." – 20 year, tenured Advertisers Printing Sales Rep
Optimize – Omnichannel Marketing & More Data for Continuous Improvement
The idea that all communication is 'done online' now is partly true, but there's also been a resurgence of printing as more consumers desire less screen time and more tactile forms of media. With their CRM providing the lead generation and sales conversion data they need to grow, and their brand message getting out to the right people, Advertisers Printing sales team can accomplish more and help their clients grow their businesses through exceptional print media, and in turn, grow their own revenue.
To further optimize revenue operations, Atomic Revenue continues to help facilitate each step of the customer journey.
We've created an omnichannel marketing campaign to support their $3.2 million investment in a revolutionary new printing press with some wicked-awesome design work and storytelling via email, direct mail, social media, earned media, press releases, and business journal articles. Through this messaging, Advertisers Printing is sharing how the new printing press helps marketing communications professionals up their game and sell more.
Atomic Revenue also continues to adjust and collect more data to achieve growth and assess their revenue strategies for continuous improvement. Going forward, they can continue to serve with a customer-advocacy mindset, and from that, realize long-term revenue consistency.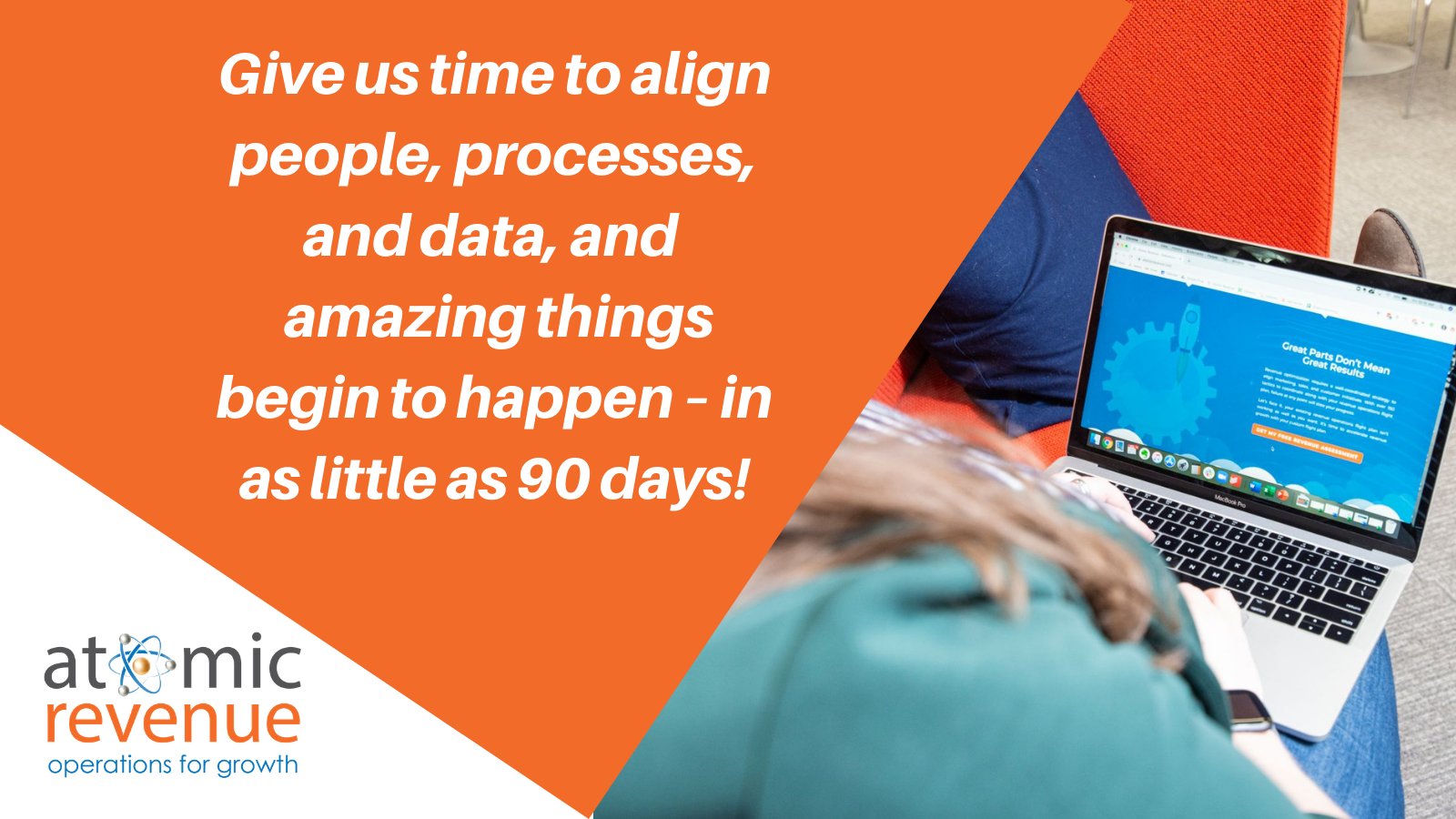 Streamline Processes, Shorten Sales Cycle
If you feel it's time to drive stability into your company's revenue pipeline, Atomic Revenue can help you launch growth by supporting and improving lead generation, sales conversion, and customer advocacy as part of a complete revenue operations strategy. To streamline your processes, shorten the sales cycle, and improve ROI, contact us today for a free revenue assessment.
---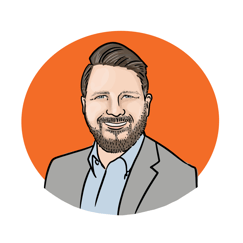 About the Author
Joel Emery is a Sales Systems Architect at Atomic Revenue and principal of Ignite Strategies, LLC. Joel drives innovation and collaboration, thinks critically, and aligns diverse perspectives to expand revenue streams and achieve common goals. He is also an expert in quantitative and qualitative data collection and analysis. Joel's effective strategies to engage customers and employees and increase revenue support Atomic Revenue's mission and our clients in obtaining customer success and revenue growth.