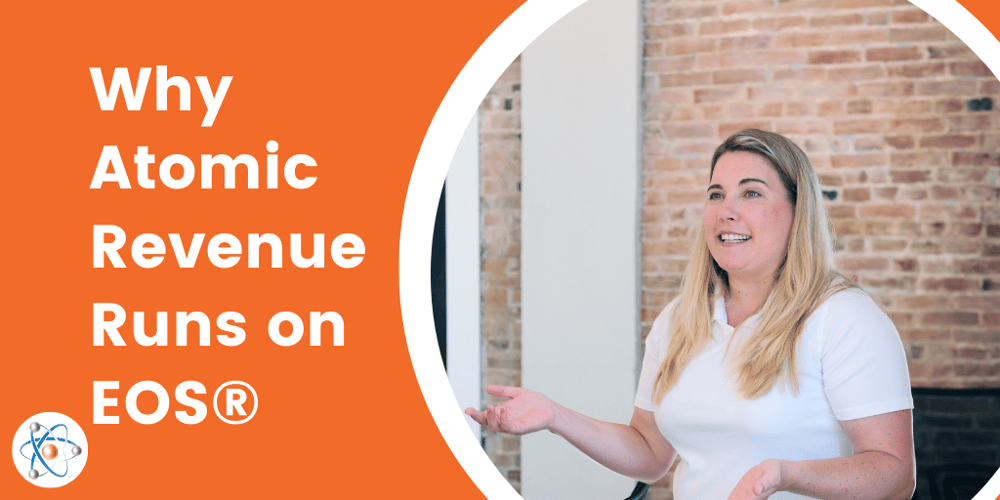 Atomic Revenue's expertise centers around the emerging discipline of Revenue Operations, which combines strategy and tactics for lead generation, sales conversion, and customer advocacy that results in full profit potential. We align all the parts of a business (as many as 130!), measure all outcomes, and empower people through process and data for end-to-end revenue production™ to help companies reach their ultimate objective — real, sustainable growth. So why did we choose to run on EOS® when we already help our clients in the same cadence?
EOS combines timeless business principles with a set of simple, practical, real-world tools and concepts that help entrepreneurs and businesses meet their goals by mastering EOS's simple way of operating.
EOS & Atomic Revenue Philosophies Align
We recently came to realize, with >300% year-over-year growth and a leap from 12 team members to 42 in one year, we were not applying our own processes (that we hold our clients accountable for) to grow in an organized, measurable way. You know the old English proverb, "The cobbler's children are the worst shod," well that was us. Then we learned the details of the Entrepreneurial Operating System (EOS®) and had our "ah-ha! moment."
Our leadership team quickly realized how much our company needed this streamlined system, and, more importantly, that our Revenue Operations philosophies align with the EOS philosophies — this was the catalyst that made us want to be an EOS company. This proven process is a great fit for us as we already serve our clients in the same way, and it provides traction to maintain a higher level of control as we grow at such a rapid pace. It also just so happens, because we are aligned with other companies that also run on EOS, serving those clients is much easier for the Atomic Revenue team and, in turn, our clients with us.
What We Have Gained by Using EOS
In general, going through the EOS process has helped us develop better and more systematic ways to use the tools, technologies, and processes that we love and use every day. As of Q3 2019, we are completely aligned with the EOS leadership model and operating structure. We have identified our core values, proven processes, and our "3 Uniques," and have an even higher level of transparency for the direction of Atomic Revenue, which translates to better serving our clients. With EOS, we have gained further alignment, better processes, and simplified data tracking, which translates to optimum revenue production. A few of the EOS business methods that have helped us gain traction the most include the Vision Traction Organizer™ and the following:
Defined Leadership Roles and Responsibilities
With new Executive Partners and leadership team members, we needed to clearly define roles and responsibilities. The innate need for me, as CEO, to have my hand in everything was making it difficult to have delineated roles and a reporting structure that didn't involve me on every level. EOS helped us define those roles, outline responsibilities, and establish an accountability chart for the leadership team. This has revolutionized the way we delegate responsibility. Instead of all the work resting on a couple of people, we can divide and conquer as a team more effectively. Our production has improved greatly, and our deliverables are staying on-point.
Organized Weekly Leadership Meetings
Previously, we did not have leadership meetings. With EOS, we now have weekly meetings that follow the recommendations of a Level 10 meeting with a scorecard review and problems/solutions discussions. Our weekly EOS-guided meetings are extremely informative and give us a detailed map to what is currently happening, what needs to happen going forward, and who is accountable for the actions needed.
KPI Scorecard
A HUGE EOS advantage for us and one we also ask our clients to enforce is a regular KPI review. With EOS, there's a weekly KPI scorecard review that's built into the system— we found this was the most challenging task, as many other companies also report. Thanks to this practice, we gained a greater understanding of how laborious it is to manually compile all the data required for good decision making, which accelerated further development and the public release of our own automated KPI dashboard, AuVis℠. We were already using this dashboard with clients, but not internally. Now, with AuVis and EOS combined, we've removed human error, can track the KPIs we want to track but never had the ability to before, and save ourselves and our clients time, which equates to fewer wasted man-hours and more time generating revenue.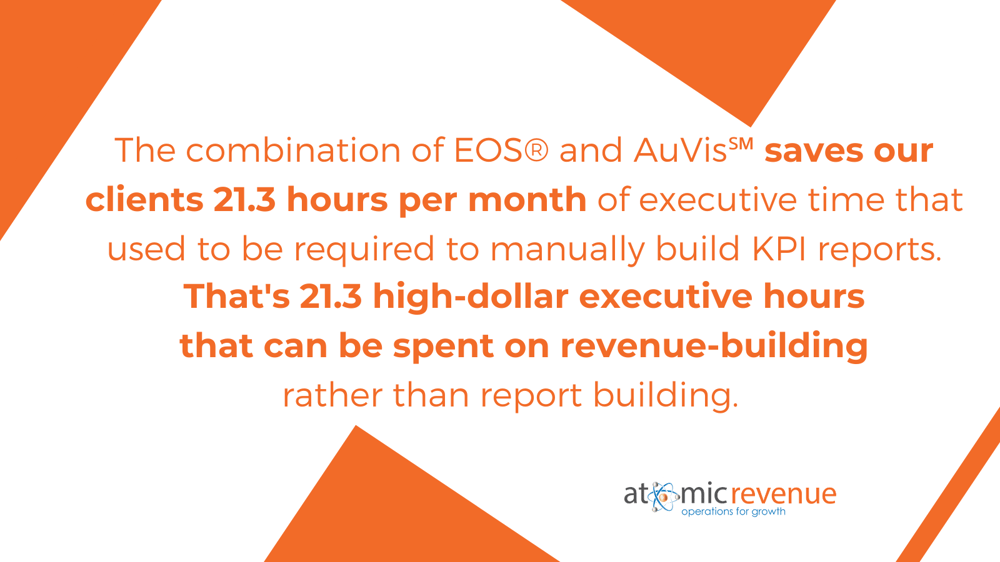 We used our own dashboard to manage and monitor the performance of clients' revenue operations but had not adapted it to be part of our own EOS scorecards and financial systems integration until we were fully ingrained in the system ourselves. EOS has changed our organization for the better and allowed us to better serve our clients.
KPI Data & AuVis℠
As mentioned, to simplify our EOS scorecard process, we funneled the information that comes from separate parts of the business that may not be collected in one place, like financial data, CRM data, marketing platform data, ERP data, and other data, into AuVis. Now, our scorecard review is a snap. We have eliminated hours compiling and manually adjusting Excel spreadsheets and calculating KPI data. AuVis has given everyone on our leadership team 24/7 data access and made it simple to fulfill the weekly reporting requirement while removing the labor. It also provides real-time information rather than days-old data, and individuals can produce the KPIs they want, when they want them, and see them at a glance. AuVis supports compliance with the EOS process itself, making the weekly scorecard an attainable goal.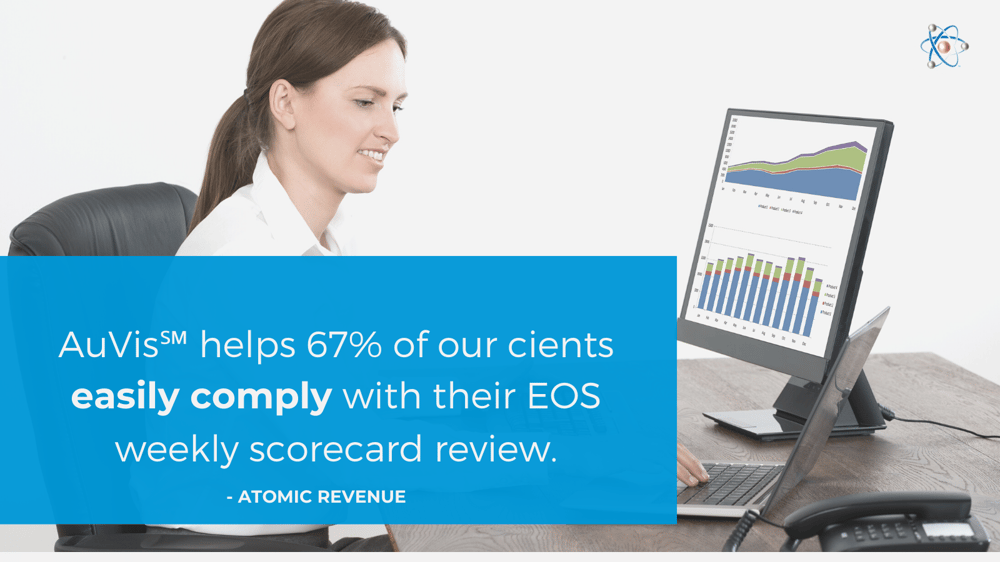 The Tools We Use in Our EOS Process
Project management: Asana tracks and manages all 42 people's tasks, down to the most minuscule of activities, as well as all leadership EOS meetings and tasks.
Accounting: QuickBooks organizes bookkeeping in a way that aligns with the accountability requirements for each of the functional leaders on the accountability chart.
CRM: HubSpot tracks all marketing/sales performance data for the department-level accountability meetings, and reports progress on the leadership scorecard.
Communication: Slack is the most efficient communication tool among our leadership team. Discussions about EOS "Rocks" and to-do lists can be discussed and advanced outside of meetings.
Timekeeping: Everhour monitors the improvements and changes in time efficiency that occur as a result of leadership team progress.
KPI Dashboard: AuVis, our automated KPI dashboard, funnels real-time, 24/7 data to the EOS leadership scorecard and provides scorecards to each accountability lead for their own department.
Take a Look Under the Hood of Our EOS Engine
Because what we do is not exactly like what anybody else does, EOS helped us see that it helps others to visualize who Atomic Revenue is, how we help our clients, where we operate and when, and of course – our why. EOS helped us clearly define our mission and create energy and momentum to rally around our core values, with all collateral and conversation focused on reminding everyone on the team and out in the world who we are.
Why We Recommend EOS to Clients
We recommend EOS for the very same reasons it has helped us and made us a better company — regular cadence with the right people in the right seats with the right tools and processes, all unified to accomplish measurable goals. We see how well it's working in a short time — the weekly leadership meetings, quarterly planning for the next 90 days, and review of the last 90 days, inspire attainable goal-setting based on trackable actions.
Atomic Revenue is a data-driven company with data-driven processes. Without data, there is no way to measure business goals and growth and have a roadmap for your future. EOS is also a data-driven process aligned with people and production that accomplishes shared leadership objectives and facilitates meeting (and exceeding) revenue goals. We are symbiotic –— it has never felt easier to have a strategic plan and be able to share the responsibility of our company's calculated growth as a team. There is less confusion, less stuff falling off the radar, and more accountability that moves the needle forward. And, our clients benefit tremendously from our EOS success.
EOS Benefits Atomic Revenue & Our Clients
Now that Atomic Revenue runs on EOS, every layer of our organization — from contractors to employees to owners — benefits from our leadership team utilizing the EOS model. Over 30% of our team is located coast-to-coast, with the remainder near our headquarters in St. Louis, and every person has access to our Vision Traction Organizer so we can all rally around our three uniques, maximize our processes, and share goals.
We have better company-wide communication and a clear definition of how we deliver scalable and systematic services to our clients through clarity of process and our Revenue Operations formula. If you are interested in learning how EOS might help your company or would like to learn more about the EOS model, please reach out to us anytime. (314) 439-1280