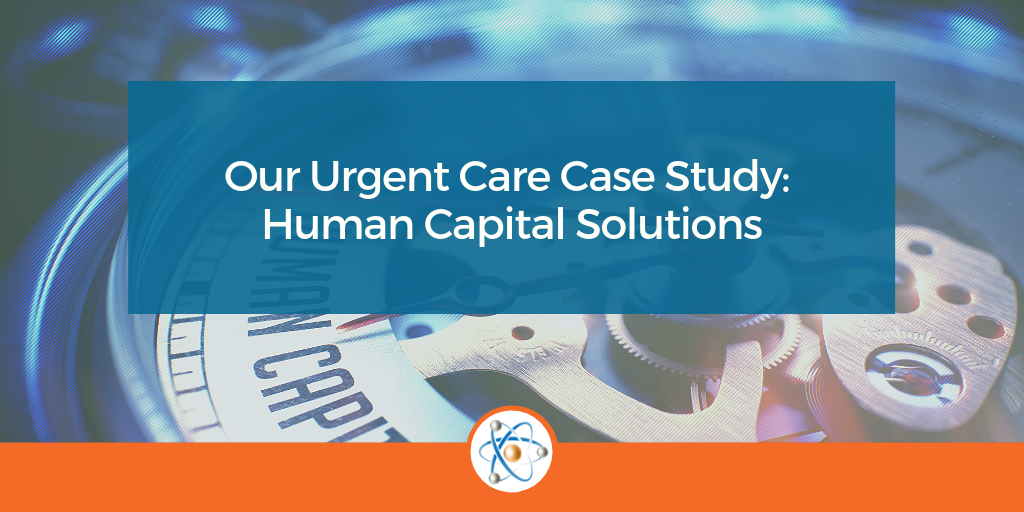 Our Urgent Care is a group of walk-in urgent medical care clinics designed to replace a visit to the ER. They now have seven locations in the greater St. Louis, St. Charles, and Franklin County areas and continue to grow.
In 2013, their Chief Financial Officer (CFO) Joe Seibel realized that with growth came a need for revenue-building resources they just didn't have. To fulfill this need, he reached out to Tara Kinney, CEO and Managing Principal of Atomic Revenue, and a partnership bloomed that led to Our Urgent Care exceeding industry growth by over 400% within one year.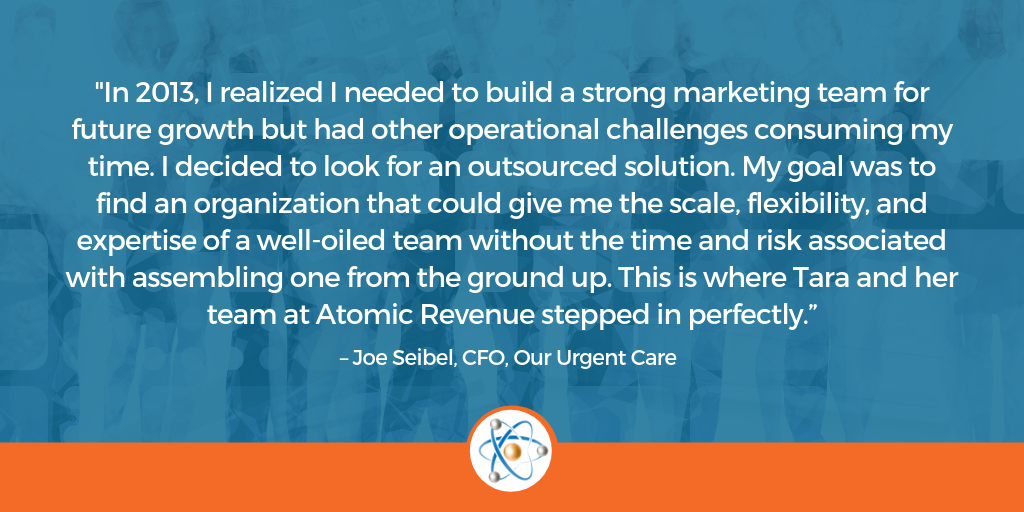 From the Beginning
A Subscription Services Team Partner
When Joe reached out to Tara, Our Urgent Care had one in-house marketing person who was limited in scope, especially in the areas of digital operations, graphic design, budget management, and strategy. Therefore, shortly before opening the fourth location, additional marketing bandwidth and graphic design services were needed – that's where Atomic Revenue came into play.
The owners of Our Urgent Care, as well as Joe, had previously worked with Tara and knew that she could mobilize a full-service marketing team quickly. A dedicated Subscription Services and Marketing Team was implemented, offering the most cost-effective solution to fill marketing department gaps. With this team, Atomic Revenue's services could be scaled-up, dialed-back, or reconfigured to handle the changing business dynamics.
There were measurable financial, time, and human capital benefits to Our Urgent Care not having to hire employees and contract for missing skill-sets. The Atomic Subscription Team provided all the skills needed, when they were needed, and at a much lower cost, and continued to provide these services for the next 45 months through several significant company changes and tremendous growth.
4 Steps that Launched Growth
Transition #1: Right Staff, Right Seat
Atomic Revenue expanded subscription resources to cover increased needs and services as Our Urgent Care continued to grow without a marketing employee on the payroll (she had departed the company). Graphic design, website, social media management, and fractional Chief Marketing Officer (CMO) tasks were some of our responsibilities until they were ready to hire qualified, full-time staff.
Transition #2: Customer Success
We evaluated budgets and priorities and recommended Customer Review Management. Our Urgent Care had seen over 90,000 patients but only had 16 reviews and a 1-star rating – there was no review record from the seemingly satisfied 87,984 patients. Of the negative reviews, most were addressed with interior design upgrades and hospitality training for the staff.
Atomic Revenue supported their interior branding initiatives, assisted with exterior signage, and custom built a service training program that was delivered to 100% of staff. We also helped implement a formal review process to acquire more positive reviews. Our Urgent Care went from 1 star to 4.5 stars in 12 months.
Transition #3: Hiring and Vendor Management
Atomic Revenue hired and managed summer interns to work at Our Urgent Care, then hired and managed a junior marketing coordinator, and reduced our Subscription Services Team accordingly. A new website vendor and digital agency were needed for pay-per-click (PPC) and SEO management, so we put the work out to bid and selected vendors.
We then helped hire, train, and on-board a full-time Marketing Manager to care for the needs of the growing company. Our Atomic Subscription Services Team was reduced again by over 50% with social media management, graphic design, and copy writing resources reporting directly to the new Marketing Manager, who was then supported by our team for quarterly strategic planning and budget reviews.
Transition #4: Hiring a Marketing Coordinator
Over a 6-week timeline, Atomic Revenue trained and transferred all copy writing and social media management to another new hire – the Marketing Coordinator. Today, many years later, we continue to provide on-call graphic design support as-needed without a subscription retainer. Our Urgent Care management knows that if and when they need marketing resources, training, or management support from a team that knows their business – we're here for them.
Growth by the Numbers
While Atomic Revenue was working with Our Urgent Care, they increased the number of medical centers by 50% and grew existing centers by 11.2% per year, which far exceeded the industry average growth rate of 2.8%.
What we provided to launch Our Urgent Care to the next level:
Subscription Marketing Department (nearly 4 years)
Vendor Selection and Management (new website development, interior design, printing, signage, promotional materials, and digital agency)
Core Messaging Program
Hiring/Training New Employees
Healthcare Hospitality Training for Medical and Reception Teams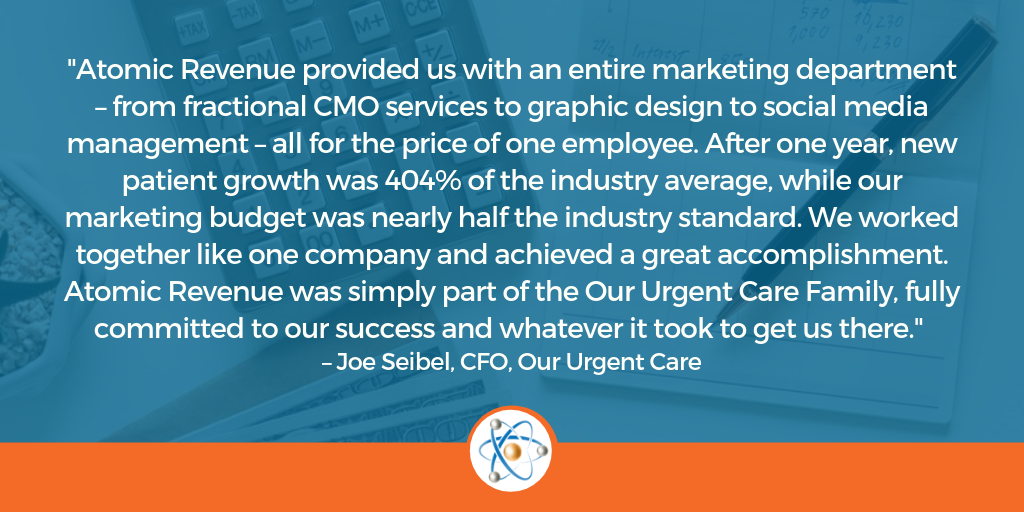 Growth Starts with a Revenue Assessment
If you're interested in how your company can launch revenue operations initiatives that positively and measurably impact your future, Atomic Revenue can help. Our expertise centers around the emerging discipline of Revenue Operations, where we combine marketing operations, sales operations, and customer success to move your company into the realm of full revenue potential. Be sure to reach out to our team today if you have any questions or would like a free revenue assessment. (314) 439-1280