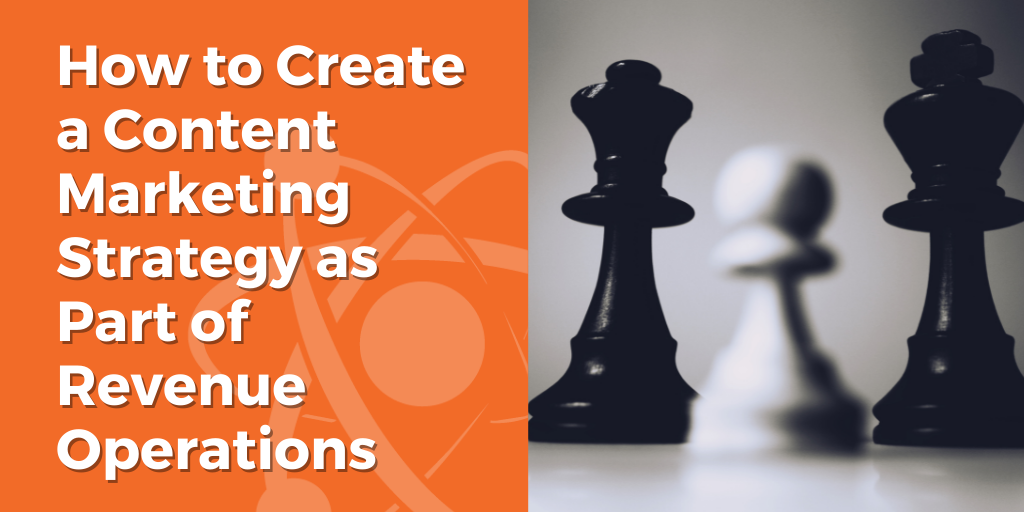 As a business leader, no doubt you've heard about the big push for content marketing. But how does content marketing fit into your B2B company's revenue operations strategy? Where should your content focus be and how on earth do you create an effective content strategy for your business?
In this blog, you'll find answers to these questions, as well as a guide to building a content marketing strategy that will provide a return on your investment.
Let's Talk About Content Marketing by First Defining Revenue Operations
Since revenue operations is a relatively new discipline, let's start with a definition. Also known as RevOps, revenue operations is the entire process by which your company makes money to not only stay in business but to also turn a profit. RevOps is NOT just sales and marketing, nor is it just the "operations" functions of your business.
Revenue operations comprises 130 elements – including your go-to-market, lead generation, sales conversion, customer advocacy, digital operations, and business operations tactics – that work together to make your business profitable.
When implemented strategically, RevOps involves ALL your people across all departments aligned with your processes, data, and technology to create a successful 7-step buyer's journey for every customer, every single time.
So, what does content marketing have to do with RevOps?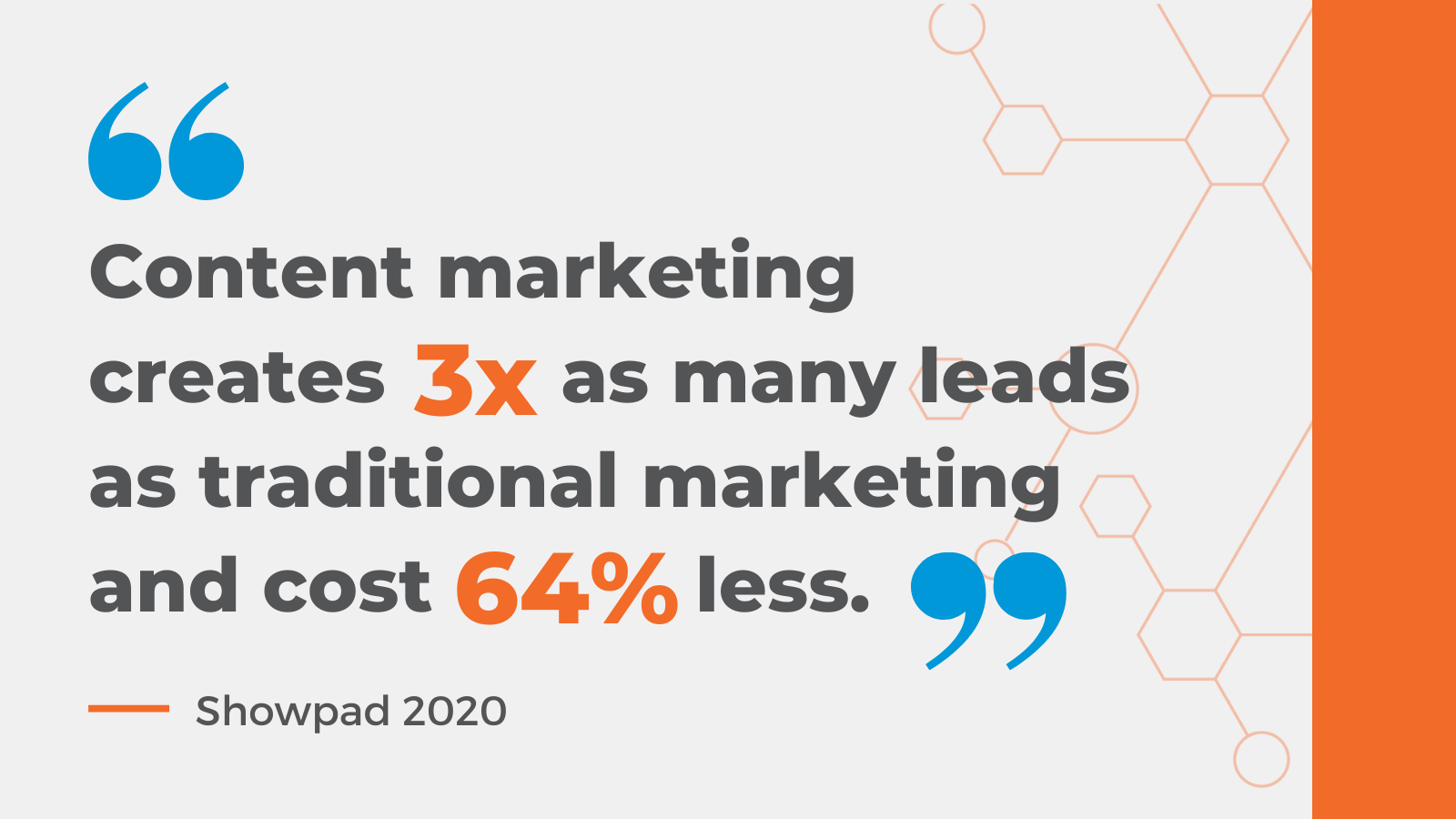 What Does Content Marketing Have to Do With RevOps (Revenue Operations)?
Since lead generation is often the most difficult, early step in the RevOps process, the right content marketing is essential to getting prospects into the pipeline and turning them into leads. When your content emphasizes the human aspect of what you do and it's integrated correctly into your digital marketing, leads can turn into reliable, measurable sales.
Is it really that simple? It can be. Presenting engaging, informational content that inspires visitors to contact you or share your info is how your potential customers and customers get to know you. It is how you share your brand, your values, your culture, and your solutions to their problems. It is how you connect with them and create trust.
Great content also helps with sales enablement, especially now more than ever since prior to 2020, many customers who were called on by salespeople are no longer getting that face-to-face service.
The wrong content or not enough can negatively impact revenue operations, too.
If your website, blogs, and social media content send mixed messages or don't solve your audience's problem, they will leave.
If the text and graphics are confusing or the buying process is difficult to understand, it creates frustration.
And if the focus is on how great your company is instead of on the customer's story, people will not stay on your website or continue to interact.
Any or all of these issues mean prospects will most likely not turn into qualified leads and the revenue operations process will stop before it starts.
Effective content marketing creates a strong lead pipeline and the ability to nurture customers 24/7/365. Both are essential for profitability.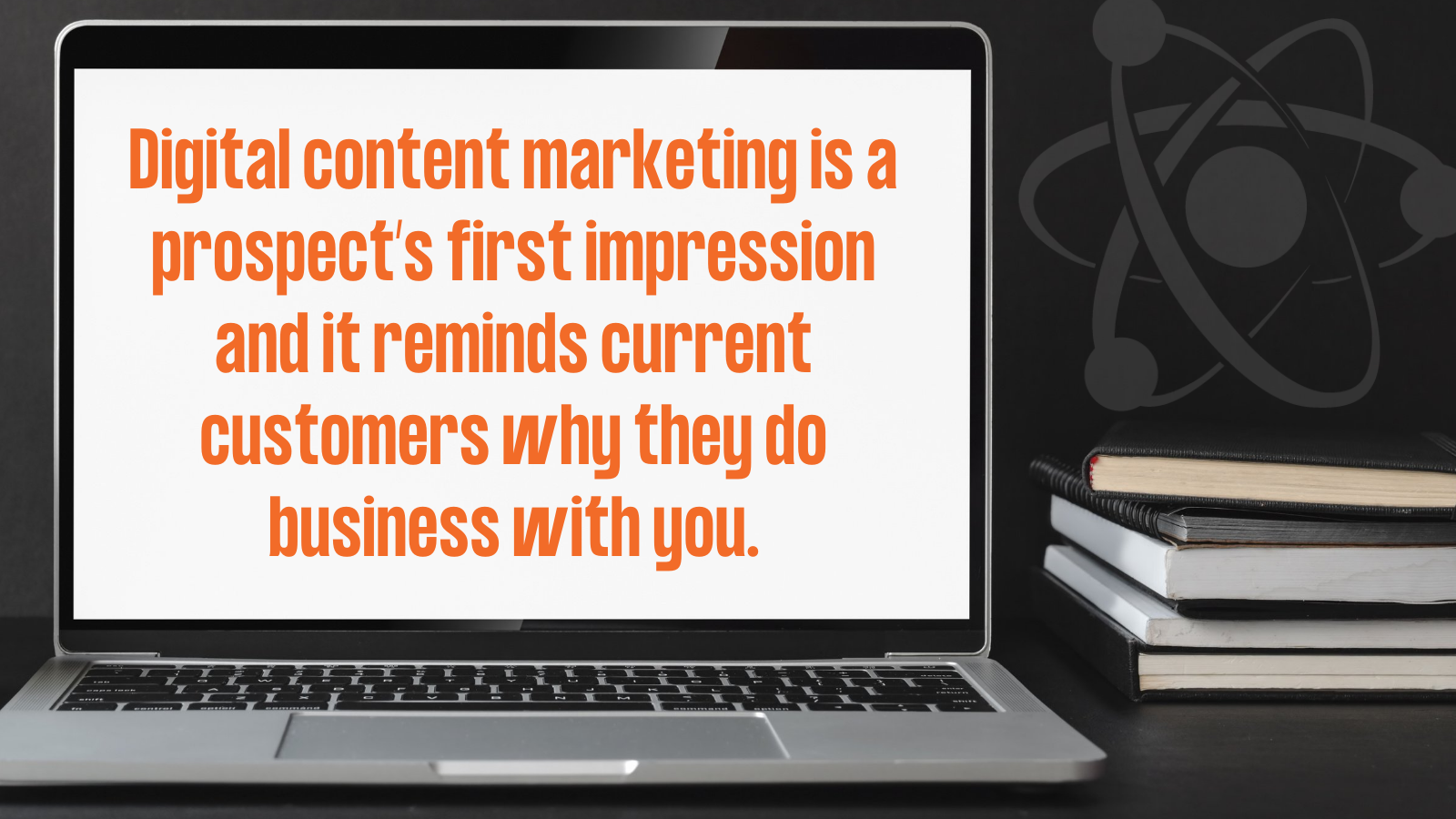 Where Should Your Company's Content Marketing Focus be for Best Results?
It can be challenging to know where your content marketing will have the most impact and which types of content will work best for your business, especially with B2B services and products.
At Atomic Revenue, when we first start working with manufacturers, engineers, and other B2Bs, they usually think their products and/or services don't warrant much attention on a website. They assume blogs would be boring and worthless. However, it's quite the opposite. Websites and blogs and other digital marketing, when done right, are vital to the bottom line.
No matter what product or service you sell, your audience needs to know about it, about you, and how to buy what you're selling.
Every company should have search-engine-optimized, reader-centric content on website pages and in well-written blogs.
Newsletters, email campaigns, white papers, case studies, and e-books also help connect with and nurture your audience and deepen the relationship.
If your product or service is best explained when demonstrated or you have an audio-visual audience, Vlogs and videos may work well for you.
Social media accounts with professional posts and advertising are also part of the equation.
Additionally, your company's content needs to speak to your internal team just as much as your external audience.
A clear message, consistent branding, and professional, informational, engaging content marketing will help your internal team speak the same language your customers are seeing. It gives them confidence in their purpose and unites them in their love for your culture. It is easier to sell and give exceptional customer service when everyone is excited about the company.
What is your content telling your audience and your internal team?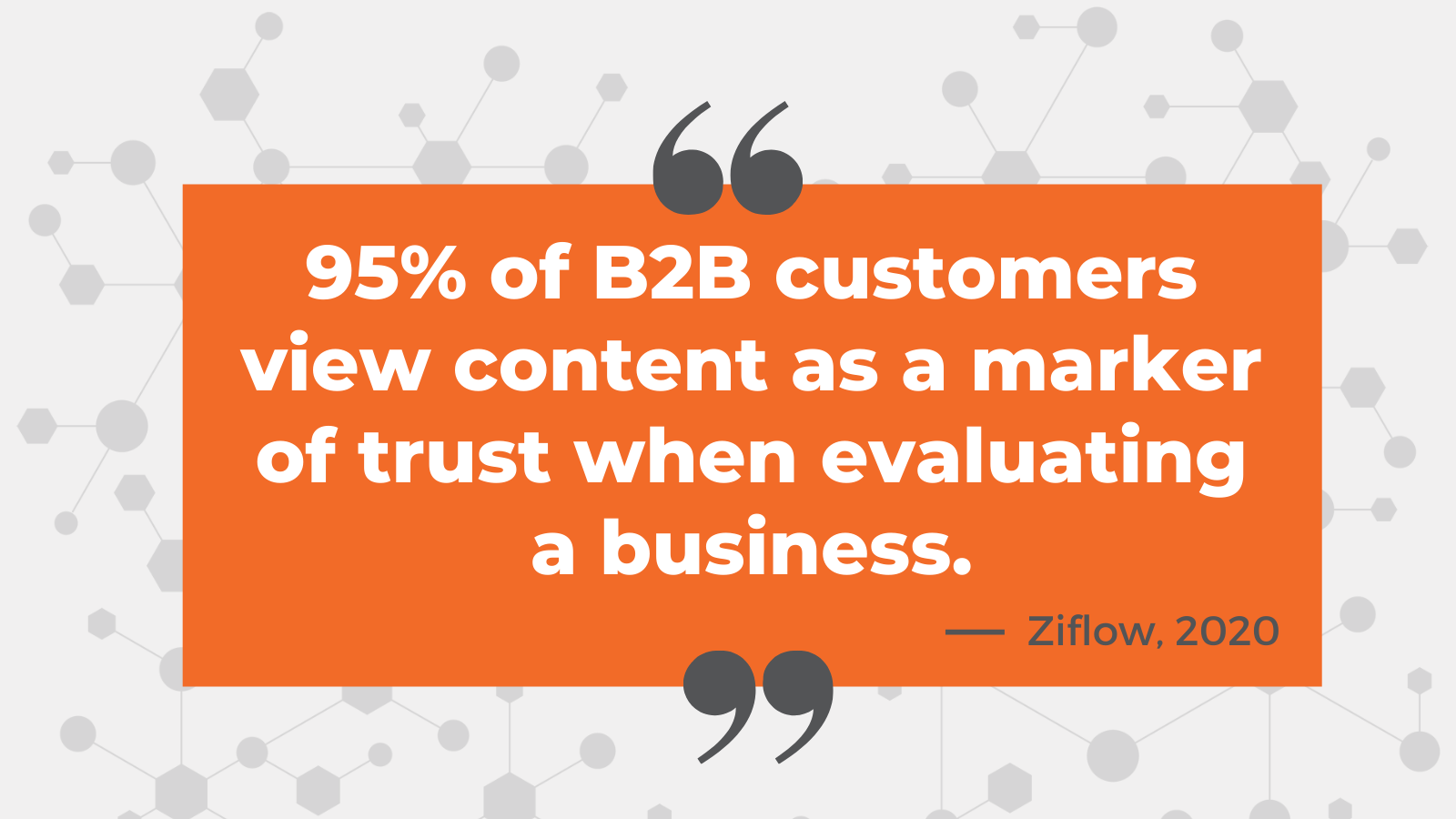 Your B2B Content Strategy Guide
How is your B2B company creating awareness? Are you targeting the right audience? Enticing prospects? Capturing qualified leads? Converting sales? Nurturing your customers? Do you know how well your digital operations and content marketing strategy is working? Can you calculate its ROI?
If the answers to these questions allude you and you don't have a content marketing strategy in place, here is a guide to help you develop one.
1. To produce the best content marketing, employ a dedicated B2B content manager and team.
To produce the best content marketing, employ a dedicated B2B content writer, manager, and team (internal or outsourced) who knows your industry, brand, products and services, and culture, and most importantly, understands your customers.
Your content development team would include a:
Content manager who understands the reporting and analytics of digital marketing.
Content writer who specializes in B2B (if you post blogs, send emails, and compose other digital marketing as often as you should, consider more than one writer).
SEO specialist.
Social media expert.
Google Analytics specialist.
2. Perform keyword research for content marketing SEO.
Before you start writing anything, conduct in-depth keyword research with a keyword tool like SEMrush. Research industry terms you think people are searching for and those that create search engine optimization, or SEO. Keyword software also identifies the words and phrases you may not have considered, and those words clue you in on the problems people want to be solved.
Using search results and expertise, an SEO Specialist will work with your content writer to strategically place keywords and phrases in your marketing. This precise SEO is imperative to content marketing success.
If you have been writing tons of content but you're not seeing the needle move toward leads and ROI, not using the right words and phrases is likely contributing to this lackluster performance. It is probably the main contributor. When Google or Bing can't find you, neither can your audience.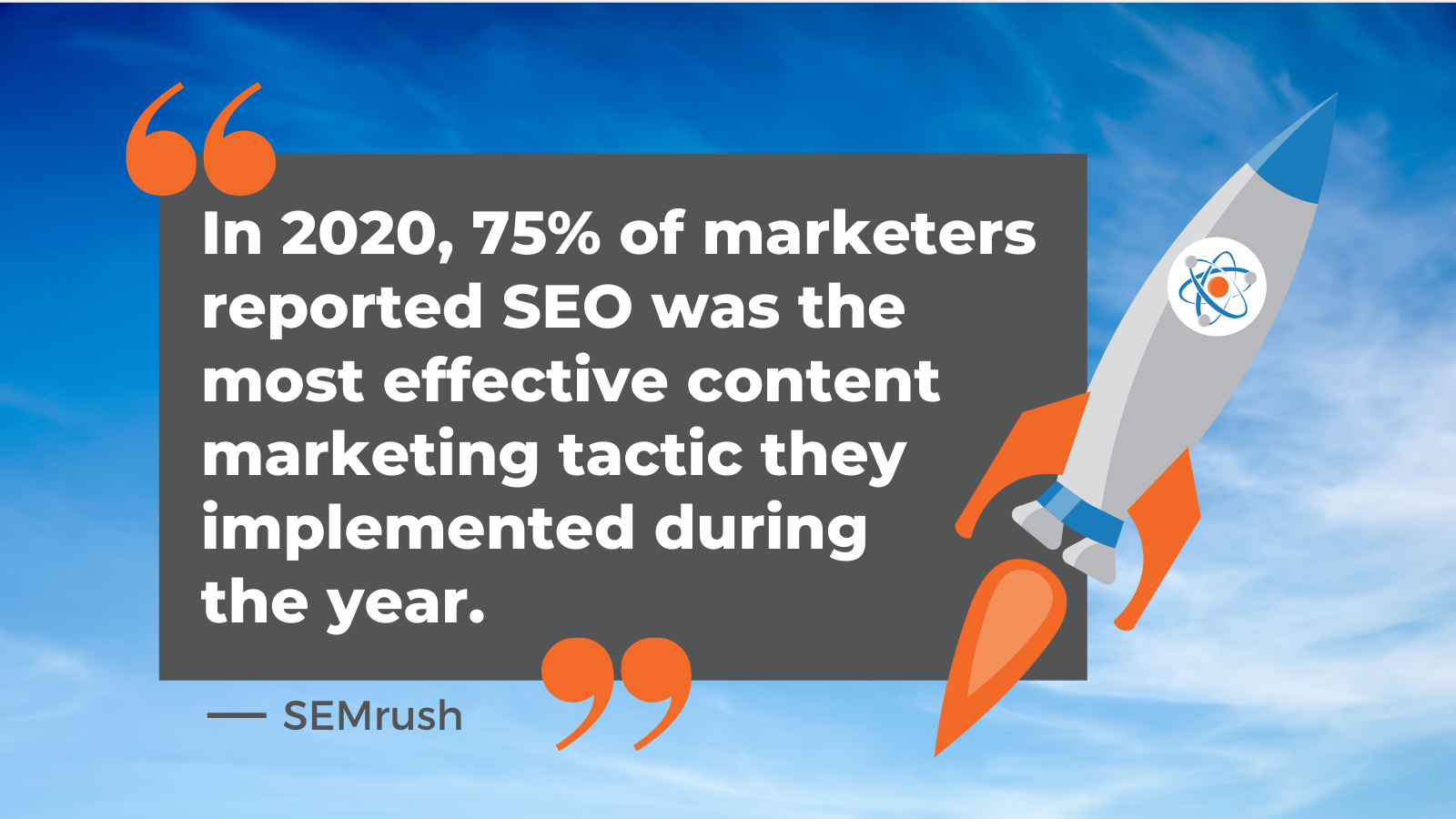 3. Implement content marketing analytics tools to track content performance.
Digital marketing performance must be measured. Otherwise, how do you know if it's working? How do you know if you're getting an ROI? Content marketing analytics tools and technology not only help you see your content's performance but also how to adjust your strategy for better results.
Most companies already have a customer relations management (CRM) system, which is a great tool for measuring most of what you need to know. The key to a CRM's effectiveness is USING it. There is also software as a service (SaaS), MarTech, AI, social media management tools, email tools, and built-in analytics with website providers, like WordPress.
Measuring how your content is being received (i.e., how many people opened the newsletter? How many clicked a link or went to your "contact us" page?) will help your content marketing achieve a better ROI.
4. Create a documented content marketing plan and use KPIs to adjust it as needed.
According to a Content Marketing Institute (CMI) report, "The two biggest benefits of a documented content marketing strategy are that it aligns your team around a common mission/goals (81%) and makes it easier to determine which types of content to develop (81%)."
Let's use blogs as an example. If you create a six-month blog plan, assign due dates, and a person to write them, you're more likely to get them done. A project management tool, such as Asana, is a great way to stay organized and on track.
It is also important, as mentioned above, that your content manager track key performance indicators (KPIs) to see how successful each blog is. These metrics help blogs and other content marketing be the best that they can be.
Posting blogs regularly is one of the hardest things to do, but one of the top ways to position yourself as an industry authority, create a following, and rank higher in the search engines.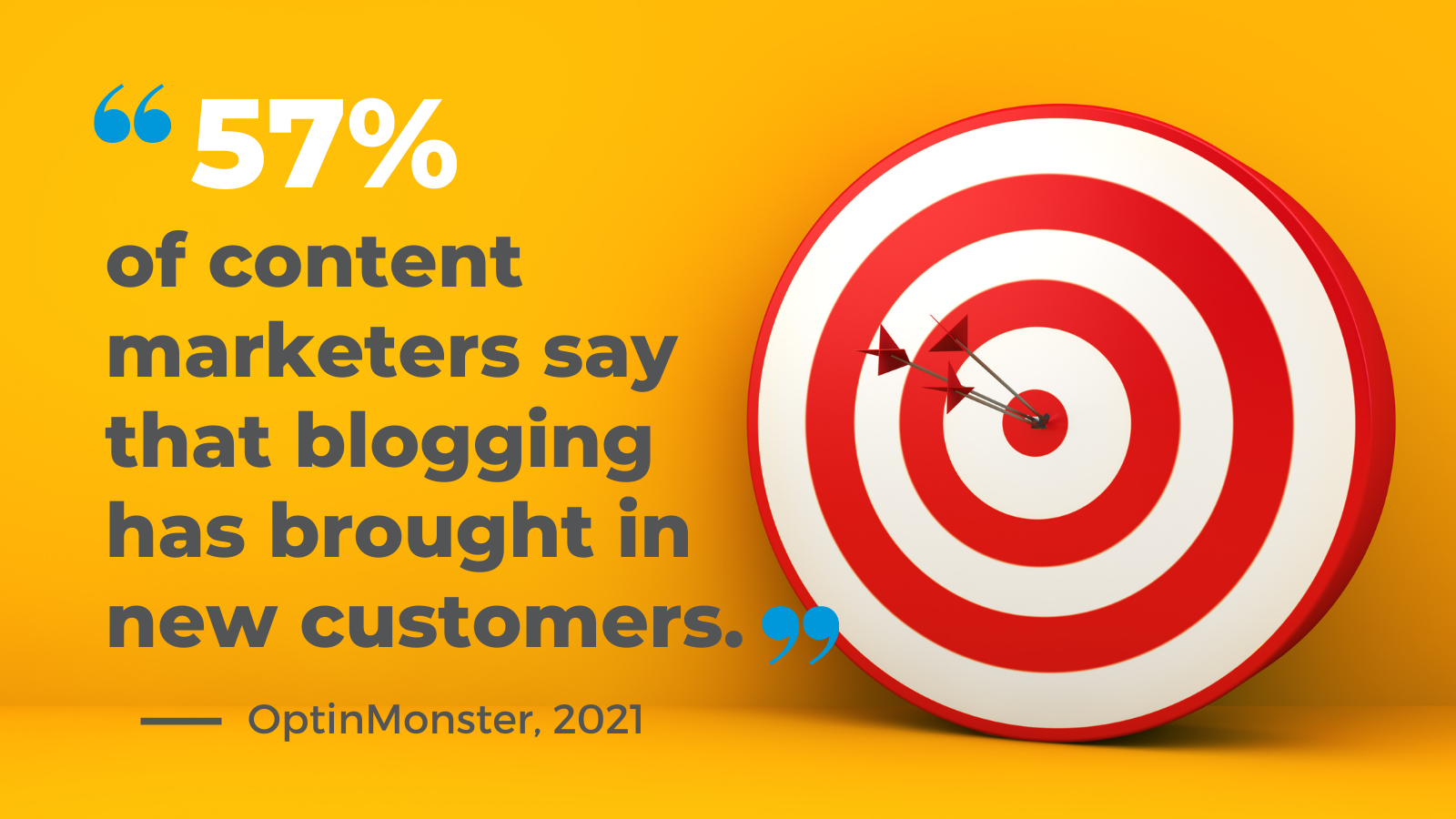 5. Review old content and repurpose.
It is recommended that your SEO Specialist review existing content regularly for SEO best practices, and have your content writer update it as needed or repurpose it. Using research and data, you can determine if old content can have a new life as another type of digital marketing, such as a landing page or e-book.
Examine website and blog messaging, add any new products/services, evaluate fresh goals, and ensure you're still speaking to your evolving target audience.
6. Make sure ALL content is sales enablement content.
With the salesperson's role changing so dramatically in the last couple of years, sales enablement content is crucial to their livelihood and to your revenue goals. Did you know, salespeople report that the lack of the right content to share at every stage of the sales process is their biggest issue? Content marketing can help greatly.
Impact says it best, "Not only do your marketing and sales team members need to work together but so do your marketing and sales tactics. The content that marketing is busy producing should be used the most by the salespeople." In other words, ALL content should be sales enabling.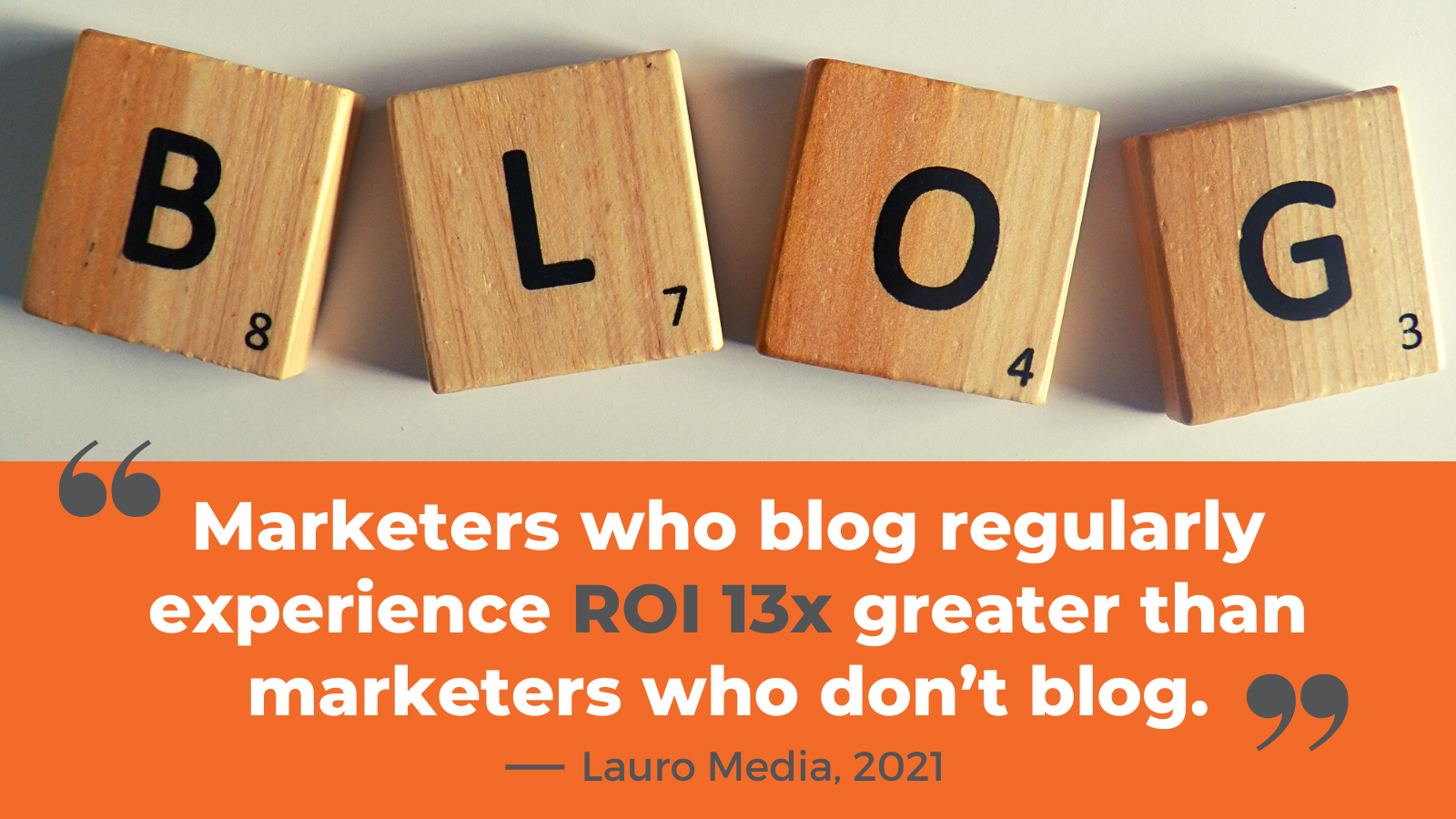 Types of B2B Content Marketing Examples
Not sure what content marketing to start with? In addition to website pages, B2B companies do well with blogs.
People love how-to blogs, Best-of lists, (The Top 5 …), cost articles, checklists, and infographics that go with text. According to HubSpot, people following B2B infographics and illustrations do 323% better than people following directions without illustrations.
Also, "posts containing at least one list per every 500 words of plain text get 70% more traffic than posts without lists," says SEMrush. SEMrush also discovered, the longer the blog (5000-7000 words), the better the results, as long as the content remains relevant and interesting throughout.
Outside of blog posts, these types of content marketing have been shown to be most effective for B2B companies:
Press releases
Case studies
White papers
Email campaigns
Social media posts
Digital Content Marketing Offers More Opportunities to Reach Your B2B Audience Than Ever
B2B business leaders, with digital and some traditional content marketing there are more opportunities than ever before to reach your audience. Yes, creating a successful content strategy as part of your revenue operations tactics will require your people, process, data, and technology to change, and change is hard, but it is really not an option if you want to have sustainable profitability.
When your content is created and implemented with a well-thought-out strategy and cohesiveness, leads will flourish, and your customers will feel nurtured during the 7-stage buyer journey. They will be more likely to buy and tell others if their buying experience meets the expectations set by your content.
This is the key to any business succeeding – happy, repeat customers. Even better, if those customers tell others and advocate on your behalf, you now have a non-paid sales force helping you to grow your business. This is customer advocacy at its best.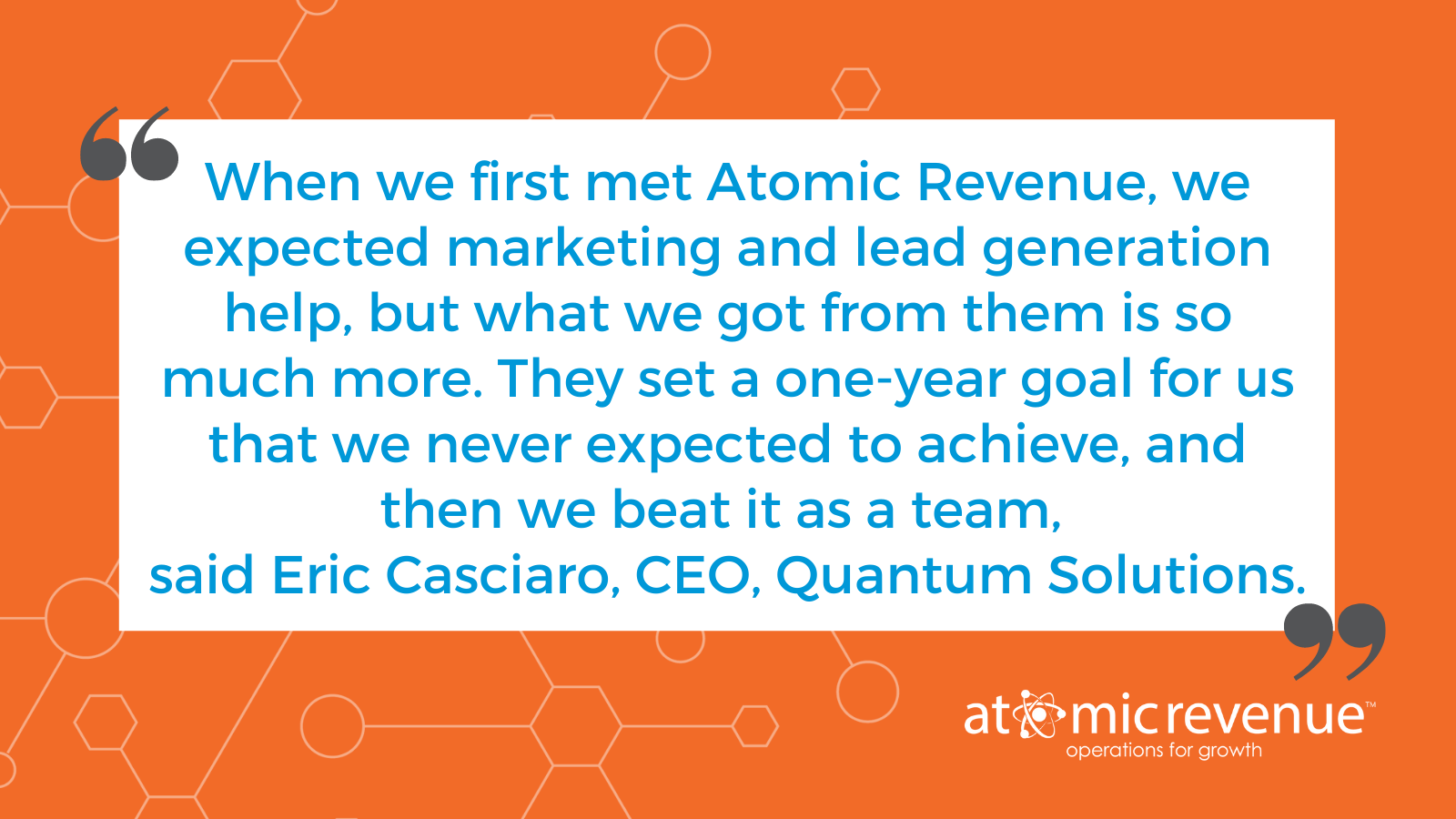 Quantum Solutions achieved a 5.64x ROI on their lead-development marketing budget ($1.5+M), measured in marketing-sourced return, including all in-house labor.
It's Not Too Late to Start This Year's Content Marketing Strategy
Feeling overwhelmed by the thought of developing a content marketing strategy? It is never too late to start. The B2B companies that Atomic Revenue works with that have devised and implemented content marketing as part of a revenue operations program have seen tremendous results, one as high as an additional $495k in gross commissions from digitally sourced leads within one year.
We love to help the nationwide B2B market thrive! Contact us today for a free, no-obligation conversation about your content marketing strategy.
---
About the Author
Kristin D. Sadler owns Pen & Peacock Professional Writing and is the Senior Content Specialist for Atomic Revenue. She has a BA in Advertising and a 30-year history in sales and marketing. She writes, produces, and edits website content, blogs, landing pages, e-newsletters, e-books, email campaigns, white papers, catalogs, brochures, articles, and more. She has proven results with Atomic Revenue's client content creation and helps them connect with their target audience by writing engaging copy and finding the SEO sweet spot.