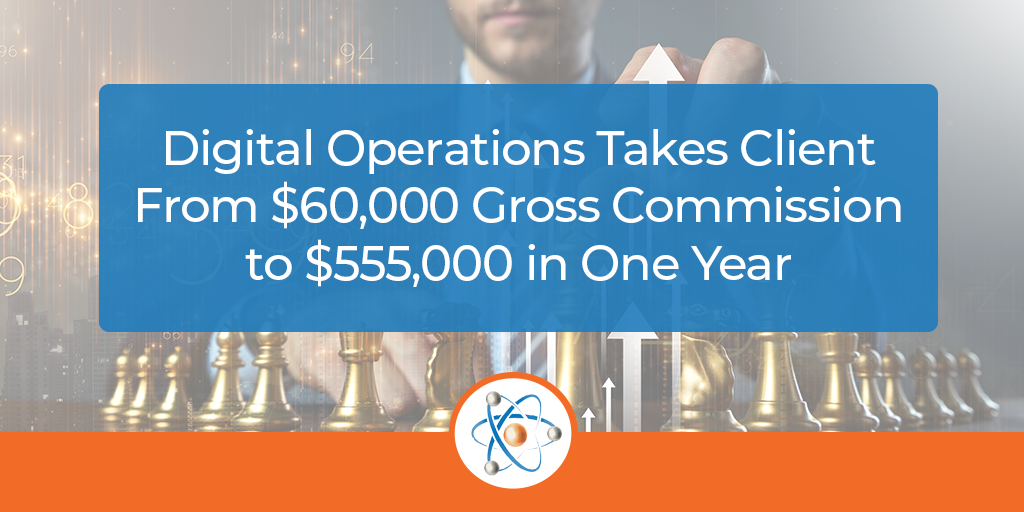 For decades, a nationwide commercial real estate brokerage specializing in triple-net lease property investments was very successful without a lot of marketing. Up until the last few years, they had healthy inbound leads from repeat clientele and referrals and required very few lead-generating activities. However, as competition increased and the market evolved with online services, business began to stagnate. That's when they decided to try digital marketing to increase revenue, and, after a year of allocating time and money to the effort, their attempt failed.
So, how did they end up going from almost no ROI and one digital marketing lead worth $60,000 to over eight times the ROI and over a half-million in gross commissions sourced from digital marketing in less than one year? With the right team and the right digital operations implementation.
A Comprehensive, Data-Driven Digital Operations Strategy
Not wanting to give up on digital marketing, the president of the company, on referral, reached out to Joel Emery, founder of Ignite Strategies, for digital marketing assistance. Emery later partnered with Atomic Revenue to collaborate and provide a comprehensive digital operations and revenue building program to meet their needs. Within one year of working with Emery and Atomic Revenue, the client closed 18 deals from digitally sourced leads worth $555,000 in gross commissions. In one quarter, they also went from a .60 ROI to a $5.20 ROI.
From Macedonia Back to St. Louis
In 2017, when this company decided they wanted a stronger digital marketing presence to communicate with potential buyers and close more real estate transactions, they began using a Macedonian company to manage their digital marketing, alongside an Israeli company to write the content. After nearly a year with poorly targeted and flailing results, they realized they were spending money on random digital marketing activities that were not providing an ROI and needed to readjust to accomplish their goals.
That's when they reached out to Joel Emery, in June 2018. Right away, he began the evaluation and recommendation process, and very soon after, partnered with Atomic Revenue to provide a collaborative approach to a comprehensive, tactical digital operations strategy that would provide a healthy ROI.
In Q4 2018, Emery, Atomic Revenue, and the client began working together to solve their wayward lead generation and sales funnel situation with the right digital marketing targeted to the right clients. This would also involve a digital operations strategy, continual monitoring of data, and fine-tuning for the results they craved.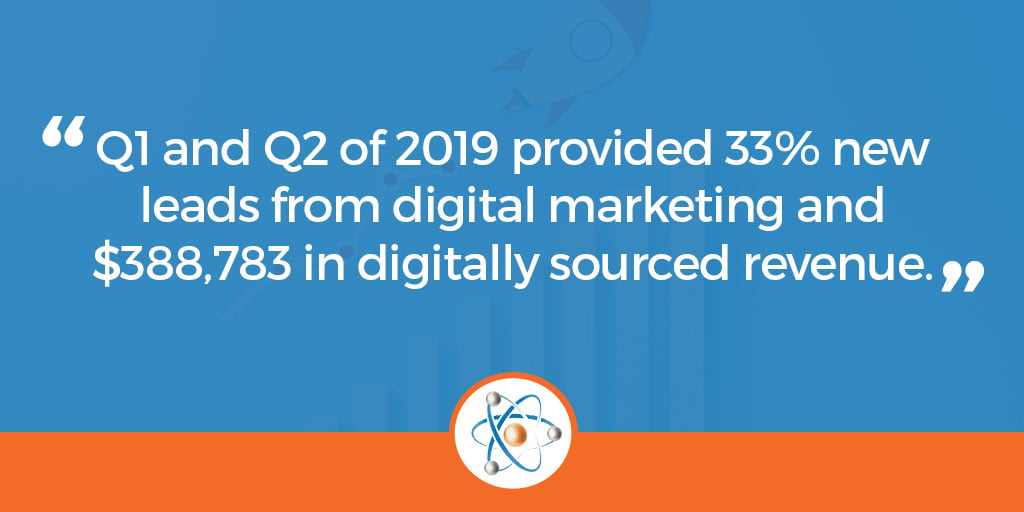 5 Steps to a Consistent Sales Pipeline & Closings
Emery first analyzed several years of client data to better understand the profile of those who were buying triple-net properties and what was driving their decisions. Once he defined this profile, he looked at the client's current digital marketing situation to address the disconnect between their marketing/lead generation tactics and their ideal prospect. He quickly discovered the client's digital marketing was too broad in scope, targeting "real estate buyers" rather than those who were qualified for this specific and exclusive type of property investment.
This haphazard marketing resulted in the client spending too much time working with unqualified leads to find a few qualified buyers and only closing one sale in 2017 from those leads.
In Q2 2018, after a thorough evaluation, Emery concluded the client needed to first communicate how their commercial real estate brokerage stood out from the competition, which was with a sincere customer focus, and target buyers with the right net worth looking to strategically grow their portfolios with triple-net lease investments in the $1.5–$5 million range. The recommendations were to:
Develop a strong unique selling proposition (USP) to set them apart from competition.

Communicate a customer-focused, professional message; portray no-obligation, friendly advisory services.

Target qualified, high-net-worth buyers at the right time with the right content to show knowledge and instill confidence.

Use the right digital marketing platforms to reach qualified leads where they spend their time.

Create a consistent sales pipeline that results in property closings throughout the year.
To implement these five steps and provide the depth of digital marketing the client needed, Emery approached three digital lead generation companies to collaborate on the scope of work. Emery sat down with each one of them for 60—90 minutes, had them go through the client's Google analytics, and opened the meeting up to questions. This allowed the prospective collaborators to have as much information as they needed to come back with solid recommendations. One of them passed on the opportunity while two of them submitted a proposal. After interviewing them both, the client selected Atomic Revenue.
In Q4 2018, Emery and Atomic Revenue joined forces to deliver a comprehensive, data-driven digital operations strategy to ramp up the client's sales pipeline and conversion rate with consistency and dependability. And it worked!
In-Depth: Data Analysis, Define USP, Target Qualified Leads
The next step was to explore and define the client's value proposition. The result of the competitive analysis identified a unique USP for this commercial real estate brokerage – it was about their buyers. These brokers were serving as buyer consultants (versus commission-hungry brokers, which is the common perception) and buyer advocates in finding the ultimate property for their investment needs, and at no charge to the buyers. They were Buyers Advisors vs. Buyers Brokers. This was now made clear.
Emery and Atomic Revenue repositioned the client around this differentiation and value proposition and strategized content and delivery around their prime target market – the top 1% in income and wealth. Buyers who want to transition from riskier investments to more stable, income-producing investments.
Implementation of the Right Automation & CRM Tools
The initial analysis of the client's digital marketing automation software and CRM (Customer Relationship Management) tools showed they were primarily using a real-estate-specific CRM called Apto®, which did not provide the lead generation, marketing automation, or lead scoring services needed for proper lead generation, nurturing, and sales conversions.
The client needed comprehensive marketing automation that integrated with the website and could customize, segment, target, and split-test email campaigns and provide detailed reporting from many platforms to fine-tune their campaigns.
Collaborating on the best digital marketing campaign strategy and automation tools, Emery and Atomic Revenue compiled data that supported the need for more triple-net lease content better suited to customer needs, improved website functionality and tracking, an overall enhanced customer information experience, and a platform that could manage all of it.
This led to the implementation of Active Campaign® software, which captures qualified potentials' information and places them into an automated drip campaign that then notifies each advisor about each interested lead, and fulfills the long list of requirements to generate the measurable revenue results they so badly needed and do it with consistency.
Active Campaign was the missing link that provided KPIs and the ability to link all their digital marketing efforts and tools together – including their website, Google analytics, and Salesforce – to accurately measure the results with an automation link scoring platform.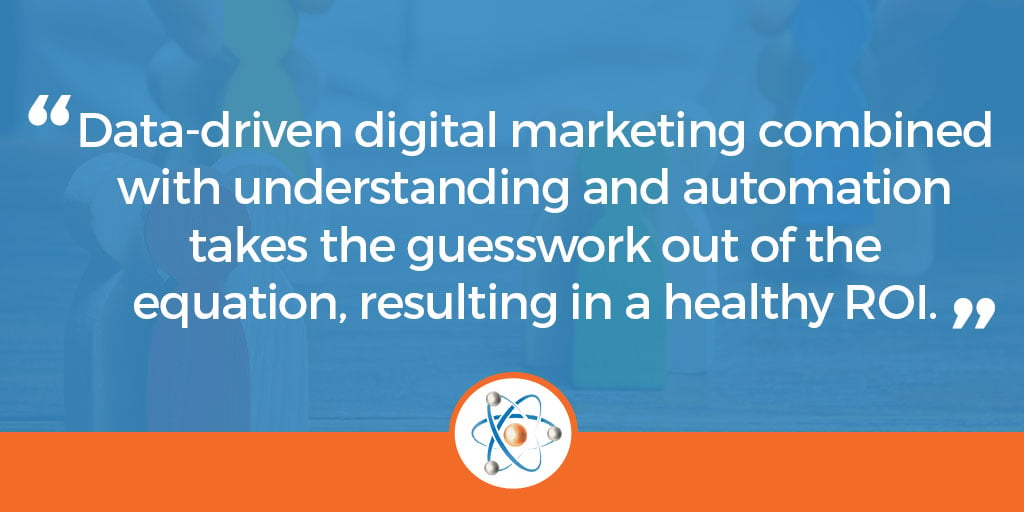 Services Provided
Digital Audits
Evaluation of Key Performance Indicators (KPIs) and ROI Analysis
Brand Development and Definition of USP
Digital Operations Strategy and Implementation
Lead Generation, Sales Conversion, Customer Advocacy Strategies
Sales Supporting Collateral and Focused Digital Content through Blogs, Case Studies, and Digital Downloads
Pay-Per-Click Advertising Strategy and Management
Search Engine Optimization Strategy and Implementation
Sales Conversion Achievement and Monitoring
Sales Pipeline Facilitation
Automation and Software Link Scoring Platform
Custom Data Dashboard Implementation, Management, Refinement
Website Development and Maintenance
Ongoing Strategy & Digital Operations Optimization
In Q1 2020, Joel Emery joined Atomic Revenue as Sales Systems Architect and the team continues to optimize this commercial real estate company's lead generation, sales conversion, and customer advocacy approach through digital marketing and digital operations strategies, including a website redesign and improvements in backend development.
In Q2 2020, they have begun implementing an exciting new level of automation with a data dashboard that will consolidate real-time data and metric reporting from all four digital platforms and their associated data points. This will give back 18–20 hours of manually calculating and reporting for faster fine-tuning and quicker end results. Hours that can be used in other areas to enhance the overall outcome of the campaign.
This year also brings monthly e-newsletters, continuity of content, optimized digital lead distribution with allocation according to strengths of each advisor, further integration of the communication process to second and third-party leads, and an improved new client onboarding process to ensure it is the best it can be.
Quarterly, data-driven reviews will also continue as the Atomic Revenue team digs deep into ROI and improves initiatives for each Advisor by channels/sub-channels.
Data-Driven Results: 28.81% Website Traffic Increase, More Qualified Leads, and $5.20 ROI
With the digital operations strategy in place, Q1 and Q2 of 2019, which were the first two quarters of the campaign, provided 33% new leads from digital marketing. They also had 52,328 impressions and 394 leads, 54 of whom were perused, and of those, 12 deals closed for a total of $388,783 in revenue.
They rounded out the year with a 28.81% increase in website traffic, a total of 18 deals worth $550,000 in gross commissions, and a $5.20 ROI, up from 60 cents just six months earlier.
Curious if Your Digital Marketing is Providing All it Can?
If you're struggling with wasted time and money on a shot-in-the-dark digital marketing approach or you would like to learn how you can launch measurable, consistent growth through digital operations, simply contact us for a free revenue operations assessment today. We thrive on partnering with our clients to solve growth challenges with cost-effective, efficient solutions.
---

About the Author
Joel Emery is a Sales Systems Architect at Atomic Revenue and principal of Ignite Strategies, LLC. Joel drives innovation and collaboration, thinks critically, and aligns diverse perspectives to expand revenue streams and achieve common goals. He is also an expert in quantitative and qualitative data collection and analysis. Joel's effective strategies to engage customers and employees and increase revenue support Atomic Revenue's mission and our clients in obtaining customer success and revenue growth.