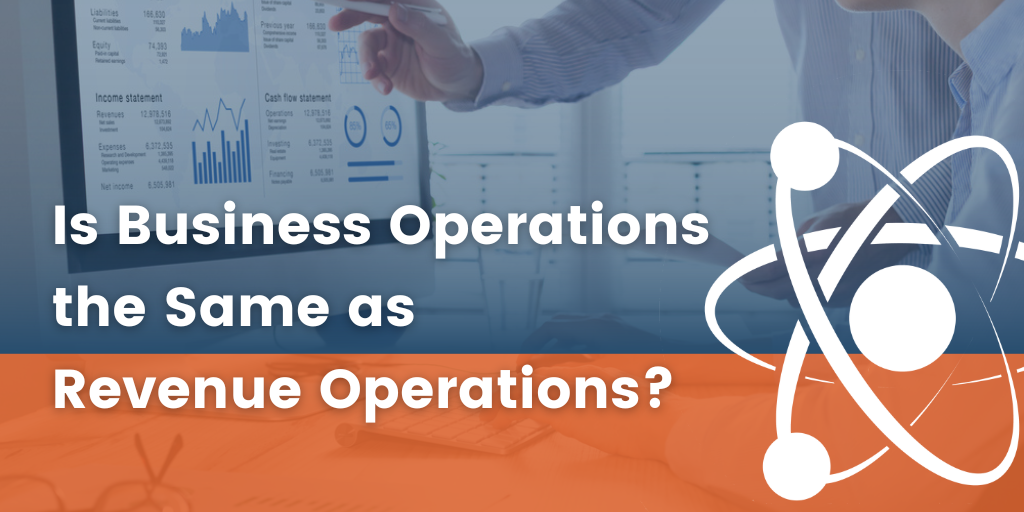 Are you reassessing and realigning your company's operations strategies for the new selling paradigm we are all facing? If so, where do you focus your efforts to optimize growth – business ops or rev ops strategies, or both? But isn't a "business operations strategy the same as a revenue operations strategy?" you ask. Each achieves different goals, so you need to know the difference.
As a COO and business strategist, I am often asked if business operations is the same as revenue operations. There is a difference (by definition) but they both have people, process, data, and technology at the heart of how they influence the growth of the company. For greater clarification, this article considers the differences between them and how the integration of both is necessary to realize long-term stability and profitability.
What is Business Operations? (Business Ops)
Depending on where you look or who you ask, you will find varying definitions for the subject of business operations. In the broadest of terms, business ops describes the processes, resources and/or activities used daily to produce the highest quality products or services as efficiently as possible while increasing the value of a company.
Elements of Business Operations
Business operations functions encompass the "back office" elements of operating a business such as:
Finance
Production
Accounting
Human resources
Legal
IT
These teams are often not thought to work directly with sales, marketing, and outward-facing service teams to grow sales, but rather to act in support of them, in a tactical and strategic way.
Business operations functions are essential to revenue operations (and vice-versa). Without the finance, HR, C-suite, IT, and legal departments, revenue operations units would not have the human capital and back-end strategic and tactical support needed to source leads, nurture them, convert them to customers, and keep them buying – thus, growing sales and the company.
A company must find a common language that brings everyone together – board members, executives, team leaders – to provide input and have a stake in the game, outside of their traditional silos.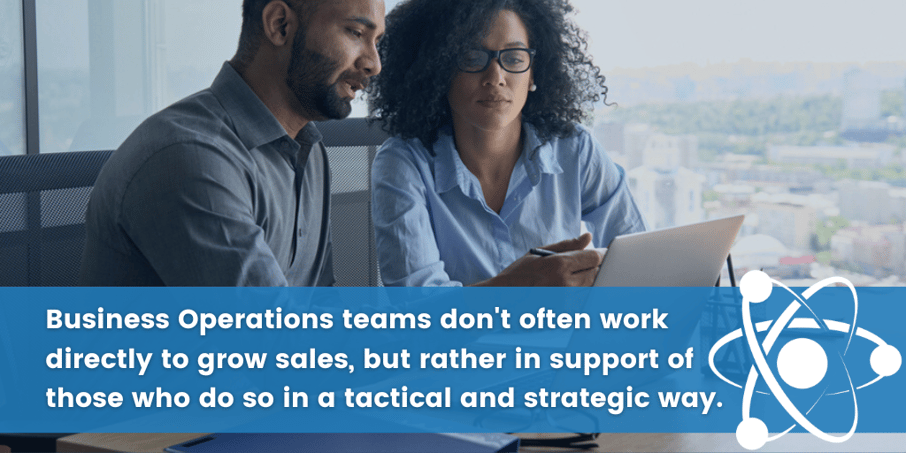 What is Rev Ops? (Revenue Operations)
Revenue operations (Rev Ops), on the other hand, is usually defined as mainly the sales, marketing, and customer success efforts that outwardly and actively grow revenue for the company. Rev ops encompasses many aspects of your business.
Revenue operations is the forefront of growth – without sales, marketing, and the service teams that support them, customers and prospects would not get the attention they require to make the journey from interested to sold and ultimately to retained. A successful revenue operations strategy establishes a common language and a common set of measurable goals, aligned with corporate strategy, and builds trust between the revenue operations units and the business operations units.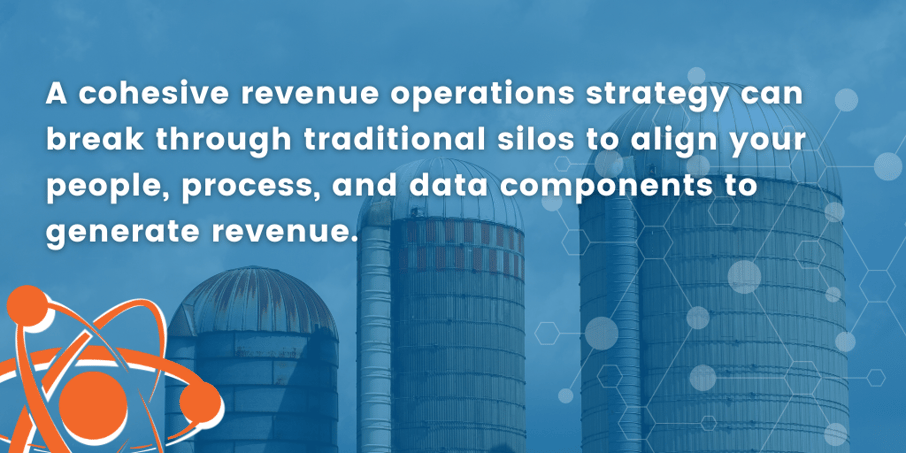 Integrating Operations is Imperative for Growth
Throughout years of helping companies optimize for growth, Atomic Revenue has redefined and successfully implemented revenue operations strategies that help businesses evolve and grow profitably with fewer resources.
Integrating business ops with revenue operations unifies effective strategic planning, resource allocation, and tactical execution across all customer-facing departments, marketing operations, digital operations, sales operations, and customer success.
When organized, cost-effective, and operationally functional, revenue operations, in conjunction with business operations, will produce the intended return on investment (ROI).
Achieving consistent business growth comes from so much more than making a plan and hoping it works. Revenue operations optimization requires a complex mix of people, process, and measurable data, all aligned to facilitate end-to-end revenue production™.
Business Ops & Rev Ops in Unity
As you evaluate potential adjustments to your business ops and rev ops strategies and recalibrate digital communication, lead generation, sales conversion, and customer advocacy tactics, a cohesive revenue operations strategy can help break through traditional silos to align the people, process, and data components of how your organization utilizes ALL resources to generate revenue.
This integration, though difficult and often counter-intuitive, is imperative to drive sustainable growth and often needs an objective, outside partner to make it a success.
Experts in Rev Ops Strategies
Atomic Revenue is especially skilled at executing revenue operations and business operations strategies that ignite growth. Our clients represent a diverse range of businesses – nonprofits, start-ups, solopreneurs, small and mid-size businesses, and large enterprises that have all benefited greatly from our solutions.
We're here for you – contact us for your free revenue operations assessment today and get the objective expertise needed to launch your revenue.
---
About the Author
Brian Peterson is an owner of Atomic Revenue and acts as a Finance and Operations Consultant in the areas of business ops functions, supporting client engagements, strategy reviews, profitability analysis, and KPI programs.