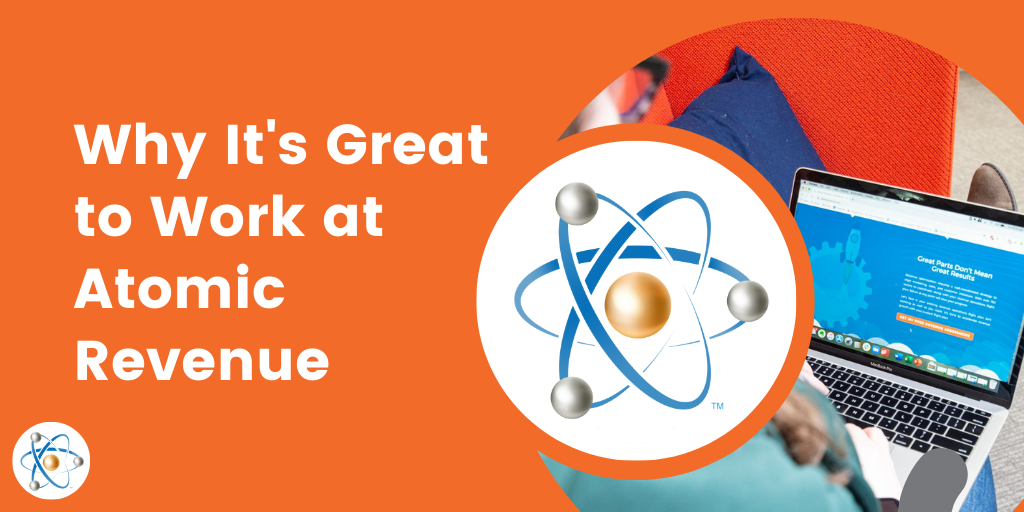 To be a contractor, employee, or partner with Atomic Revenue is a unique, limitless experience. On the face of it, we are a group of laptop-using, earbud wearing entrepreneurs across the nation who are subject matter experts (SMEs) and strategists with specialties that help our clients with data-driven, end-to-end revenue production™. However, beyond what defines us as professionals, the Atomic Revenue team has a rare bond and an amazing culture – we know that we are part of something bigger than ourselves.
To share what that "something" is and because our company is distinct in its core values, I've decided to shout it from the keyboard why it's great to work at Atomic Revenue. Want to know more? Enjoy this blog while you socially distance, and learn a bit about our vibe and how we work together to get measurable results for our clients, for Atomic Revenue, and for ourselves.
Atomic Revenue's Team Has a Common Bond
Each of us on Atomic Revenue's team is currently or was once an entrepreneur. <Insert Forest Gump and Bubba conversation style> We've started businesses, run businesses, grown businesses, organized businesses, operationalized businesses, and sold businesses … we get it, no matter the size, we understand the sleepless nights. We are brave leaders who operate in a courageous culture. Our common bond comes from these experiences and our structure is strengthened by what we each bring to the table, which helps us drive growth for our clients, Atomic Revenue, and for ourselves.

Every company talks about culture, but we live our culture, which is one of appreciation, inclusion, strength, flexibility, and communication. As individuals, we live along the full spectrum of the DISC profile, fill out an enneagram pie, and swim in alphabet soup when it comes to Meyers Briggs. We are truly wicked-smart, self-directed, problem solvers who find value in achievement and the pursuit of bringing the right data-driven revenue operations solutions to our clients at the right time in the right way.
"Just a few months after I started contracting with Atomic Revenue, Atomic and its clients were the main source of work and income. Within a year, I became the Senior Content Specialist, and at the two-year mark, I was given the opportunity to sell Atomic Revenue's amazing, proven programs. I continue to learn new skills and have been trusted to use my judgment and expertise to do what I feel will get the best results for our clients. The freedom of creativity in my work and in my schedule is priceless, and the team acknowledging my value every step of the way is empowering." – Kristin D. Sadler, Senior Content Specialist
There are few organizations as open as Atomic Revenue – we are not C-suite driven – quite the opposite. Our best ideas and collaborations come from a team effort, always. Our forward-thinking contractors, employees, and partners have fueled our own growth 300% year-over-year by working together for a common goal.
"I became a contractor with Atomic Revenue in 2015 with my own company, Nissen Media. By 2016, I was solely working on Atomic projects; I soon became an employee, and in the summer of 2018, I became an owner and partner. Atomic Revenue was great about meeting me where I was on my journey. They evolved with me and I evolved with them. We have matured together as we've shaped the future of Atomic Revenue. And, thanks to the revenue operations ground-breaking quest we're on, I continue to grow both professionally and personally." – Steph Nissen, Chief Digital Operations Advisor/Owner

It's Not About Where You Live & Work. It's About How You Live & Work.
So, how do we keep such a close-knit team when we are rarely in the same room or the same city? It has nothing to do with physical location. We go where the Wi-fi flows. We always say, "it's not where you live and work, it's about how you live and work." Our easy collaboration stems from our sincere and common bond of having the same goals. We have always been a virtual company, which, as most people know now, can present a challenge when it comes to human bonding and accountability, but because of our culture, it's second nature and works for us.
The bottom line is we sincerely want to help each other – everyone from the owners and executive leaders to the most part-time colleagues – be the best that we can be so we can provide measurable revenue operations solutions to our clients and foster our own personal and professional growth through collaboration.
I joined Atomic Revenue in May of 2018 as a contractor, became an employee in 2019, and in 2020, became an owner. As Chief Data Advisor, leading the dashboarding revolution, I'm able to build and focus in on my true passions – something I wouldn't have even had a timeline for achieving on my own without the familial support structure provided by Atomic Revenue." – Liz Zanter, Chief Data Advisor/Owner
Atomic Revenue Encourages Career Growth & Flexibility
Another reason Atomic Revenue is a great place to work is the unusual flexibility and career-growth opportunities. In fact, most of us function in more than one role. For example, a talented graphic designer can also be a salesperson, or a data expert can also be a Revenue Operations Director. Often, the longer a team member is with Atomic Revenue, the more skillsets come to the forefront, then there's a natural progression to other disciplines, strengthening the entire team even more. This same progression frequently happens with contractor-to-employee opportunities.
My situation is a great example. I own Fast Bryant Consulting, a social media and digital marketing company, and started with Atomic Revenue as Brand Manager two years ago. I am now an employee, head of Brand & Exposure for Atomic Revenue and our clients, and in sales, while still owning and working in my consulting firm.
I don't need to work on the Atomic Revenue team, I choose to work with the Atomic Revenue team. While I have my own LLC with its own book of business, I joined the team to follow Tara Kinney, CEO, as a leader, and to work with the management team. The array of specialists and leaders who make up Atomic Revenue provide a multi-faceted roster of skills to draw on to serve our clients both deep and broad. I enjoy working with and admire my colleagues and look forward to many more years together, helping people at companies grow their revenue." – Joel Emery, Sales Systems Architect

Alignment and Intention for Desired Outcomes
Atomic Revenue is known for aligning over 130 revenue operations functions for companies to launch measurable growth by empowering people through process and data™. We practice what we teach internally, too. Despite being in different times zones and working flexible hours, our team functions as a cohesive unit. We know how important alignment is, therefore everything we do is intentional with greater meaning as we lift each other up to higher heights while accomplishing incredible outcomes for clients, Atomic Revenue, and our own businesses.
Want to part of something bigger than yourself and pursue achievement with a whole team behind you? Learn more about joining Atomic Revenue and launching your own growth while helping clients do the same. Reach out to us today.
"I started as a contractor with Atomic Revenue in August of 2020. During my time as a copywriter for the team, I have been given countless opportunities to engross myself in everything that Atomic Revenue does. They are incredibly supportive and very flexible when it comes to working around your schedule. I've valued the creative freedom and self-ownership that working at Atomic Revenue has afforded me." – Collin Carpio, Copywriter
---

About the Author
Lauren Fast is the Brand & Exposure Manager for Atomic Revenue and co-owner of Fast Bryant Consulting. Her specialty is managing and implementing content development while creating clients' brand strategies. Lauren has a proven history of developing successful public-facing content and brand-building that fosters lead generation, sales conversion, and customer advocacy. She also has comprehensive social media, website, public speaking, coaching, and content marketing experience and a proven record as a top-performing Senior Sales Director and trainer.