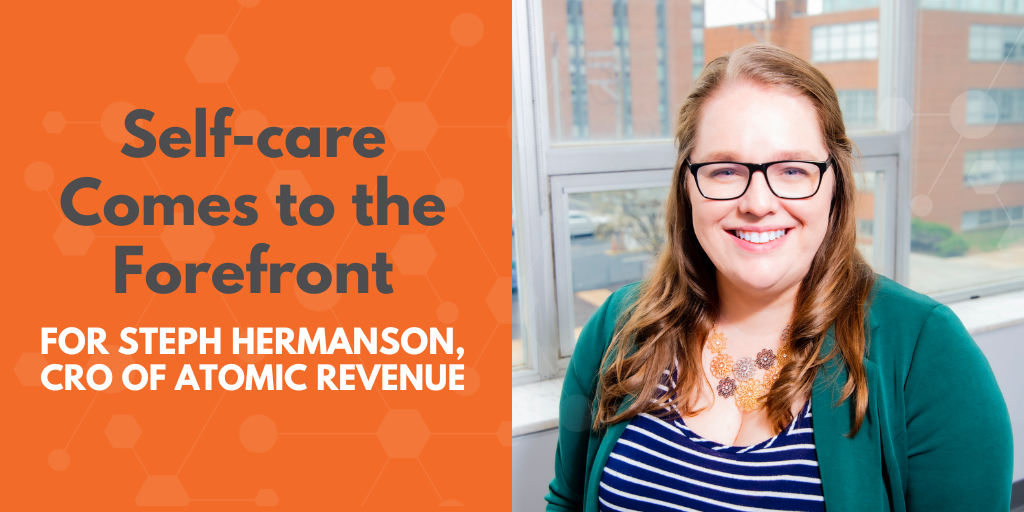 To say Steph Hermanson has rocketed through the past seven years is an understatement. When Atomic Revenue was founded in 2015, Steph became a consultant to develop and deliver digital marketing audits. Her role grew to include digital strategy and digital audits across the full revenue production spectrum, including digital impacts on marketing, sales, and customer operations.
In July of 2017, Steph became an employee, and over time, fulfilled the roles of Director of Digital Operations, Head of Digital Operations, and Chief Digital Operations Advisor. She became an owner in 2018 and in January 2021, earned the position of Atomic Revenue's Chief Revenue Officer (CRO). At the age of 33, she became one of the youngest C-suite professionals in the country who is not a company founder.
In 2021, Steph was presented with the Top 40 Under 40 Award by the St. Louis Business Journal, named one of the Top 100 Marketing and Advertising Leaders in the World by MarSum, and recognized as one of the Top 30 Marketing Influencers by Engati CX.
Amid the hard work and tireless dedication that resulted in these achievements, Steph weathered pandemic storms that have been both personally and professionally impactful. Though ambition drove Steph to take on many roles with a high level of success, as a strategic leader, she recognized the need to slow down. She made the tough decision to leave Atomic Revenue in a full-time capacity, knowing others could take the foundations she had built to the next level at a company she loves. Going forward, she will revisit her roots as a social media strategist for a social media software company and remain an owner of Atomic Revenue.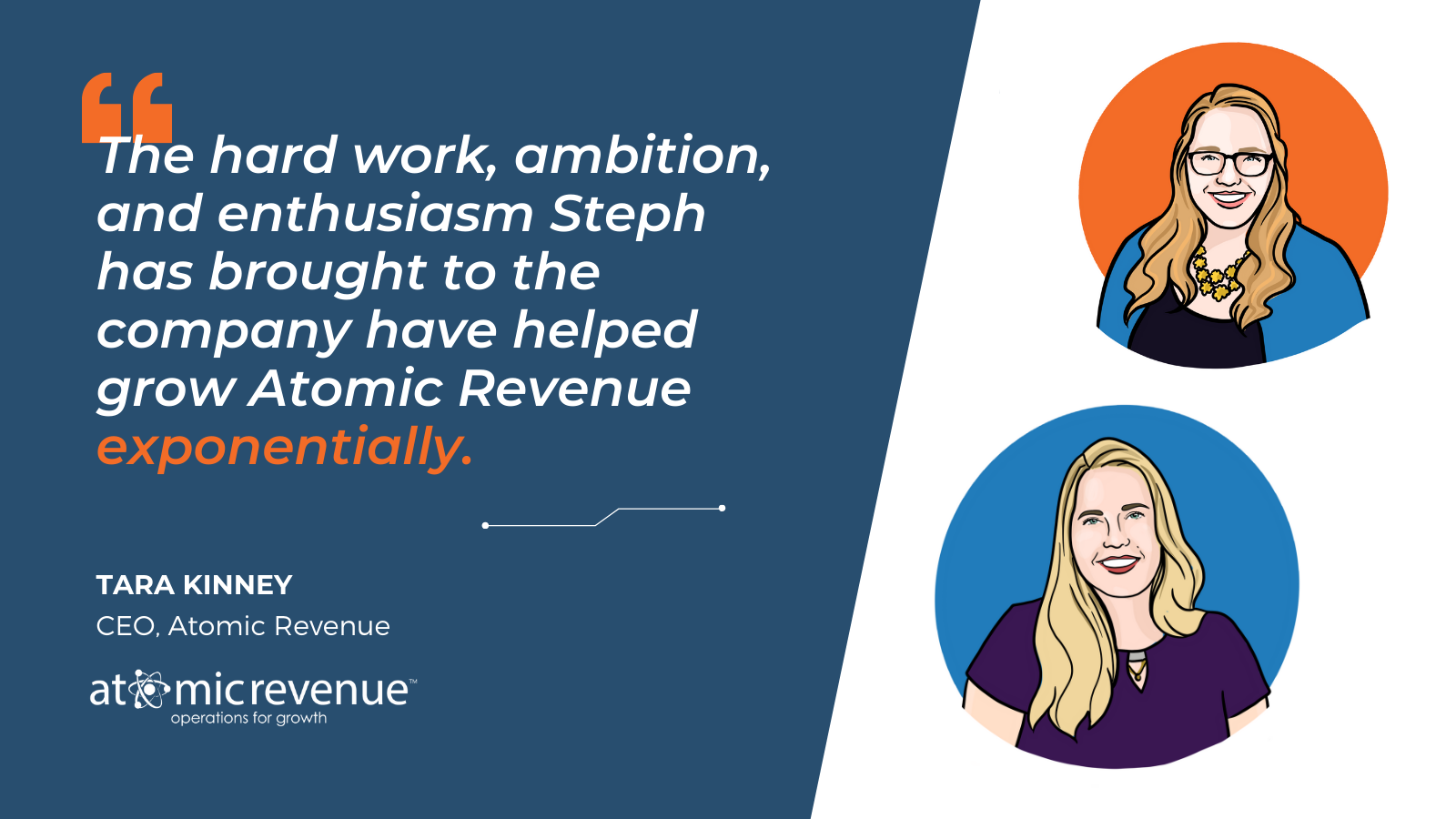 Tara Kinney, Atomic Revenue co-founder and CEO, said, "The hard work, ambition, and enthusiasm Steph has brought to the company have helped grow Atomic Revenue exponentially. She also developed a talented team of subject matter experts (SMEs) from across the country. All of us are so proud to know her and very sad to see her go, but we know she will always be part of the Atomic Revenue family."
True to tradition, as Steph exits Atomic Revenue, we asked her a few questions about her time with Atomic Revenue and what her next chapter looks like.
What did you enjoy most about your roles with Atomic Revenue?

When I started at Atomic Revenue as Director of Digital, there were only a few people, and we were doing a little of everything. I loved learning about revenue operations – how it is affected by and plays a role in every facet of a business's success. I was fascinated by how digital marketing and SEO influenced RevOps and loved offering another level of service to our clients. Being mentored by Tara Kinney, one of the founders of Atomic Revenue, and absorbing her knowledge, as well as others' expertise on our growing team, made every day new and exciting.
Along the way, as our team grew from five to seven to what we have today – over 50 – I realized how much I love working with our people. The relationships built between team members, clients, and partners, and how deeply we connect became my favorite part of each day. Learning about each other personally and professionally, and the fun we have when we start 'speaking the same RevOps language,' is priceless. These connections and our open culture are what helped me thrive on my best days and my worst.
What would you say are some of the most important skills or lessons learned during your time with Atomic Revenue?
There are so many things! First, I had never been in a start-up company before, so I learned quickly how to run and scale a business. With that came a lot of different responsibilities from digital marketing, SEO, and content creation to client proposals, pricing, process development, and EOS® integration, as well as hiring, overseeing, and mentoring my digital operations team.
I also learned a ton about customer success. It's not just about delivering on the promises we make, it's not just about checking a box. Customer success, which we call customer advocacy, is about the heartfelt connections made, the opportunity to delight and go above and beyond, and the teaching moments when a customer says, "Oh, I didn't even think about that. That's a great idea. Thank you for bringing that to our attention." As I worked with countless clients over the years, I was able to pull from previous experience and knowledge to take each interaction to the next level. It made such an impact.
Additionally, I learned how to be an integrator, facilitator, and people manager, while using technology and data as drivers for success.
And the hardest lesson of all? What happens when we don't take care of our health and well-being. I realize now that it must come first after years of striving to be the best at everything and taking care of everyone else except myself. Long COVID came calling and turned my world upside down, showing me that I am not in control, and without good health, I can't thrive in anything I do.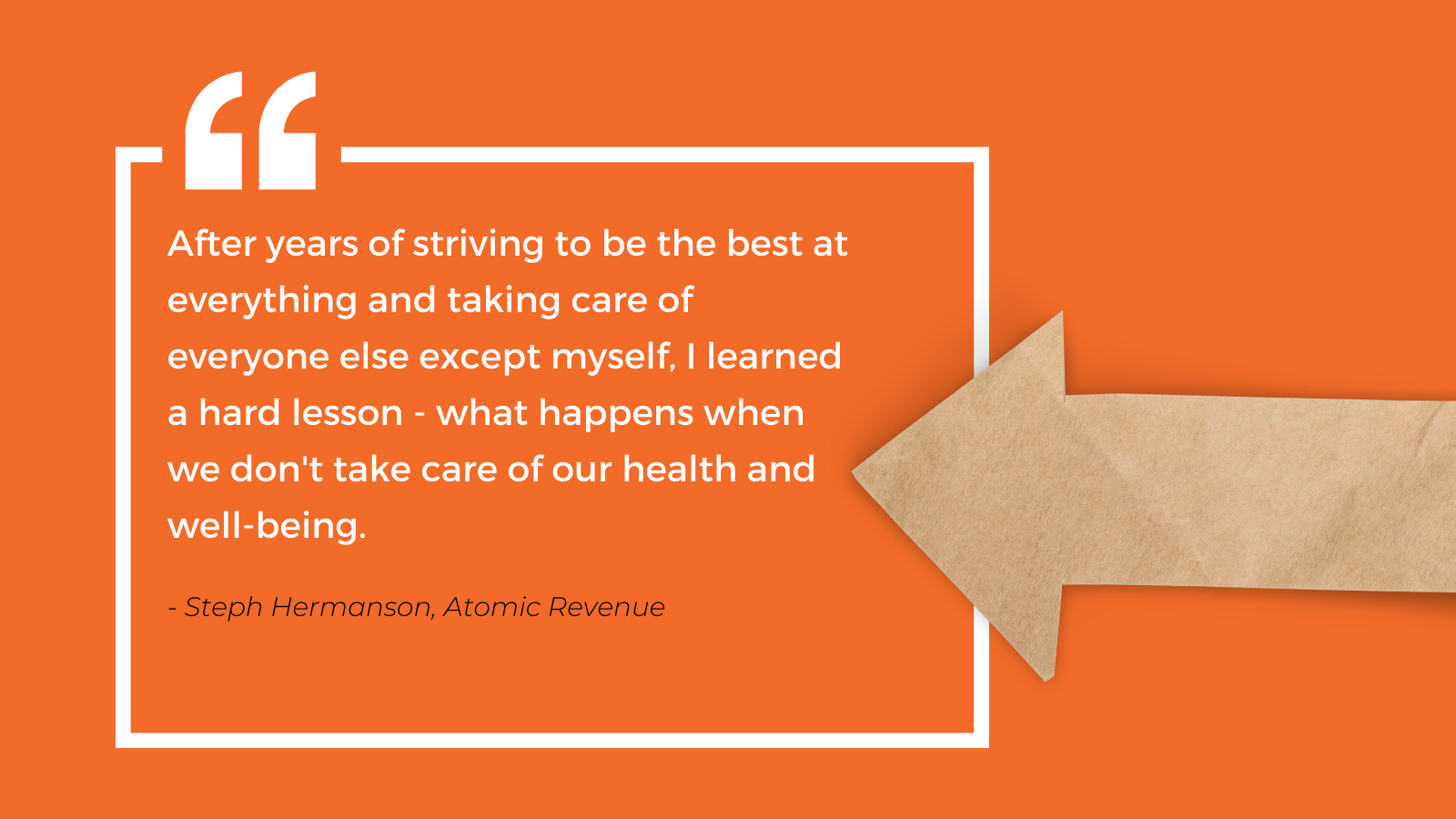 How did your time at Atomic Revenue prepare you for your new role?
While at Atomic Revenue, I spent years taking care of everyone and feeling a deep responsibility for every team member, contractor, employee, and client. I lost sleep over the level of responsibility I felt for not only them but also for the success of the business.
In my new role, since I will be a worker-bee and not part of leadership, I can turn that level of care onto myself and my family. I can spend time mothering myself and my children, spend quality time with my husband, and get my health back on track. I can focus on being present in my new role doing what I love to do – making a difference for companies through data-driven, strategic digital marketing efforts that obtain measurable results. Thanks to my time at Atomic Revenue, I have a comprehensive understanding of how people, processes, data, and technology all work together to grow revenue.
We wish you the best of luck, much success, and good health in your new role, Steph! Thank you for the amazing difference you made in the lives of all of us and in your work at Atomic Revenue. We look forward to your continued input and expertise as an owner.
---
About Atomic Revenue
Based in St. Louis, Missouri, with a nationwide team of more than 50, Atomic Revenue helps regional and national B2B companies, primarily in manufacturing, engineering, technology, and professional services, make more money through revenue operations. Our revenue operations methodology improves profit margins, increases the lifetime value of customers, and creates sustainable processes and profitability fueled by data. Contact us today without obligation to learn more.