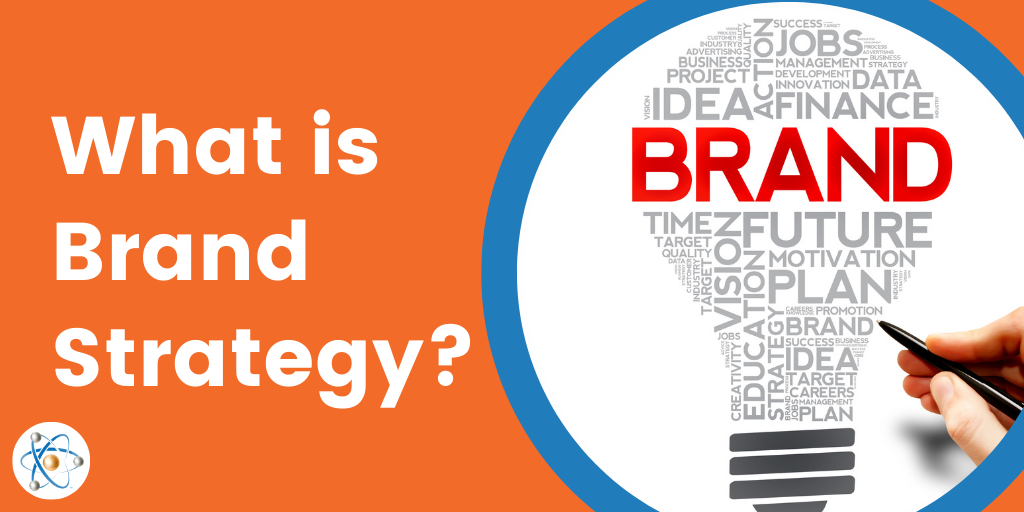 Most of us grew up learning the Golden Rule in life – "do unto others as you would have them do unto you." When it comes to building and sustaining a successful brand, the thought is the same. Your brand strategy should focus on your audience and how they feel you are treating them, that you are there to help them. Much the same way you want to be cared for when you hire a company or buy a product.
Do you have a brand strategy? Have you ever had one? Let's dig into this a little deeper, answer "what is brand strategy," and explore the foundation of a successful brand.
The Foundation for a Successful Brand
The golden rule as it pertains to brand strategy is "know thy customer." Yes, this includes treating customers as you'd hope to be treated, but it is much more than that. It is about understanding them, what they want, how they talk, what they do, who they do it with, when they do it, and where you're most likely to find them doing it. It is about being there for them at the right time in the right place when they need your B2B solutions.
What is Brand Strategy?
To answer the question, "what is brand strategy?" start by pinning the simple words "know thy customer" up on the wall in your office, then live those words in everything you do. This will set the foundation for a successful brand and act as your guiding light for decades.
No matter what you sell or who you sell it to, the person buying needs to feel a connection to your brand or their loyalty will waiver.
A brand strategy is "the long-term plan to achieve a series of long-term goals that ultimately result in the identification and preference of your brand by consumers." (source: Bynder)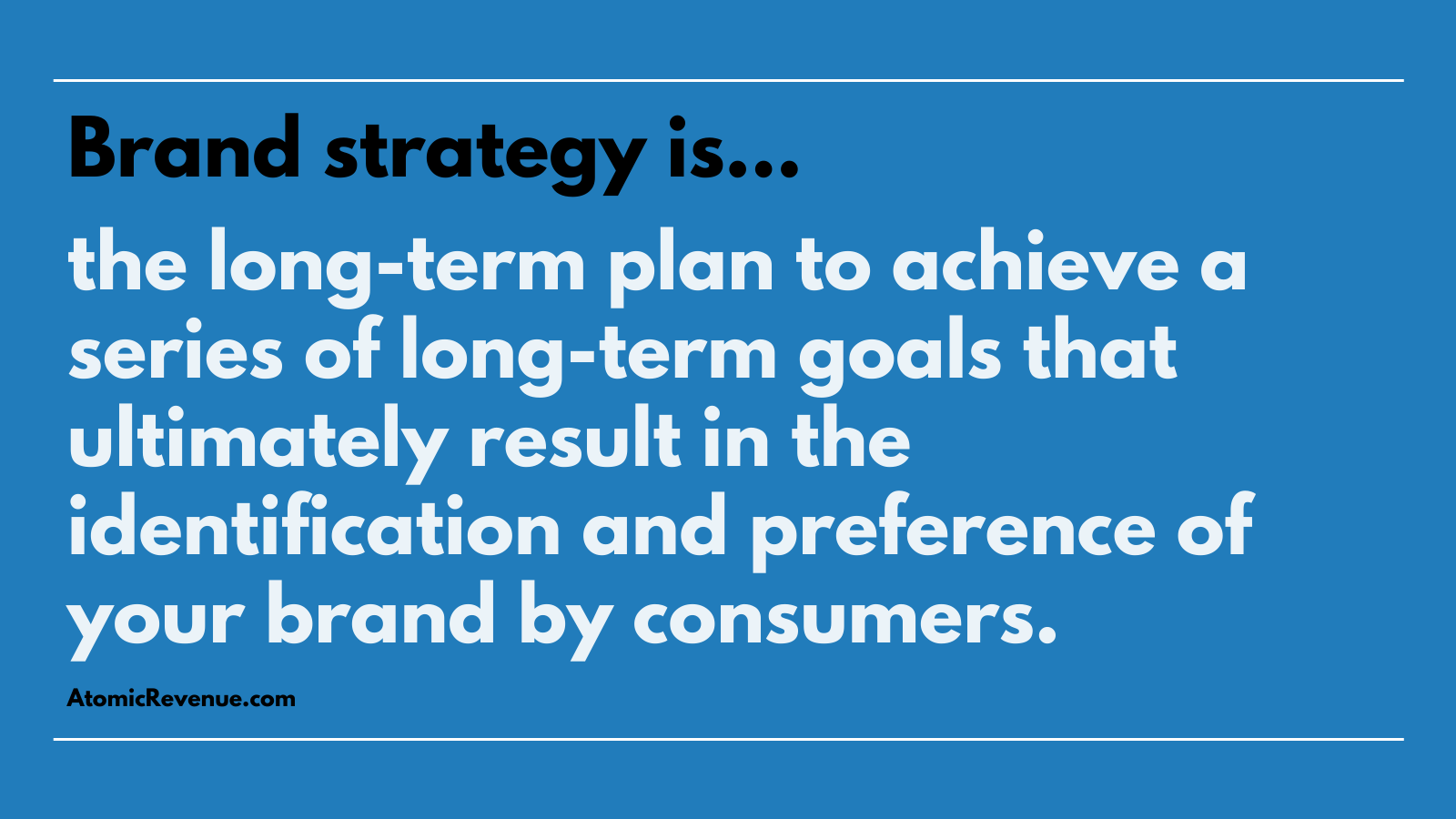 How to Develop a Brand Strategy
Brands exist because people want to do business with those who represent a shared set of values. Brands are the outward representation of those values. Think GE, Honeywell, FedEx, Microsoft, Citi, Coca-Cola, Starbucks, Accenture, AFLAC, Budweiser ... you get the idea. What springs to mind when you simply read those brand names? Wouldn't it be nice to have your brand be so loved that when your B2B clients or customers see your logo or hear your name, they instantly feel positive?
This type of recognition and loyalty comes from developing a brand strategy with your customers at the center. This is not easy to do – it's often a case of not seeing the forest through the trees – which begs the question, "how do you develop a long-term brand strategy or possibly re-brand an aging company and get the recognition you long for?"
The 4 Steps to Building a Brand Strategy
Gather data
Derive insights
Gather competitive information
Develop plan

Step 1. Gather data; research to clearly define your customer.
In the case of branding a new product or service, or rebranding an aging company, gather data.
Talk to customers to find out what it is about your brand that draws them in.
Learn which core audience is choosing you time and time again because you connect with them like no other brand.
Also, learn about who they are.

Where do they live? What interests do they have?
Talking with your customers – human to human – will give you more actionable insights and data than you expect.
It can be expensive and time-consuming to talk to every customer in-person, so once you've reached the point where it no longer makes sense to rely on conversation, you can move to using research tools (think CRM) and talents, such as first-party research. This is by far the most valuable way to reach your contacts. It's an investment in people who know how to ask questions to get the most insight from the responses.
If you are a new business working on brand development, starting your go-to-market and brand strategies will be most effective and pay for themselves with an outsourced, objective brand strategist. It's tough to go it alone when first starting out. An expert can get to the heart of what your customers need from you and give your brand a "voice" most efficiently and effectively. You get one chance to make an exceptional first impression.
Has your company been around for a while but needs branding for a new product or service or a total re-branding? An objective brand strategist can shine a light on what you need to build a strong brand and get you to a long-term brand strategy that makes sense for your business.
Step 2. Derive insights. Understand the story buried in what customers are telling you, then communicate effectively.
The insight and data gained from your research in step one are as important as the research itself. The data will assign values to the information (KPIs) so it can be measured, then give you an idea of how to go forward (data doesn't lie!). It is helpful here to collaborate with customer research and data specialists to extract the important nuggets buried within the data, so it is meaningful to your brand development.
Step 3. Identify each competitor's strategy.
There's also a key component of brand strategy development that requires identifying each competitor's brand strategy, how it is working, who they are targeting, and who they are missing. This first-hand research will provide valuable intelligence as to where your competition is missing the mark. After all, most of your target audience and customers have likely used your competition before or at least investigated them and decided they were not a good match.
4. Develop a plan and understand that it will evolve.
Here's where developing a brand strategy is as much art as science. Once you've done the research, gathered the data, and identified the market opportunity that your competitors are missing out on, it's time to put it all together with a little soul. What's that, now?
People are funny. The nuances in a brand are what make the difference between a brand we like and respect and a brand we love. The nuances are how your business can connect with your audience because you know them and genuinely share values. In terms of brand strategy, it is about how your company lives your brand in everything thing you do and whenever you "speak." Your brand should reveal your soul.
And, just when you thought you were done, your brand strategy is not complete ... EVER. It evolves with the market, just like your customers. You need to always have a sense of what is changing in the world and how your B2B brand continues to connect with your audience and customers. Part of that awareness is being open to the fact that your customers today may not be your customers of tomorrow – that group might change. Brand strategies don't end – they are long-term strategies that adjust with your customers.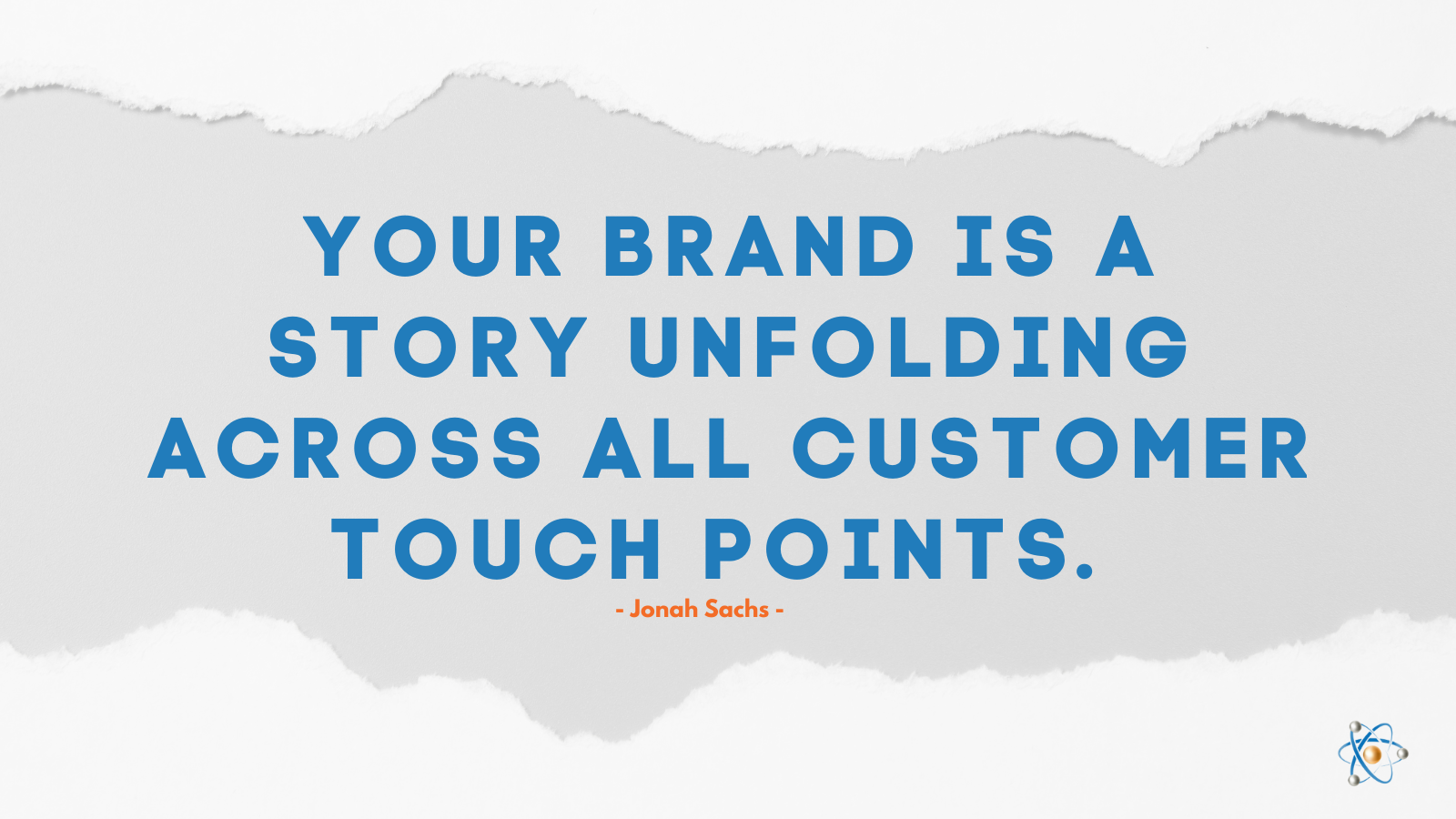 How Does Your Brand Communicate with Internal Customers?
Have you thought about how your brand communicates with your internal customers?
It is equally important to think of your employees as "customers." So when we say, "know thy customer," it means "know thy team" too. Your internal team is really your first line of customers. They had to be "sold" on the benefits of your products or services to begin working for you. They must relate to your brand enough that they want to be enlisted as influencers to help others solve their problems with your offerings.
Here in 2021, as we navigate the Great Resignation with record numbers of people leaving their jobs because what is important to them has changed, their values have changed, it is a living example of how we must mean something to our colleagues or our brand suffers, our customers suffer, and the company pays a steep price.
As you're creating a brand strategy, don't forget this critical group of people – internal customers. Ask what is it that those you value and couldn't operate without are seeking from you? What do you offer internal customers they cannot find elsewhere? Why do they stay?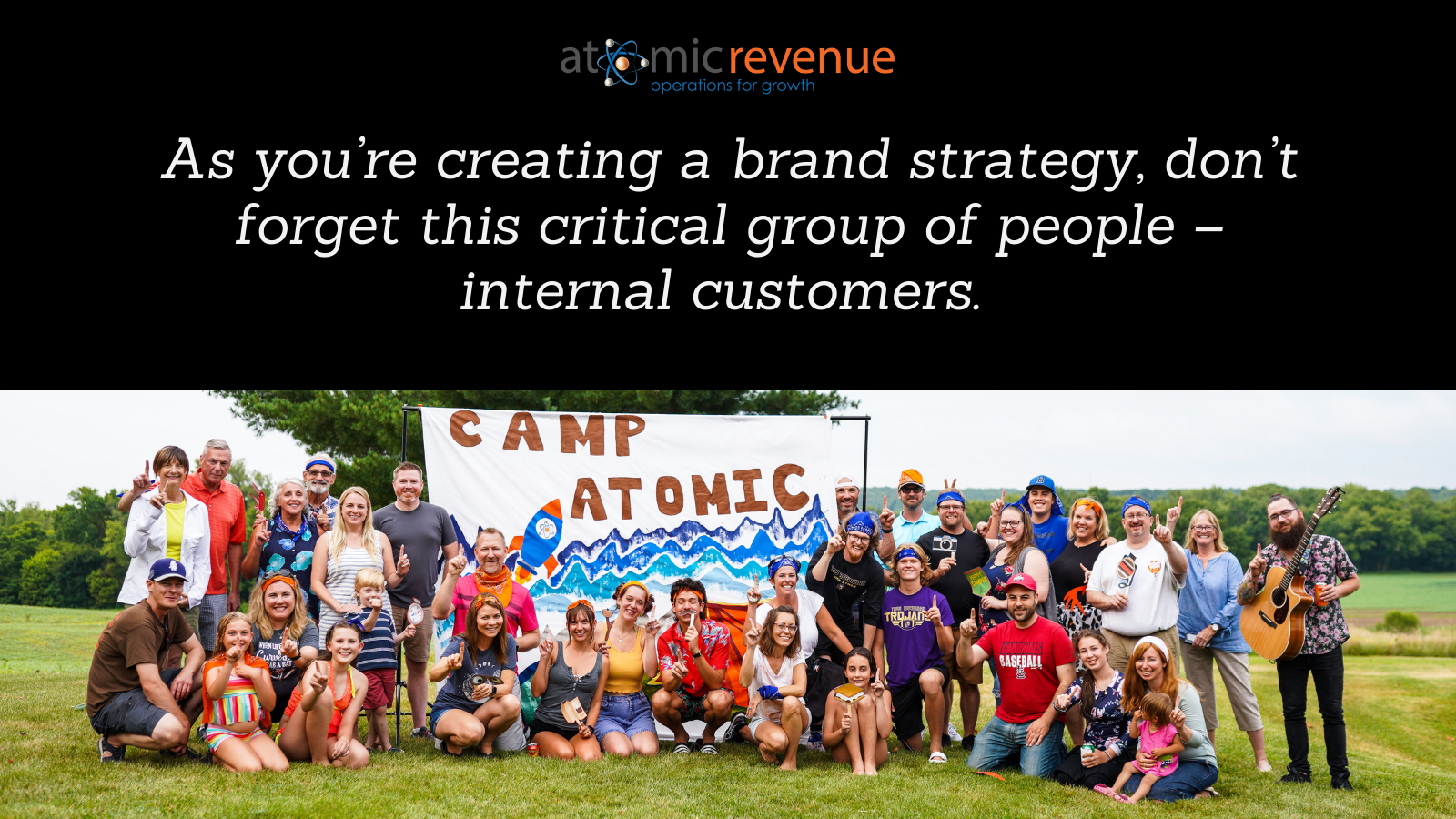 Don't Wait to Build a Long-Term Brand Strategy
Don't wait to build a long-term brand strategy – it's more important than ever with the online sales cycle and digital marketplace to become a beloved B2B brand.
When you utilize the golden rule of brand strategy, "know thy customer," and get as much info as possible from research, great data, insights, KPIs, and competitive information, you'll be in the position to build a solid, dynamic customer-focused plan. You will set your B2B company on track to becoming a well-known, go-to brand. One that adjusts to the needs and desires of your customers, while maximizing missed opportunities in the marketplace.
This unique and complex process when done internally, without objectivity from an outside expert, often leads to roadblocks or a less-than-effective brand strategy. That's where a brand strategist from Atomic Revenue can help you see your company from a trained outsider's view and overcome the natural biases inherent in being a business owner or brand manager of a company. Our team specializes in creating brands people love to drive revenue growth.
Contact us today if you would like more information about B2B brand strategy. Our conversations carry no obligation – we love to help businesses succeed.
---
About the Author
Serge Traylor is the owner of /ˈekwədē/ (pronounced: equity), a brand strategy company, and works as a Brand Strategist at Atomic Revenue. He has extensive experience in brand communications with companies such as Energizer, Miller Brewing Company, Syngenta, Monsanto, COX Communications, and more. He helps all sized B2B clients align their brands with their customers' needs and their business needs. His wicked-smart talents lie in identifying each company's unique position and unique voice and developing a plan to brand around it, all the way through the communication elements.