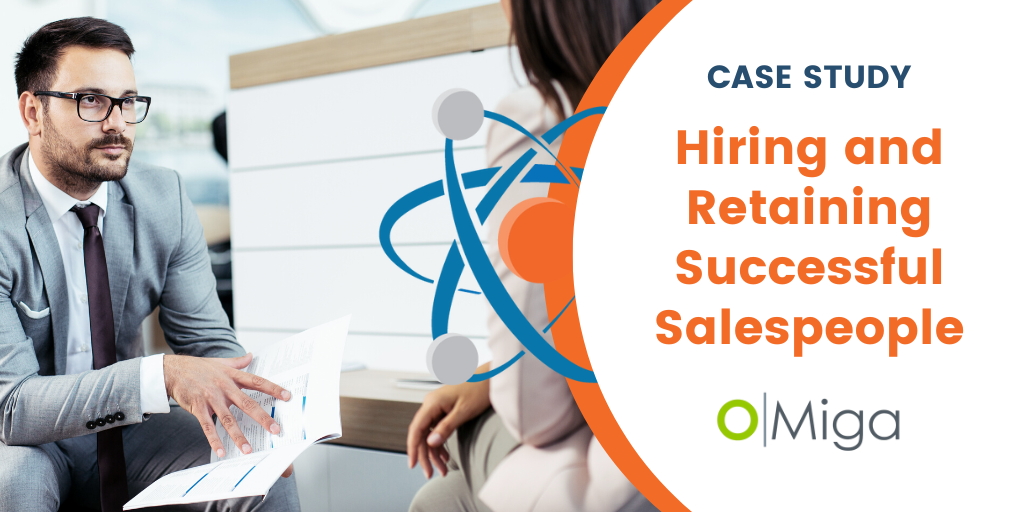 Ed Hagen and Dan Sills founded OMiga in St. Louis, Missouri, to tailor back-office support for small to medium-sized businesses. They found the company growing rapidly, requiring them to concentrate on running the business more often than selling, so they engaged Atomic Revenue to assist with hiring their inaugural salespeople. Read on to find out how they achieved incredible sales results that went beyond the scope of their original request.
Hiring Their First Salesperson
OMiga's expertise in finance, accounting, bookkeeping, payroll, human resources, and records management has helped businesses nationwide focus on their business while OMiga takes care of the rest. However, as business founders often are, Hagen and Sills were also the sales team.
By 2015, OMiga had grown to a level that required them to focus on managing operations in addition to accelerating sales growth. They knew they couldn't effectively do both for long, so they engaged Atomic Revenue to help with recruiting and hiring salespeople and, in their words, "could not be more pleased with our successful transition."
OMiga's first salesperson was selling at 136% of plan within 7 months of hire.
Sales Operations Aligned to RevOps Growth
OMiga engaged Atomic Revenue to build their sales operations infrastructure so that a new sales hire could produce sales quickly with minimal training or management from Hagen and Sills (after all, their expertise is in accounting). Using Atomic Revenue's sales operations process aligned to their revenue operations growth, they discovered they could cost-effectively hire more talented sales folks in a manner that still aligned with their planned growth budget.
OMiga's first salesperson, Jason Clark, explains, "Atomic Revenue has greatly impacted my work experience by shortening my sales ramp-up period. Their sales tools have helped me communicate real value to the 17 new clients I have onboarded since joining OMiga only 7 months ago. I appreciate OMiga's understanding of the importance of putting the right infrastructure in place to allow me to be successful from the start. Atomic Revenue has worked with us to create a highly compelling rationale on exactly why customers should buy from us."
The Result of SalesOps Implementation: 5.48x Return on Investment
In the 12 months following the OMiga-Atomic Revenue collaboration, they tracked a 5.48x ROI (return on investment) due to the recurring monthly revenue on sales over performance alone. OMiga expects ROI to grow year-over-year using these same sales operations tools.
Atomic Revenue's Sales Operations Process for OMiga: 3 Steps to Success
1. Sales Compensation Planning
Atomic Revenue modeled OMiga's sales compensation plan to care for recruiting, hiring, and retaining top talent, as well as reducing risk and protecting their profit margins.
2. Sales Talent Acquisition Program
The newly developed compensation plan and job description established clear sales productivity expectations. Atomic Revenue brought our "Hire Hard and Manage Soft" interview process to help Hagen and Sills select the right sales candidate for their needs.
3. Organizing for Sales Success
Atomic Revenue showed how consistent sales success requires both the right talent and the right tools. We supported linking their CRM to website landing pages for lead capture, as well as new sales rep utilization of CRM data to expand and clarify sales efforts and create customer advocacy.
OMiga's toolkit now includes:
Opportunity Qualification: to guide their sales team in identifying the most likely and most profitable prospects.
Value Propositions: to help their sales team communicate how OMiga adds value to an organization.
Tactical Meeting Plan: to establish an agenda, guide preparation, and set the next steps for every sales meeting.
Sales Operations & People Operations as Part of Revenue Operations Leads to ROI
Recruiting, hiring, and retaining top talent using a people operations approach, and supporting them with sales operations tactics that provided a process, the right tools, and personal care, put OMiga in a growth position.
In any B2B company, when you design and implement a sales operations plan with support tools and processes that are easy for your people to use, you can align your people, process, technology, and data to revenue operations that produces growth, year-over-year.
If you're struggling with sales or dealing with the revolving door of hiring, contact Atomic Revenue today for a no-obligation conversation. We love to help B2Bs grow with confidence and predictable profitability.
---
About Atomic Revenue
Based in St. Louis, Missouri, and Denver, Colorado, with a nationwide team of more than 50, Atomic Revenue helps regional and national B2B companies, primarily in manufacturing, engineering, technology, and professional services, make more money through revenue operations. Our revenue operations methodology improves profit margins, increases the lifetime value of customers, and creates sustainable processes and profitability fueled by people, technology, and data. Contact us today without obligation to learn more.