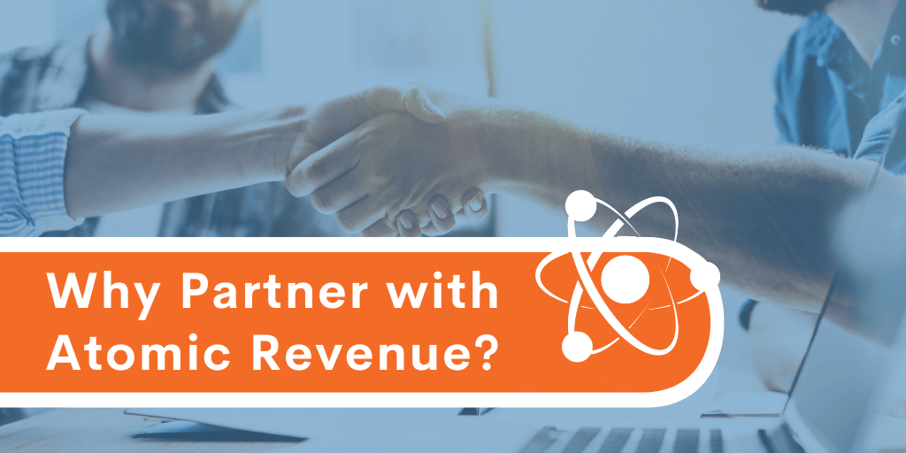 Atomic Revenue is a revenue operations company built on the talents of a nationwide team of subject matter experts (SMEs). We believe when companies partner on projects to provide clients with services that go above and beyond to solve their issues and increase revenue, everyone wins. Let's face it, few companies or individuals can deliver end-to-end revenue production in every area of expertise without help. With our partners, we are the unicorn companies are looking for!
"We grow with our partners by increasing the value we can each deliver for our clients. The bottom line is, we're better together." — Scott Sinning, Profitability Practice Leader
Partnership Benefits
When partnering with Atomic Revenue, there are countless benefits to all three parties. We offer expertise in all RevOps disciplines from a nationwide pool of committed, responsive, and forward-thinking team players who blend creative and analytical thinking to ask questions, listen carefully, and collaborate effectively.
By having access to that talent and our proprietary solutions, we help our partners expand and our partners help us scale. There are also affiliation advantages through word of mouth, the partner/client process, and the reputation for unique results-driven skills that tie into each other's networks. Additionally, there is a lead generation component for future business.
There is inherent efficiency in working together — we reach better decisions faster and help our clients see results sooner.
The focus on complementary programs, skills, and expertise creates a synergy that maximizes client satisfaction and results.
Expansion of the presence, footprint, and revenue of both partners.
There is an implied endorsement, approval, and recognition from direct/formal partner relationships.
A proper partnership makes for happy customers, which spurs customer advocacy and referrals. It's a win/win/win!
Revenue Operations is the sum of all the parts of a business that come together to create an exceptional buyer journey that produces customer advocates, requiring full alignment of people, process, technology, and data.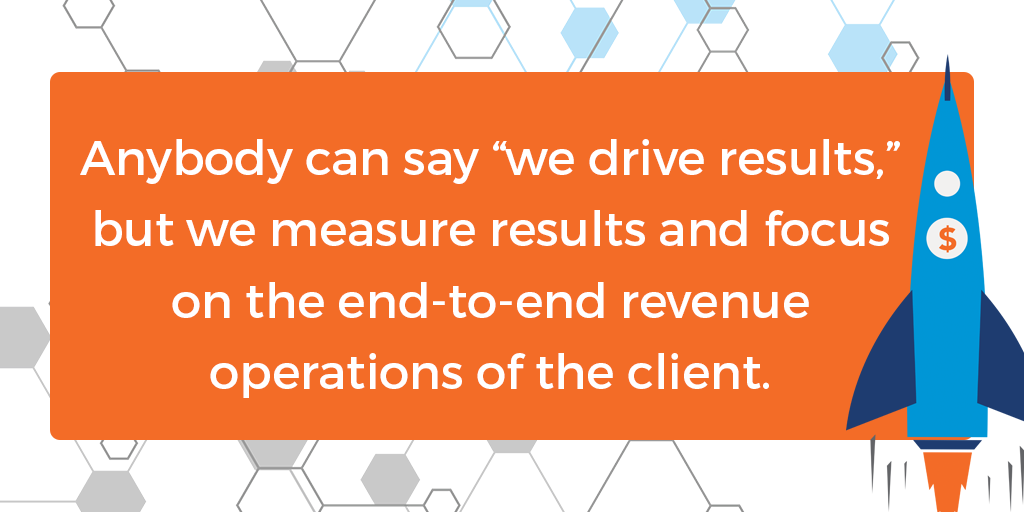 Reasons to Partner with Atomic Revenue
Atomic Revenue is a unique partner. We change the way people think about traditional marketing, lead generation, and sales. We don't exist to produce nice things and feel good – we exist to generate results. Anybody can say "we drive results," but we measure results and focus on the end-to-end revenue operations of the client. We hold ourselves to the same standard as anyone else – if we don't get results, we fire ourselves! Atomic Revenue is:
Process Driven
First diagnose, next resolve, then optimize outcomes.
We base our actions on audits and assessments, not guesses or pre-determined opinions.
Identify the challenges and opportunities facing the client and indicate steps for our partnership to address those needs.
The collaborative efforts of highly skilled, quality partnerships result in prompt, efficient, effective, and all-encompassing efforts to the client's benefit.
Solution Focused
All about GROWTH, but not simply growth for growth's sake — it must be profitable growth!
3 different levels of growth depending on the needs and current status of the client:

Initiate . . . positioned to help clients reach profitability sooner.
Sustain . . . partnership programs expand the ability to meet customer needs in key growth stages.
Accelerate . . . the combined expertise and commitment of an active, involved partnership approach to client opportunities.
Measurement Minded
Committed to accountability for all parties . . . AR, Partner, Client.
Diagnose on the front end, KPI measurement on the backend.
Results must be proven, not estimated . . . Atomic Revenue expertise and cloud-based, full-service dashboard tools support and verify the impact of the results of the partnership effort.
Ongoing measurement and lead tracking to identify future needs and the opportunity to re-engage with the client after the initial project.
Our Partners Are Like Us
Our partners are like us . . . self-directed problem solvers who want their clients to succeed for the benefit of their people. We work toward one goal together — to solve clients' problems efficiently with measurable results that ultimately launch revenue beyond expectations. We identify, track, measure, and establish KPIs that keep our company and our partners engaged with clients (quarterly, etc.) and create customer advocacy for continued profitability.
We align ourselves with the best and the brightest partners and SMEs, nationwide, and expect nothing but the same excellence we demand from ourselves.
Grow Your Business with Atomic Revenue
If you're searching for a way to offer your clients more services and grow your own business, partnering with Atomic Revenue is a win-win. We think of our partners not as competition but as associates who make us stronger, providing revenue operations outcomes that can only be achieved together. So go ahead and take a look at our partnership tiers, which are designed to match the talents and expertise of the partner relationship with the needs of the prospect or client, and then reach out today to set up a no-obligation meeting to learn more.
---
About Atomic Revenue
Based in St. Louis, Missouri, and Denver, Colorado, with a nationwide team of more than 50, Atomic Revenue helps regional and national B2B companies, primarily in manufacturing, engineering, technology, and professional services, make more money through revenue operations. Our revenue operations methodology improves profit margins, increases the lifetime value of customers, and creates sustainable processes and profitability fueled by data.