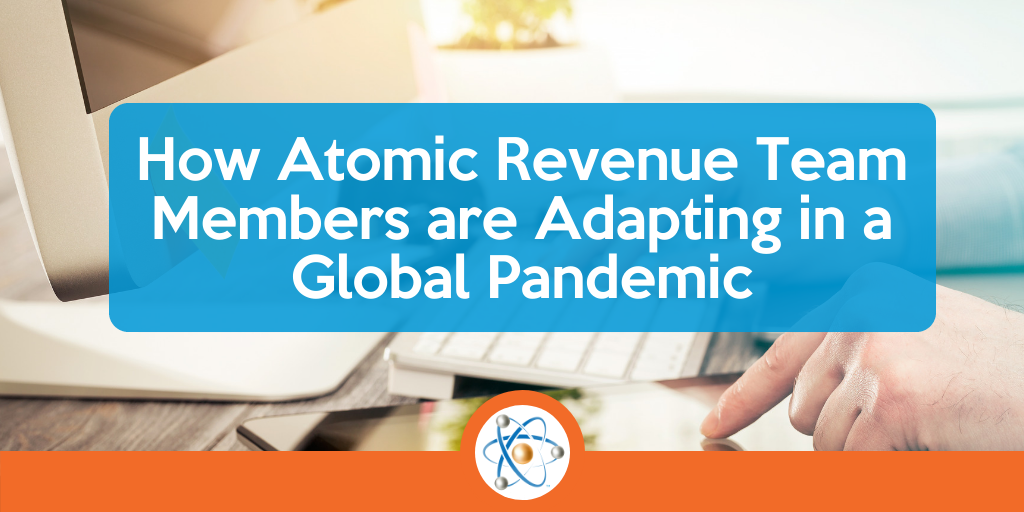 The world has changed and like it or not, our work flows are changing too. As wicked smart, self-directed, problem solvers in the B2B space, we are grateful for a healthy #worklifeblend. Our coast-to-coast Atomic Revenue team is well versed in virtual work - it's how we break down the roads and walls that separate us from accessing top talent and achieving greater customer success. But, we can't say we didn't fall under the spell of overachieving with all of our newfound "social distancing downtime." Squirrel!
Current reality: we've never been more challenged to adopt best practices for bringing all of our critical subject matter expertise, creative outlets, family responsibilities, AND decompression actions into one space - our homes.
"It's tough enough to be productive in the best of times let alone when we're in a global crisis," said Chris Bailey, a productivity consultant and the author of "Hyperfocus: How to Manage Your Attention in a World of Distraction."
As a revenue operations company, how do we stay focused on aligning people, process, technology, and data through end-to-end revenue production for profitable growth amid so much distraction?
While this article shares our thoughts on the need for Rev Ops in times of economic uncertainty, we also recognize this unprecedented time is ripe for participating in virtual trainings (in our pj's), earning software certifications, attending new conferences, and satisfing our love of learning.
Let's explore what Atomic Revenue team members and partners are doing to adapt to the new world order.
Certifications, courses, and training — Oh my!
Always eager to sharpen the saw, Atomic Revenue team members actively speak, train and participate in educational workshops, conferences, and seminars across the country. When signing up for these learning opportunities we are often bound by budget, geographic locations and time. As we adapt to a physically distanced, fully virtual life, we are thrilled to have access to online learning with these trusted sources.
Enterprise University – With locations in multiple locations in the US, EU's Virtual Spring Catalog gives us access to leaders in all of their Missouri, Arizona, and New Mexico locations! Our very own Tara Kinney will be presenting "Measuring Revenue Return on Marketing Sales and Spend" on April 22, 2020
HubSpot – HubSpot provides education on its software to help you market, sell and grow your business. We receive a social media badge upon completion of a certification program. And let's be honest, earning a badge feels pretty good!
Asana – We keep our entire company on task with this powerful platform. They have an exclusive self-paced training program. We will receive a social media badge upon completion as well as several other Asana training opportunities and benefits. Should we get sashes for all of our future badges? - Asking for a friend.
EOS Tools – As an EOS company, we are grateful for the clarity provided by our implementer. This article shares Why Atomic Revenue is an EOS Company. We HIGHLY recommend checking it out if you are wanting to Get a Grip on your business. Here you will find FREE EOS eBooks, videos and Clarity Break™ blog posts.

Virtual Conferences

: No Conference FOMO. We can all go!
Digital Sales and Marketing Day - Monday, April 6, 2020 Let's be real. We are in uncharted waters. Now more than ever, businesses need to be ready to weather the storm, while preparing to scale for the future. In this interactive, virtual event we will learn proven tactics that will empower companies to drive new business and thrive in a digital-only, video-first environment.
Midwest Digital Marketing Conference (MDMC) - Since 2013 MDMC has grown from a small meet-up to a cornerstone digital marketing conference attracting the Nation's leading speakers. This year, everyone can attend virtually for free or with a paid option. Click here for the free live 2-day virtual summit on Wednesday, May 20, 2020, and Thursday, May 21, 2020. Atomic Revenue CEO, Tara Kinney speaks
IBM Think2020 – May 5th – 7th. Learn about the latest advancements in open technologies and interact with the luminaries who are using this tech to transform our lives.
HubSpot Virtual HUGS – HubSpot will be hosting Virtual HUGs led by HubSpot Academy Professors and product experts.
Blogs we Love: Learn something new everyday.
How to Build a Network with Social Media - On LinkedIn, our friends at Swip Systems are networking ninjas! Within this blog, they have a 5-step action plan that anyone can follow.
Google Learning
Growth with Google – Free training, tools, and resources to help you grow your skills, career or business.

Google Digital Garage – Free courses and certifications to brush up on your digital skills.

G Suite Learning Center – training guides, tips, customer examples, and other resources. They have also provided 10 G Suite tips to work with remote teams.
Additionally, our 50+ team discovered small pleasures during this historic time. Some of us have planted gardens, started raising chickens, taken longer baths, given our kindergartners' computers, entertained our cats, constructed hydroponic farms, built homeschooling stations, and given Zoom tours of our homes – at this point, who hasn't? Stay tuned for more of those fun stories about our new-normal working environments.
Meanwhile, in the world of RevOps we are grateful for our team, our love of data, optimizing end-to-end revenue production for profitable growth, and our clients.
Revenue operations is critical to success in any economy, but it can be challenging to find the time and resources to accomplish the diagnostics and data compilation and pinpoint solutions. Atomic Revenue can help. Our wicked-smart team and our data dashboard services assess, align, and produce revenue operations results for our B2B clients in every industry across the nation, in any economy. Let's keep this economy strong and your business profitable together – contact us today for your free revenue operations assessment.