The most common complaints about Facebook advertising are boosting a post for a few dollars with no results and, in most cases, having no idea where to even start. It's a complicated process, and being successful with digital advertising can take time. You are learning a new skill, after all.
In this blog, we'll take a step back, break down the Facebook ad problem, then build back up to the solution. And, you will see, successful Facebook advertising, as well as all digital forms of marketing, require collaboration and "all ships rising together" for maximum impact.

A Step Back – The Transition to Digital Publishing
Let's start with the origins of the problem of how we conduct online business through Facebook advertising and digital marketing. Anyone who has taken a communications or journalism class, or been a writer in the last several decades, has experienced the joys and trials of the transition to digital publishing.
Once upon a time, the only way to publish content was to have a letterpress, paper, inks, and all the expensive materials, knowledge, and skills of the highly specialized craft. Then, once it was created, very few people had access to the books, let alone the ability to read them. Today, you can publish just about anything, any time. Content from your fingertips to the rest of the world in a flash, especially on social media.
Social Media Has Changed the Way We do Business
Social media has not only changed the way we publish content; the internet, combined with social media in general, has changed the way we do business. It has become much easier to start a business online and advertise it, yet it is more difficult to succeed.
Anyone can publish a book online, just like anyone can run an ad on Facebook. That doesn't necessarily make it good. It could be great, but think of the difference of a self-published book versus a book from a significant publishing agency. Sometimes self-published books do very well, however, having a publisher makes a significant difference. Facebook advertising works the same way. A person may spend a few dollars on an ad, but then nothing happens. Engage a professional FB advertiser to make a significant difference.
Before – Traditional Business
Previously, with a traditional brick-and-mortar business, all you needed to succeed was an idea that would solve a problem for your local area. For example, if your town only has one dinner restaurant, fixing up an old building and starting a breakfast café is likely going to lead to a successful business. Think through the steps of how you make this work.
First, you identify the problem, then you get an idea for your solution, then you plan and implement. Get a space, set it up to suit your needs, let the town know what you're doing, and advertise when you'll be open. Then open and start selling breakfast. Understanding the idea of a traditional business like this is fairly straightforward.

Now – Online Business
Currently, with online businesses, people get stuck in the problem-solving phase because they skip many steps. For some reason, when online, much of the knowledge of what it takes to start a successful traditional business goes out the window. People may not be coming through your door anymore, but they are looking at your online store or website to decide if they should get to know you and buy your product or service.
Therefore, if you apply the same concepts from traditional business to Facebook ads and online business, you will be set for success. Consider these questions:
Why would people walk through your door (or go to your online shop or website)?
What problem are they trying to solve from your product or service (is your Facebook ad clear on this)?
How are they going to feel about the experience they have in your store (or online shop/website)?
If you can answer these questions for your brick-and-mortar shop, you can answer these questions for your virtual online shop.
Future Steps & Facebook Ads
Once you have thoroughly established the top foundations, you can be successful with Facebook ads. For a step-by-step guide to getting started, here are the three key steps to implement in your business.
1. Start with Intent

This is similar to what was covered previously, only focused on Facebook ads. Are you just getting started and need to let people in your local area know what you offer? Or are you trying to sell a certain amount of a specific item? Start here and use your intent as the driving factor for what you do next.
2. Provide Genuine Value

Back to traditional business and good content – are you genuinely providing value to your customers? Your product or service solves a problem for them, but are your ads reflecting this? Be sure to provide the right solutions to the right people.
3. Measure – Measure – Measure
The only time a Facebook ad "doesn't work" is if for some reason it fails to deliver what your target audience needs. Back to intent – are you trying to reach all the people in your local area to let them know you are opening a new location or targeting the right people? How will you know when this is successful?

Every time your ad is viewed, you gather valuable data that allows you to tweak your ads and message for better results. The same applies to online sales. Are you measuring how many people go to your website, view content, add items to cart, then purchase? The differentiating factor between a good marketer and a great marketer is measuring.
For more on these three steps – check out Badassery Magazine. (article to be published)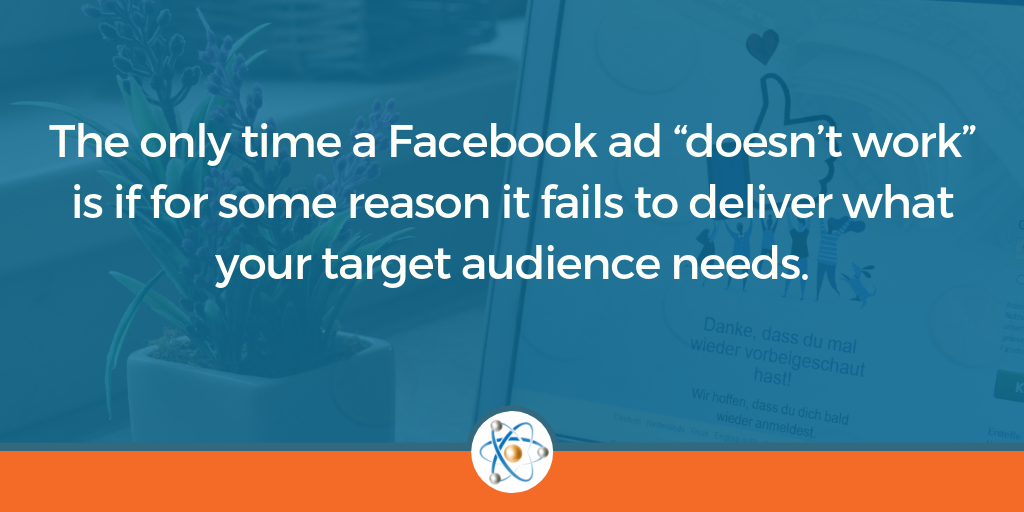 Build a Solid Foundation
In the coming months, Pancake Digital Solutions is partnering with Atomic Revenue. Founder and CEO of Pancake Digital, Rianna Neal, spent almost two years working with the team at Atomic Revenue while working on building her own business. In this time, she was inspired by their focus of sales conversions and lead generation, as well as the importance of customer advocacy.
Many social media management companies focus solely on content production. While this is an important part of a business, branding and good content is only a piece of the social media pie that contributes to the whole marketing platter. That is where Atomic and Pancake make a successful marketing marriage.
With Pancake Digital Solutions now standing sufficiently on its own, Rianna maintains a working relationship with the Atomic Revenue team to help strategic partners and clients build solid foundations through layers of revenue building actions. This foundation enables Pancake Digital Solutions to help more clients independently with Facebook ads, and with the Atomic partnership, set them up for success!
How We Help You Thrive
What if your Facebook ads give you a list of qualified leads, but your sales team doesn't have a process for making calls? What if your Facebook ads sell a ton of your product, but you run out and don't have a system for inventory management or customer service? These are but two examples of real-world hurdles many of our customers face.
The Atomic/Pancake strategic partnership will help you thrive through qualified lead generation, sales conversions, customer success, digital marketing, and strategic processes that provide measurable growth. We take the day-to-day digital responsibilities off of your plate so you can focus on the business of your business!
Making sure your business is ready for success before turning up the heat with ads and digital marketing is as important as compiling the ingredients needed to mix the pancakes and cook them before people are ready to eat.
All Ships Rise Together
Anyone can advertise their business with Facebook ads, which is great, but it is important to remember there is a learning curve with critical foundational steps. The traditional business started because someone saw a need in their local area and had the ability to solve the problem.
Today, we need to understand the basics of traditional business concepts and carefully apply them to online business, social media, and digital marketing efforts. For future Facebook advertising success, follow the intent, genuine value, and measurement process. And on a personal note, we are so excited to partner with Atomic Revenue to help all ships, or "businesses," rise together, and most importantly, better serve our clients with the growth they desire.
To learn more, we offer classes and Facebook ads management services on our website, PancakeDigitalSolutions.com