Guard911®, SchoolGuard®, and CampusGuard911™ apps put a panic button in the hands of every teacher, employee, or administrator for use in a crisis. The apps simultaneously speed-dial 911, alert the nearest on- and off-duty officers through the sister application, Hero911®

, and alert all internal devices and nearby users to an active killer situation.
Reducing response times is the goal – Seconds Save Lives. Knowing how imperative it is to get this life-saving tool into our schools, workplaces, and community meeting places as soon as possible, the Guard911® team contacted Atomic Revenue and we began working together to launch growth. In a short time, Guard911® realized substantial results, including a 472% increase in incoming leads.
Develop a Strategy to Meet Growth Objectives
For three years, the Guard911® team worked to gain traction but were consistently challenged to meet their growth objectives without knowing why. Their single focus – to provide a simple early warning system for armed intruder and emergency situations – wasn't making it to the people who could benefit from this program.
To help find solutions for this problem, Guard911® enlisted the help of Atomic Revenue to evaluate their marketing efforts and develop a revenue operations strategy to facilitate their growth goals. Atomic Revenue's audit process helped Guard911® identify the areas where they were wasting money and not getting the results needed. We helped them measure KPIs, create a strategy and prioritize where to invest resources to gain traction in the market. The results have been outstanding.
Human Capital Services Fit Changing Needs
Since 2017, Atomic Revenue has provided a range of human capital solutions and management for Guard911®, functioning as a fully in-sourced revenue operations team. Services range from web and social media management, graphic design, email campaigns and list management, to RFP proposal management, sales management, channel partner support, and more.
Guard911® benefits from our scalable solutions that fit their changing needs and accomplish critical tasks required for growth. Our partnership allows them to focus on their expertise and pressing day-to-day business without the time and human capital expenses of trying to do all the marketing, measuring, and revenue operations tasks on their own or with a dedicated, full-time internal employee.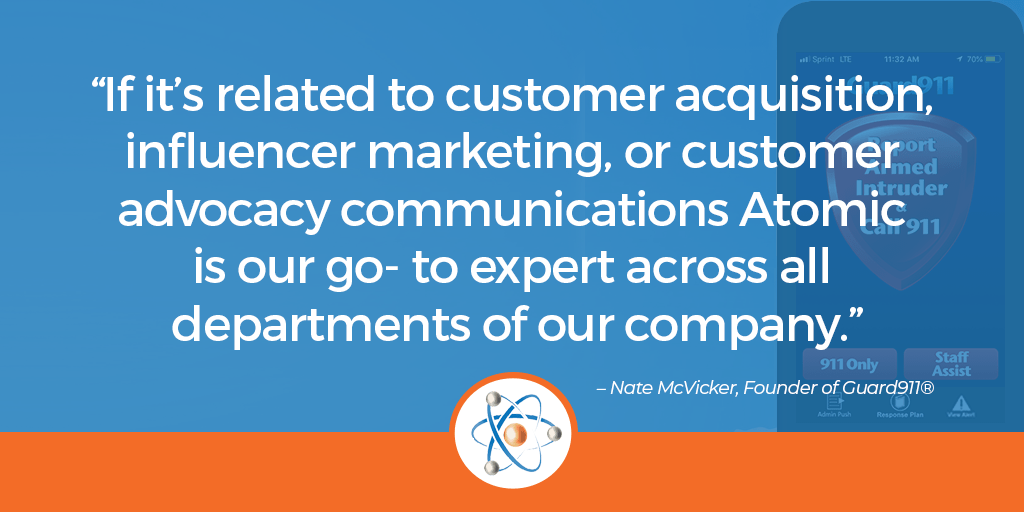 Services Provided to Guard911®
Digital Audits
Vendor Management
New Website & Ongoing Work
Call Center Management
Social Media Community Management
RFP Selection & Response Management
Sales Pipeline Management
CRM Selection & Implementation
Email Campaign Management
Sales Process & Data Development
Sales Team Coaching & Development
Account Management Support
Key Performance Indicators (KPIs)
Advertising Design & Copywriting
Channel Partner Marketing Management
Content Development & Management
Event Communication
Quarterly Strategy Reviews & Annual Strategic Planning
"Growing a business is hard. Our partnership with Atomic Revenue has made it much easier. They provide broad resources and take care of our business with a level of diligence that allows me to focus on ownership and long-term thinking." — Tom Swip, Vice President & CTO
Staggering Social Reach & Quality Leads
Since implementing Atomic Revenue's services, Guard911® has seen marked increases in the engagement and consumption of their content across all marketing channels. In the past year alone, Guard911® has seen a 300% increase in visitors to their website with user engagement doubling in the same time period.
Additionally, a content development program to create customer advocacy increased social reach 370% and social engagement more than 1200%! Those increases, coupled with pipeline management, have led to a 472% increase in incoming leads and a 42% increase in substantive conversions.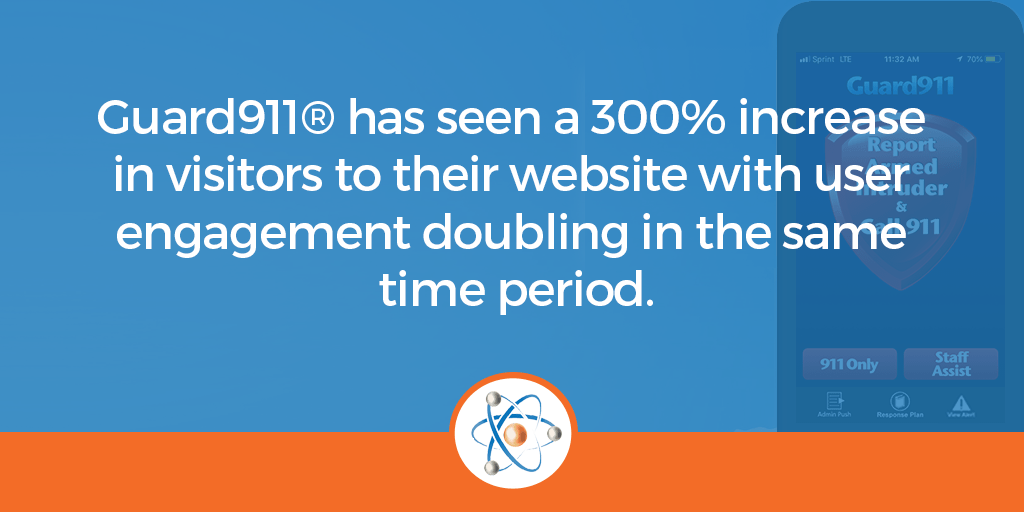 Sales Management – 42% Increase in Conversions
For over two years, Guard911® also employed a calling firm to make lead generation calls. Previously, the calls generated a limited amount of leads – even the Sales Qualified Leads (SQL) were not truly qualified. Atomic Revenue stepped in to perform limited direct coaching with the primary call representative to increase conversions. Through this coaching and development, Atomic Revenue had callers:
Change the framework of the conversation to emphasize that the product was developed by state police first responders, not business people who happened to be police officers. This was a minor but important distinction designed to remove barriers to an educative conversation.
Create more urgency around the severity of the problem Guard911

®

addresses and educate prospects on the very real need to safeguard our schools.
Use "impact declarations" to help prospects better connect with what it means to have a solution in place.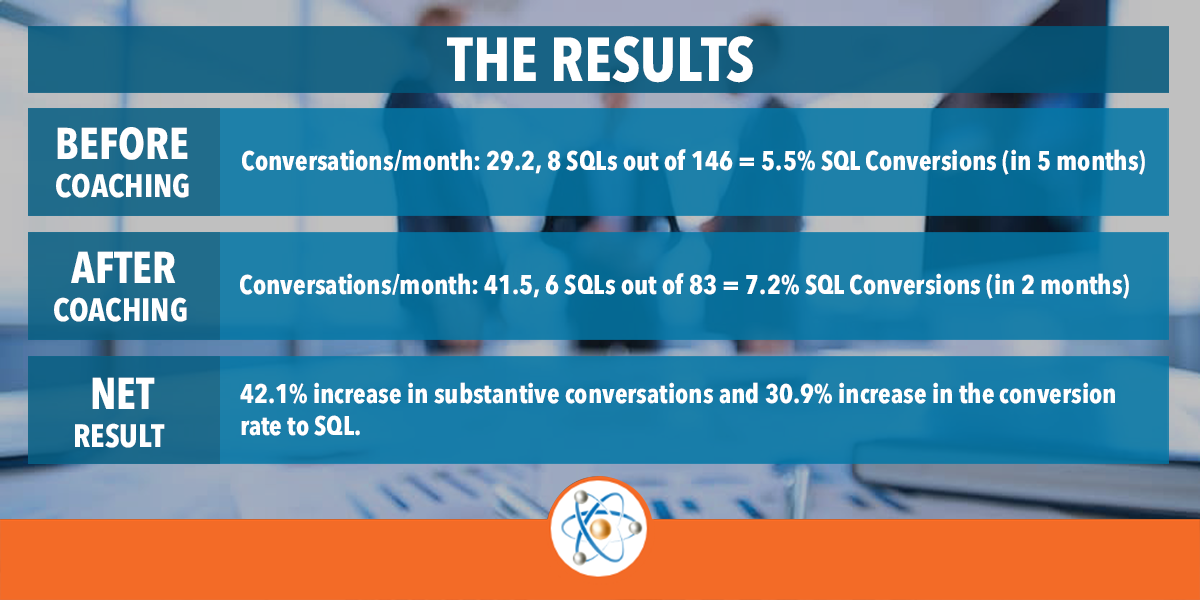 Revenue Operations Launched Growth
A well-executed revenue operations strategy works with every entity in any industry – even an app like Guard911®. Because the underlying principles are constant, the people, processes, and data work in harmony to facilitate end-to-end revenue production™ and growth.
With the average shooting lasting only minutes and the multitude of lives lost before a team of first responders can arrive, every second is the difference between life and death. No other emergency app offers the full scope of Guard911®'s instant school and community-wide communication. We are proud to be an extension of their team in the effort to save lives. Contact our wicked-smart Atomic Revenue specialists today for a free assessment to find out how you can optimize your strategy and launch revenue. (314) 439-1280