Does your company have a C-Suite Officer in every area of the business? Do you notice inefficiency with so many Chiefs involved when it comes to a gaining consensus on key business decisions and moving those decisions forward?
In a 2016 Harvard Business Review article by Jacques Neatby, he points out:
"Executive teams replete with functional experts (CFOs, CHROs, etc.) are so common today one forgets they were not always the norm. The idea was to centralize decisions related to their functions, coordinate cross-business activities, and provide CEOs with decision-making support."
The goal of any company is to produce and increase revenue – or profitably. When competing functional agendas exist, internal political complexity increases and executive partnerships and collaboration suffer, ultimately affecting revenue.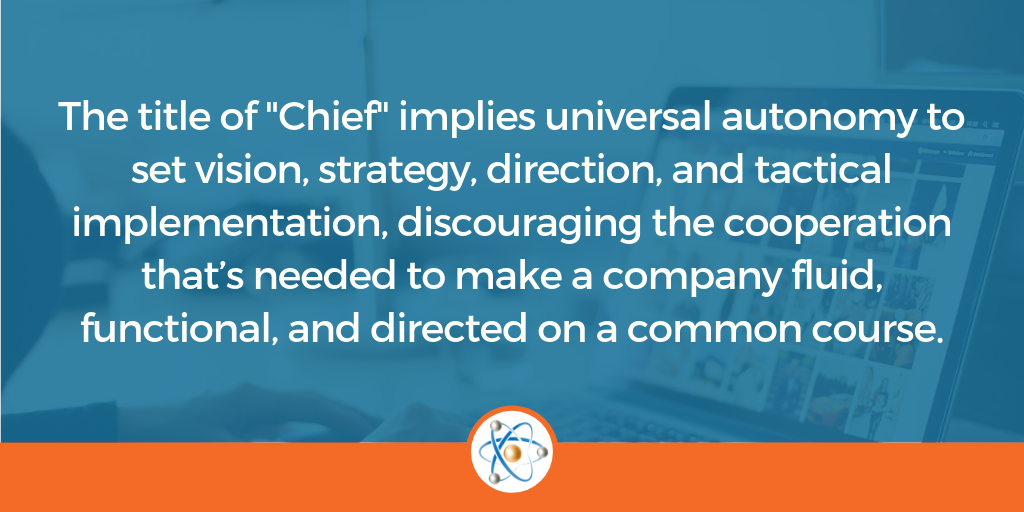 The title of "Chief" implies universal autonomy to set vision, strategy, direction, and tactical implementation, discouraging the cooperation that's needed to make a company fluid, functional, and directed on a common course. Multiple people holding C-Suite titles creates a vortex of splintered decision making that is disjointed, unproductive, and unnecessary.
So, how do you correct this self-created executive-driven inefficiency that hampers the very operations of your business? And where do you start the process?
Adding a Chief Revenue Officer (CRO) is the right start to focus your C-Suite team on becoming a more productive, revenue-centric executive team; lost efficiencies will be powerfully regained. While it may sound contradictory to add yet another Chief to the mix, a high-functioning CRO creates critical organization which eradicates chaos and political confusion, fosters collaboration, and creates meaningful revenue purpose for the company as a whole. This may mean the migration of some other C-Suite roles to VP level titles, but research proves this has substantial positive benefits that far outweigh the inevitable challenges that enacting this level of executive change in management entails.
Practical Downsides to Too Many Chiefs
That same aforementioned Harvard Business Review article by Jacques Neatby entitled, The Ballooning Executive Team, explains how C-Suite growth really took off in the 1990s with Chief Information Officers and Chief Marketing Officers, then progressively expanded into the 2000s, when "the number of Chief Supply Chain Officers in large firms shot up in several industries. Even Chief Happiness Officers have appeared, and many CEOs are feeling pressure to now add a Chief Digital Officer," as the latest C-Suite management fad. To be clear – companies DO need a level of digital leadership, but not in a C-Suite role.
Neatby continues, "While all this C-Suite growth happened deliberately in some firms, others blindly followed suit or promoted executives to the top team to retain them, often rubber stamping the title. Whatever the reason, executive teams are significantly larger than they were despite some positions having faded. By some accounts, the average C-suite team size for large firms is now 10, double what it was 30 years ago.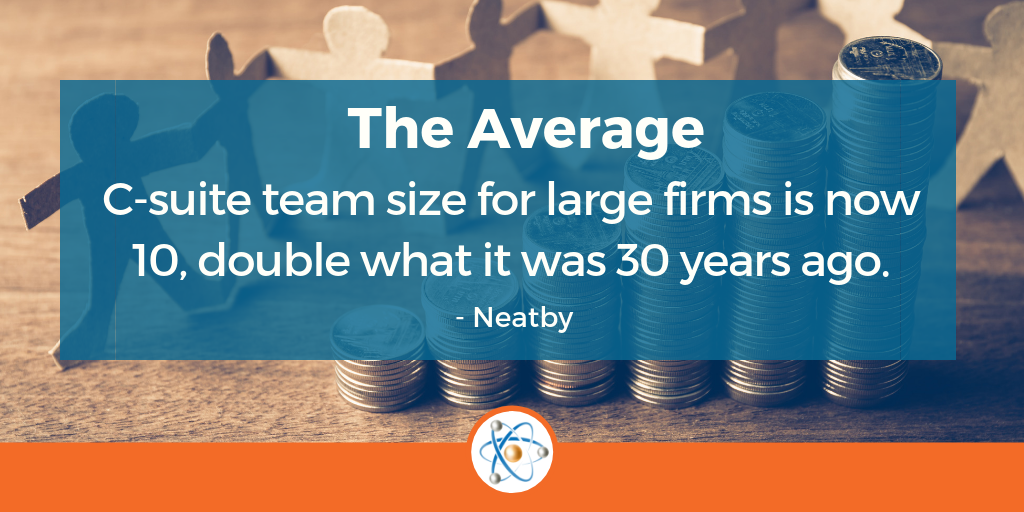 Although larger teams theoretically bring benefits, such as a diversity of perspectives, many practical downsides that affect the bottom line have grown with team size. One major hindrance is that of the human condition – the higher the number of strong-willed leaders who have a say at the table, the more conflict will inevitably arise.
And, who is tasked with resolving this conflict?
Often it is the Chief Executive Officer (CEO) – the person in charge of your most important initiatives and objectives for the company – who will now be using his or her precious time to serve as UN peacekeeper. Then there are the additional payroll costs and wasted time as teams struggle to find meeting topics that truly concern 100% (or even 50%) of its members."
The Problems & Limitations of Too Many C-Suite Roles
Unfortunately, the trend to expand the number of C-Suite roles has led to a substantial decline in overall organizational effectiveness. Companies with the potential for magnified growth often find themselves crawling ahead due to issues that include, but are not limited to:
Growth strategies isolated to individual functional areas (and individual Chiefs) rather than optimizing all areas for whole-company revenue gains.
The increased likelihood of conflicting agendas and interests and wasted time trying to agree.
An inefficient division of budget and resources and fractional allocation.
Increased level of intensity of internal politics; too many "Chiefs" in charge.
Additional payroll costs and benefits that align with the title of "Chief."
The Prospect of Achieving Agreement
Anytime you add people to the mix, the prospect of achieving agreement becomes more difficult. Additionally, when expanded C-Suite leadership cannot bridge agreement, it becomes destructive. The trickle-down effect is a reduced ability to drive collaboration across business units, which creates the potential unintended consequence of eroding the confidence of the entire leadership team, and thus, negatively impacting the unity and progress of the company.
The last quote from Neatby:
"With size comes disengagement. Once executives have made it to the 'top table,' they expect to be involved in all critical decisions. But the size of today's teams makes this unrealistic and those executives who end up relatively uninvolved in key decision-making become disengaged, as they come to realize they've been handed a rubber stamp instead of the brass ring.
The truly powerful executive team members aren't any happier. They sit through long meetings sharing airtime with less influential peers, going over issues they've already discussed with the CEO, simply to preserve the myth of collective action. Outside executive team meetings, new committees proliferate (HR, health and safety, budget, etc.) so team members can coordinate among themselves. One executive I met had 37.5 hours (!) of such meetings lined up every month."
The C-Suite Solution – A CRO
After illuminating the obstacles of too many leaders and C-Suite roles, I'm happy to say – there is a solution. A skilled, trained, and effective CRO can build consensus and eliminate many of the problems presented, including paring down the number C-Suite employees.
A CRO is an experienced revenue leader who understands the need for functional alignment and measurable outcomes across all revenue responsibilities in a modern company. Revenue functions are no longer compartmentalized by a single department or task. Now, marketing, sales, other intercompany departments, and customers ALL play a role in the production of revenue and account for structure, support systems, resources, and profitability.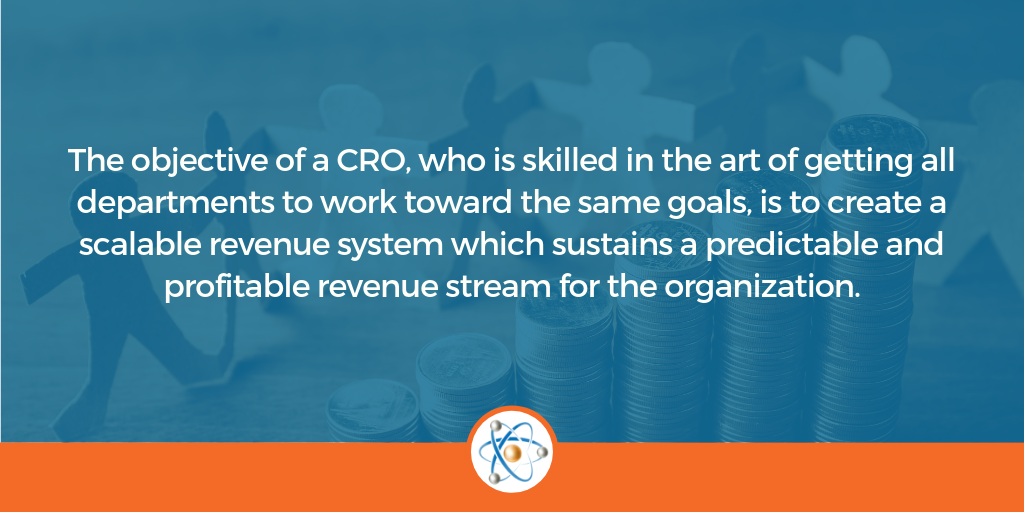 Responsibilities of the Modern CRO
Direction: integrates revenue responsibilities for the entire organization; outlines revenue responsibilities and monitors outcomes.
Process Establishment: works with functional executive leaders to build and maintain a cohesive process across the revenue cycle – from lead generation to sales conversion to customer advocacy.
Alignment Assurance: stays informed of and enables organizational alignment, removes silos, and facilitates collaboration between departments, with each department having objectives tied to the three outcomes described above.
Vision, Planning, and Strategy: mandates a unified vision and collaborates across departments to develop an integrated customer-focused strategy with a corresponding plan to meet revenue objectives.
Pricing Strategy: works across marketing and sales functions to determine pricing strategies for the company, calculating KPIs and pricing against market and competitive considerations and internal costs.
Let Go of the Unnecessary & Maximize Revenue
Did you find yourself nodding in agreement as you read this blog? Chances are, your company is struggling with too many C-Suite leaders, stagnant growth, and a revenue trajectory that feels uneven and winding. Atomic Revenue can help you let go of what's holding you back and support your efforts with a measurable strategy that maximizes revenue.
Our proprietary, metric-based revenue operations programs diagnose and resolve the problems that slow progress and reduce profit. From lead generation to sales conversion and customer advocacy, we align all the parts of your business, including your leadership team, to make it easier for you to achieve the results you want. We will help you make sense of where you are, where you need to be to maximize revenue operations, and help you get there. Contact us today for more information or your free revenue assessment.